More Stone
Not content with having their hands on just one of the most beautiful native stones in the British Isles, Simon Hart and the Hart family have added to their Royal Forest Pennant Stone reserves by acquiring the quarrying interests of Dorset based D & P Lovell Quarries Ltd.
The quarries on the not-really-an-island Isle of Purbeck produce a range of blue, grey-white and buff limestone that has been valued since Roman times (and probably earlier). The stone has traditionally been used for building, roofing, and paving with recent projects including Windsor Castle, Westminster Abbey and the Poundbury development near Dorchester. As a paving material, it is currently being supplied to Southampton for use in conservation and heritage areas.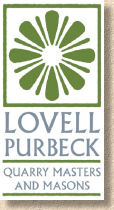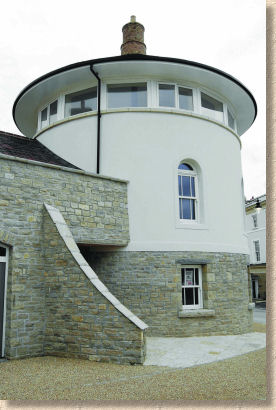 The company has recently obtained planning permission to quarry significant reserves of Viviparus (Purbeck Marble) and Burr limestone. Purbeck Marble was widely used in medieval times for decorative works in churches and cathedrals including Salisbury and Ely, whilst Burr limestone was used to build nearby Corfe Castle. Until recently, both materials have been very difficult to obtain.
Simon Hart, newly installed director at Lovell Purbeck commented,
"We are delighted to have acquired long term reserves of high quality Purbeck stone. This stone is special. We are putting significant investment into the company and will be launching a number of new, exciting and unique stone products in the near future."
More information on the quarries, their masonry services and, of course, the stone they produce can be obtained from the offices of the company - Tel: 01929 439436