Clean sweep for CSB Enviro
A new ride-on pressure washer is reckoned to cut surface cleaning costs by up to 50%. Leicester-based CSB Environmental is the first company in the Europe to invest in a new compact ride-on high pressure washer as part of its on-site cleaning services, which it says could help customers save up to 50% on street and surface cleaning contract costs.
Designed to clean expansive areas in less time than traditional walk-behind pressure washers, the new Nilfisk CYCLONE will enable CSB to offer customers cost and time savings on on-site contracts without any compromise on quality of cleaning or service.
Simon Bailey, director of CSB, told us,
"The CYCLONE will very efficiently clean up to an impressive 3,000 square metres per hour, and when compared to 1,000 m² per day that can be typically achieved by alternative manually-operated equipment, it's clear that this is the best street and surface cleaning option now available in the UK.
The investment will enhance the comprehensive on-site cleaning service we provide, and with budget cuts affecting our customers hard, getting the job done quicker and more cost effectively will be a real benefit that's hard to ignore. What's more, our combined chewing gum removal and CYCLONE deep cleaning services can also help to greatly reduce the cost to customers on chewing gum removal contracts."
With a simple turn of a lever, the Nilfisk CYCLONE can be transformed from a hot-water surface cleaner to a kerb cleaner or a lance cleaner with results that are said to be unrivalled by any other ride-on cleaner. The patented cleaning and recovery head removes build-up, marks and petroleum deposits from natural stone, masonry, blacktop and painted surfaces with no discharge into the environment, no need for harsh chemicals and no damage to cleaned surfaces. All water used in the CYCLONE cleaning process is recovered, filtered and recycled so all contaminants are also removed and contained.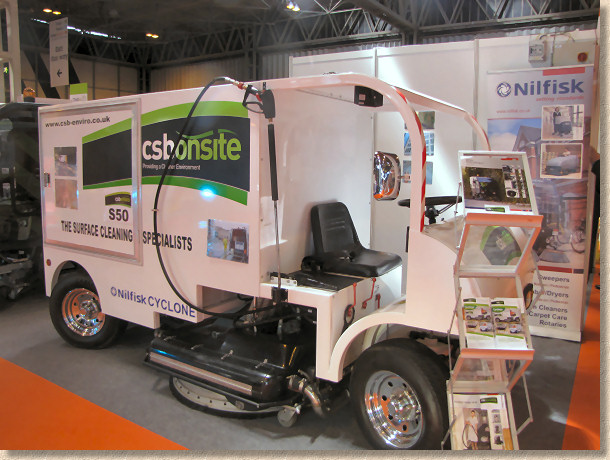 Simon adds:
"Nothing is left behind but a clean surface that dries quickly and is usable immediately. There are no dragging hoses, no surface run-off and no frequent stops for dumping and re-filling. Plus, there are no wet feet and no pollution of the environment."
CSB provides a nationwide cleaning service to an extensive client base, including local authorities, retail, leisure, education, car parks and construction.
For more information on the CYCLONE or to arrange a free demonstration, you can contact CSB Environmental via their website .