Introduction:
This simple solution fulfils the ideals of SUDS by returning surface water to the earth and dealing with the problem on site, and it's very simple to install, far easier than messing about with pipes, gullies and manholes.
However, this scheme will only work on sites that are relatively free draining. Sites that are already prone to waterlogging, squelchy gardens, boggy back yards, and deluged driveways will be made worse by this type of scheme. Such sites are best drained in a 'traditional' manner, and it may be worth investigating whether the site can be 'improved' in some way to reduce or eliminate problems with standing water. Sites that are on sandy, gravely or even chalky ground should be suitable and, if your site is suitable, I urge you to consider using this type of system rather than dumping more surface water into our already over-burdened ETWs.
---
The system
The basic idea is to use a variation on a filter drain-cum-linear soakaway. A similar idea is already in use alongside some of our major highways, and this scheme borrows from such installations, and scales down the construction detail to make it more suitable for use on typical residential drives and patios.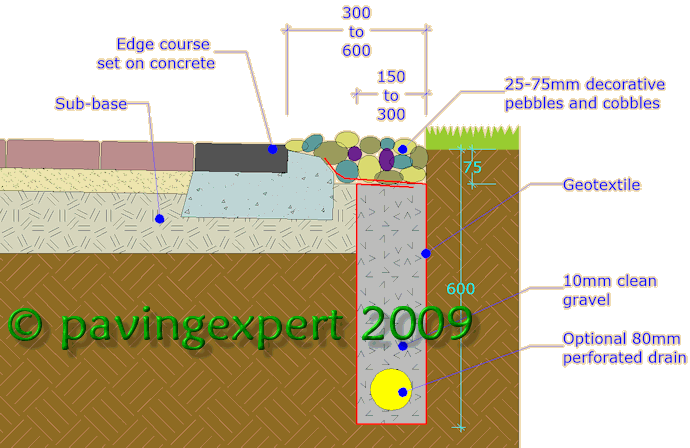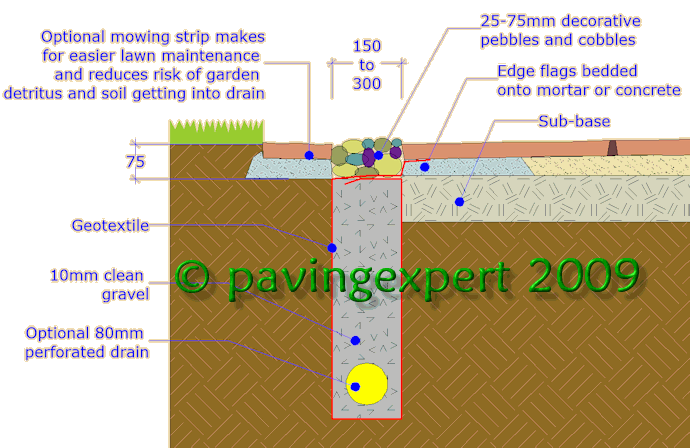 ---
The key points to note:
The drain trench is set back from the edge of a driveway, but could be directly adjacent to the edge of a patio. This is done to accommodate the very different loadings that can be expected on these different types of pavements.
The trench is no wider than absolutely necessary. On the drawings, it's shown as being 150mm wide, but most spades are 200-300mm wide and there's no real harm in making the trench that bit wider if there's no access to a trenching spade. (See Hand Tools page)
The trench is shown to be around 600mm deep, but it needn't be. 450mm may be adequate - a lot depends on local conditions, so the trench should be cut as deep as necessary. 400mm would be a typical minimum depth, while there really shouldn't be any need to go deeper than 750mm.
The use of a geo-textile : This ensures the gravel infill is kept clean and free from silts, sediments, clays and other detritus. Maintaining a high percentage of voids within the trench is essential to performance, as these voids are what provide the storage capacity. Also note how the geo-textile is overlapped at the top and 'tucked in' neat to the bedding or haunching of the pavement.
The gravel infill is shown as a 10mm clean gravel. The size isn't critical, but anything smaller than 10mm tends to have less void space per cubic metre. 14mm or 20mm would be suitable, if that's what's available locally. What is important is that the gravel must be inert, so no limestone or chalk. These materials are soluble in rainwater/groundwater, and over a number of years, they tend to 'clog up' with their own precipitate. An inert, rounded gravel is the best choice; sub-rounded will do; sub-angular at a push, but try to avoid angular gravels as they, too, have a relatively low void space percentage.
The inclusion of a perforated pipe at the base of the trench is purely optional. It has the effect of increasing the available storage capacity of the system by creating a relatively large void within the trench, and this could be useful in less permeable soils, or where trenches are shallower than ideal.
The decorative stones on the surface of the filter drain are labelled as 25-75mm pebbles and cobbles. In effect, any decorative aggregate could be used: slate mulch, glass beads, Lego bricks – anything that is inert and free-draining will do. Again, avoid using limestone, marble or chalk, and try to select larger aggregates as they are easier to remove and clean if any maintenance is required (see below).
The optional use of a mowing strip of some description on the 'garden' side of the filter drain will help with garden/lawn maintenance and reduce the risk of litter and detritus finding its way into the gaps between the decorative stone topping.
---
Maintenance
Occasionally, no more than once a year or so, the decorative aggregates used to top-dress the filter drain may become clogged with old leaves, crisp packets, fag ends and general detritus. This larger crud can be picked out and binned, while the silt and sediment may need to be scraped away from the top of the geo-textile. For this reason, larger deco aggs are easier to clean than, say, a 6mm pea gravel.
If the surface aggs are silted-up, remove them, place them in a riddle or sieve and wash through with clean water to remove all the detritus before putting them back over the cleaned geotextile.
SUDS Pages
---
---