New Brochure from EverEdge
As most of the major manufacturers pump out their new brochures in time for the Spring rush, it's easy to forget that there a large number of smaller companies that supply the hard-landscaping trade, and while their budgets might be a tiny fraction of those available to the bigger businesses, the amount of hard work, passion and dedication poured into it can often be far greater, as the publication is often the work of one person, trying to fit it in around their usual day-to-day distractions such as running a business, chasing sales, sorting deliveries and answering the 'phone.
So while the new brochure from Shropshire-based steel edging manufacturer, EverEdge , might not run to dozens of glossy photo-rich pages, it is the public face of the company and forms a major part of their promotion for the next year or longer, therefore it deserves acknowledgement and further examination.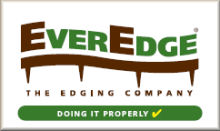 Credit where credit is due: given that the printed version is a simple printed-both-sides-and folded A3 sheet, there's a staggering amount of information superbly presented in very little 'real estate' without it looking busy or cramped or overfilled in any way.
I was lucky enough to see this new publication when it was nothing more than a piece of paper sketched-out and filled-in over a cup of tea one morning last year. A simple pencil outline has, over those intervening months, been pushed and pulled, tweaked, trimmed and transformed into a very professional looking technically-adept publication. It's little short of a miracle!
It's a clever combination of photographs that depict the various uses and implementations for the EverEdge products with 3D images and cross-sectional drawings that perfectly illustrate the construction techniques and the clever way in which the system is anchored into the ground and linked to its neighbours. The three basic formats of EverEdge (Classic, Pro HD and Bespoke) are depicted and the benefits of each explained with the aid of simple but informative diagrams. A clear and uncomplicated table lists the essential sizes and packaging statistics along with suggested uses for each of the various options.
There's a very clever guide to forming circles using the system, and there's even space for a FAQ section which goes through the sorts of queries that come up all too often from those not familiar with the EverEdge system or with steel edging systems in general.
Overall, it's a handy guide to the system and it should help get the word out to more contractors, designers, architects and specifiers about just how bloody versatile a steel edging can be when used with a bit of imagination. It's surprisingly cost-effective, too, and gives a much better finish than the warped-to-buggery-and-back-again timber edgings that are all to often imposed on pathway projects in the belief that they are the cheapest option. Even more surprisingly, it not made in China! This is a 100% British product, made in Britain using British Steel (probably sourced from recycled baked bean cans!), which is a bit of a rarity nowadays.

A PDF version of the brochure can be downloaded from this site - it's only 789Kb, so should fly through the cosmic ether in a few seconds. Treat yourself to a copy - you never know when it will be *just* the thing you've been looking for!
Click the logo opposite or follow this link to download now.