Introduction and Uses:
They are manufactured by hydraulically pressing a damp high-strength concrete mixture into a mould. Excess water is forced out and the unit is then set aside to cure.
---
Sizes
There are 3 sizes of the standard units commonly available ex-stock from Builder's Merchants: 900x600x50mm (D50), 750x600x50mm (C50) and 600x600x50mm. (B50).
---
Finishes and Colours
Along with the common, grey, 'pimple' face seen on most BS concrete flags, there is now a good range of alternative finishes and colours available to the specifier. These include polished surface, coarse textured, and exposed aggregate. Some products combine colour and finish, so it is possible to specify, say, a coarse textured flag in a buff colour, or an exposed aggregate in a red matrix colour.
With the pimple faced standard flags, there is usually a 'right way up', identified by the size of the pimples on the new units. The upper face, intended to be presented to the world, typically has finer, smaller, closer-set pimples, while those on the underside, the base, are coarser, cruder, and usually more widely spaced.
There is also a choice of aggregate types with various coloured granites being a popular specification, but there are also flags with blue or green glass nodules as the exposed aggregate.
The above examples are really considered to be Special Paving and, as such, have their own page which looks at them and their applications in more detail.
---
Mixing with other paving types
---
Maintenance
Used Flags
Expect to pay approx £1-£2 for a salvaged 900x600mm (still known as 3 by 2's in the trade!) These are ideal for those areas where aesthetics aren't critical, such as under sheds, dog runs, etc., or for other hard-landscaping projects, such as low retainers .
---
Construction
Technique
Bedding
Jointing
---
Construction Diagram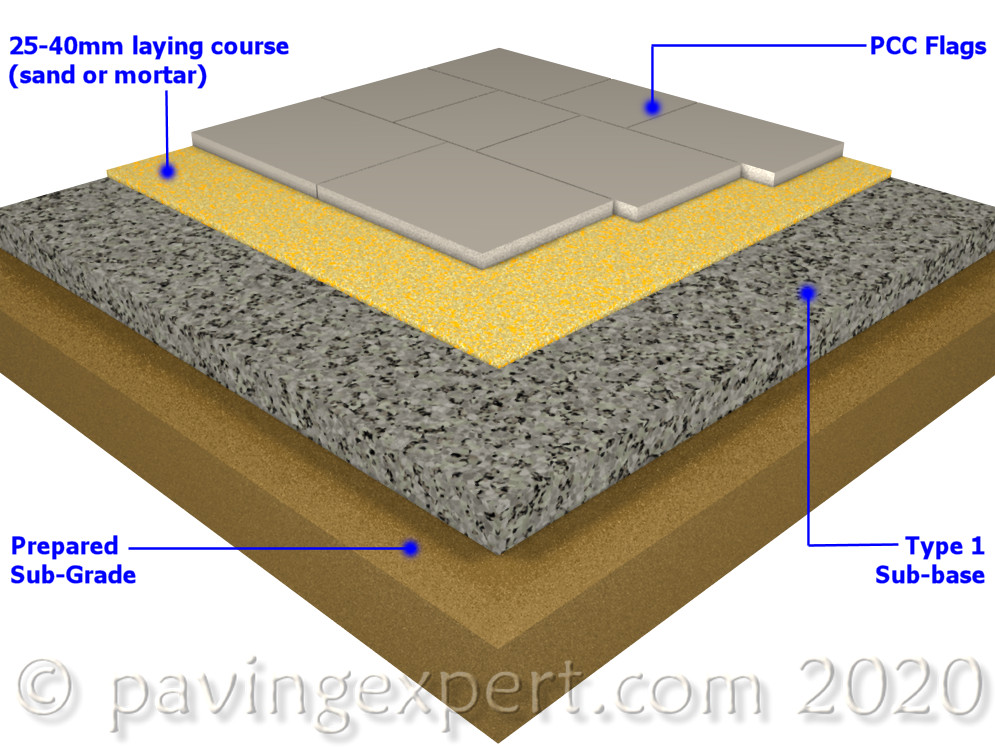 Basic Paving Designs

Basic layouts for size D flags (900x600):
Top Row: stagger bonds
300mm sequential stagger | 300mm alternating stagger | 150mm alternating stagger

Bottom Row: Herringbone and half-bond patterns
Highway and Driveway Paving
Radius Paving
---
Coverage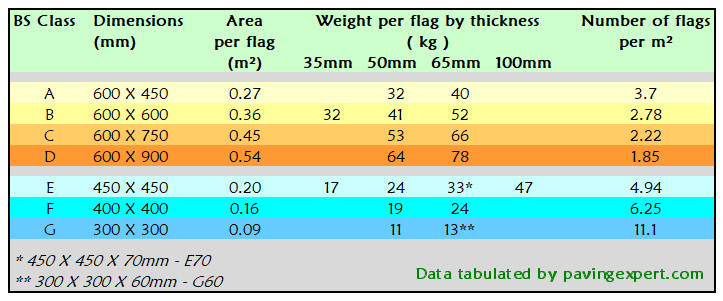 Pros and Cons
Price Guide
---
---