Civils 2004 - Review
Civils 2004 at Birmingham's NEC has just wrapped up for another couple of years and from what I saw, it was a good bit more 'organised' than its last outing. However, it has to be said that the turnout from the paving industry was pretty poor, nay, abysmal.
Paving
Maybe there's summat afoot in the backrooms of the British and Irish paving manufacturers, some reason why they don't support this event, but it does leave an bit of an awkward hole in the event's line-up when none of the really big players bother to put in an appearance. So, extra Brownie points should be awarded to those paving companies that did make the effort and reminded the rest of the civils, and the building trade, that paving is an integral part of the industry.
Formpave were on show with a display featuring their permeable paving system, as well as the new Deeside bush-hammered textured CBP which I have to admit, is a damned good stab at the red Bunter sandstone which dominates the Cheshire and Deeside landscape, including my adopted hometown of Warrington.
I'm hoping to have more info and some top quality images of this product later next week, so keep reading!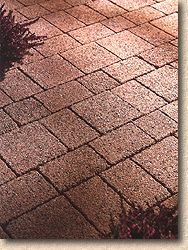 Seminar
There was a short seminar during the afternoon looking at the design and specification for permeable block pavements, jointly presented by Interpave Development Director, John Howe and Steve Wilson from Environmental Protection Group Ltd. Permeable paving is a difficult subject to cover in just 30 minutes, and it was regrettable that Formpave weren't asked to 'illustrate' the rather dry discussion and standard-fare PowerPoint "slideshow" with a few of their pavers, given that they were only 20 metres or so away. Where was the description of the potential benefits of this form of paving? Where was the discussion of the wide range of formats now available, the ability to machine-lay, the difference between porous block and joint-infiltration systems?
Getting up in front of the class to do one of these talks isn't easy, I know, and I'm usually reluctant to criticise, but sometimes, it's hard to bite my tongue. If I'd been a casually interested specifier or civil engineer, nothing I heard would have inspired me to consider permeable CBPs for my next project. My eejit 18 year old son can make block paving sound more interesting than this did. Sometimes, I wonder just what Interpave gets paid for!
Geo-textiles
The rest of the civils, and parts of the hard-landscaping trade were reasonably well covered. Plenty of geo-fabrics, led, not unnaturally, by Stephen Hancock and the boys and girls from Terram , with their ever-expanding range of versatile woven and non-woven membranes, root barriers and composites. You can read about Terram's latest membrane offering, aimed at driveway jobs and small contractor, on the previous News page .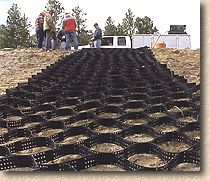 Across the way, Hinckley's very own Geosynthetics Ltd with National Sales manager Bob Willson were particularly proud of their CellWeb™ Cellular Confinement System, which could be thought of as a flexible roll of cell matrix that is used to stabilise loose aggregates in capping and fill layers, and sub-bases, but my eye was attracted to an intriguing-looking SUDS attenuation/infiltration system which they've called Geo Storm™. It weighs next to nothing but is incredibly strong, capable of being stacked up to a depth of 8m with only a 500mm capping layer required to enable it to carry HGVs.
Drainage
In the world of drainage and access covers, Clark-Drain were prominent with their expanded range of covers, including the 450SR recess tray developed with a modicum of input from this site and its readers. New products for high-traffic areas included the "High-Max Extra", a double-triangular cover and frame rated to Class D 400kN, and the new "M" range of linear drainage channels manufactured from polymer concrete. They also had a display of anti-slip covers, a special 'corbelling' frame that reduces a 700x700mm opening to suit a 600x600mm typical cover, along with new linear drains for low-speed traffic sites, such as driveways.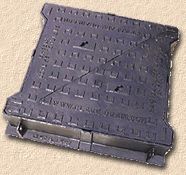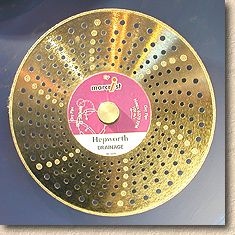 Hepworth were the only clayware pipe manufacturer to put in an appearance, and although they had a visually compelling display of pipe-bedding alternatives, I couldn't quite understand what it was they were trying to communicate, despite having it explained to me by a well-meaning Hep-bod. They did, however, have a very interesting saw blade developed in conjunction with a diamond blade specialist specifically for accelerated cutting of the larger (225mm and upwards) clayware pipes. The inserts of diamond-impregnated patches on the faces of the blade are claimed to chamfer the cut edge as the blade penetrates the pipe and so produce a safer, easier-to-connect cut pipe.
Aco featured in both the Civils Hall and the separate Interbuild Hall, although it was their heavyside kerb-drains and linear drains that dominated the display area in the Civils Hall, including a new unit with a resin-bonded granite-like surface dressing which is aimed at the so-called 'Conservation Schemes'. Aco have also introduced a line of sub-25kg units to comply with the manual handling regulations, but, as more and more of us kerb-layers are becoming familiar with crane-assisted laying techniques, they also have a range of 1 metre units that speed up laying when using all this modern technology.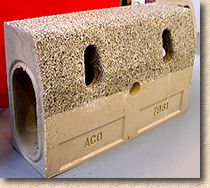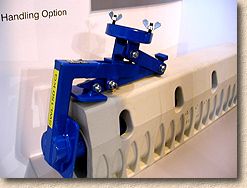 New Products
Possibly most exciting for me was the chance encounter with Gary Rosser from Visual Designs Ltd . Just before last Christmas, I added a new photo to the website which showed a 'glue-on' tactile for use at pedestrian crossings. I'd spotted them in Oxford and was immediately impressed at the simplicity of the idea. So, apparently, were half the Local Authority Highways departments throughout the nation because there hasn't been a week since when someone didn't email or 'phone to ask where they could obtain these tack-on tactiles.
I did ask Oxford Highways from whence they came, but I didn't get anywhere, and so I've had to disappoint enquirers by telling them that, other than some crowd from Hong Kong, I didn't know of any British or Irish manufacturers. All that's changed now, thanks to Gary.
He's got a manufacturing plant down at Brynmawr in South Wales and is making the tactiles in several formats, including blister, corduroy and hazard formats. They should be available nationally via WT Burdens and Parkers .
Like all the best ideas, the principle is gobsmackingly obvious, and offers potentially huge savings to Local Authorities as the DDA comes into force, but fitting them takes a deal more skill than might be thought at first, so Gary is offering on-site training to potential installation contractors and plans to run a series of 'Roadshow Events' at various venues in the coming summer months. More news on these as soon as I get it.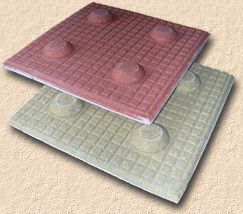 Working alongside Visual Designs, West Hampshire Tarmacadam were extolling the misunderstood virtues of seal-coating for bitmac surfaces. In the States, seal-coating is regarded as a regular, essential maintenance exercise, while over here, we seem to prefer ripping up older bitmac and starting all over again. It seems daft to me, and to a growing number of Highways Authorities, so W-H-T have invested £30,000 in a specialist seal-coating machine and hope to prove to all the doubters that, in these days of environmental awareness, and recycling, seal-coating is an option that really ought to be considered more often.
Innovation
A big mention should also be given to Richard Evans, a brother kerb-layer who's now branched out as "Evans Innovations". He's been laying kerbs for a number of years with his father's company, Evan's Paving, based in Measham in Derbyshire. He'd been annoyed by seeing so many kerbs, even newly laid stretches of kerb, totally ruined by spalling when the ends were harshly butted together. Now, as any good kerb-layer knows, there's supposed to be a 2-3mm gap between adjacent kerbs to prevent just this sort of thing, so, for years we've been using a trowel blade or a piece of thin ply to regulate the joint widths when kerbing. As crane-assisted laying has become more predominant in the trade over the last few years, the skill of the kerb-layer in judging the angle of laying and placing the kerb in a way that minimised any risk of spalling has become almost redundant. With no 'hand-on proximity' to the kerb as it is placed, avoiding sudden jerks or movements that result in spalling has gone. So, although the risk to kerb-layers backs and legs has been reduced (and as someone forced out of the industry at 36 years of age due to 'back trouble' I fully support this improvement), the incidence of accidental spalling has increased.
Another cause of the problem occurs shortly after the kerbs have been laid, complete with the recommended 2-3mm joint, but before any silt or detritus has had time to find its way into the joint. Traffic rubs against the kerb face and literally drives the kerb up tight against its neighbour, closing the dry joint and before you know it, you've two spalled kerbs.
Richard spotted this problem and decided to 'invent' a gizmo that would both minimise the risk of spalling during laying and also prevent joint closure immediately after laying. After a few years of trying various shapes and sizes, he came up with this now-patented cross-shaped jobbie which maximises the area of kerb protected while minimising the amount of material used.
The little crosses are simply glued to the end faces of the kerbs prior to laying. They are priced at around 75 quid for 500 units, but think of how much it costs to break-out and replace just two spalled kerbs and you soon realise what a good idea this is.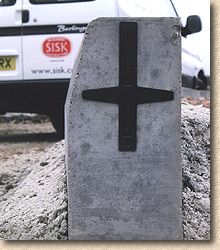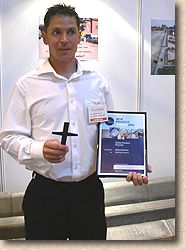 So good in fact that Richard's Kerb Stone Spacer was shortlisted for a "Best Civils Product Innovation Award", as well as attracting interest from Marshalls, Charcon and BS Eaton, amongst others. John Sisk have used the spacers on some of their recent projects and are totally delighted, and Richard told me that the Highways Agency are very keen to assess their potential in light of the sheer number of spalled kerbs that need to be replaced on a typical highways job.
I did hope that Richard would get to win the prize - as mentioned earlier on regard to he Tack-on tactiles, the best ideas are always blindingly simple and it often takes a genius to recognise the simplicity of the solution. It would have been really great for a fellow kerb-layer to win this award, and to make enough dosh from his brainwave to keep him off the mall for as long a good few years, but the top prize went to a manhole section lifting gadget - sometimes, there's no justice!
Rounding Off
Finally a mention of a couple of paving-cum-hard-landscaping companies that seem to have strayed into the main Interbuild Halls and looked out of place amongst all that fancy wrought-ironwork, bathroom fittings and Power Toolz for the Boyz.
Acheson-Glover had come over from Northern Ireland with their delicious Terrapave flags and a selection of their tumbled CBPs. Paddy Devlin tells me that they've now an office in Cardiff, but, just for now, it's only dealing with their precast products, although info on all their paving products is available.
Michael Heap from CED always puts on a good show, and his display here is no exception. As well as a good selection of the Indian sandstones, which Michael reckons are this years big seller, there was a good selection of decorative aggregates, a few pieces of monumental stone, and a lovely, organically-shaped granite bench that was just begging to be tested outo see if your bum fitted.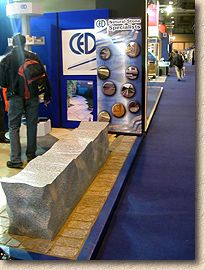 However, the most appealing item for me was this irregularly shaped granite paving, which mixes different colours of granite withy different textures. The original idea was developed from a design for a Japanese garden where the angularity of the paving was intended to represent conflict in a Sumo sort of way. Michael's expanded the idea and now supplies this wonderful paving in kit form, with each piece numbered to ensure less on-site brow-furrowing and head-scratching for an unbelievably low 50 quid per square metre. Mrs Taz has already dropped several none-too-subtle hints that it would be ideal for our next patio upgrade!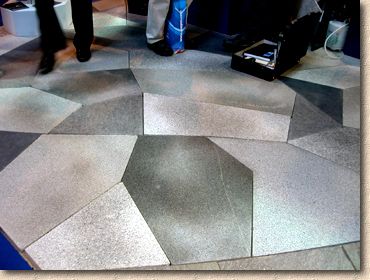 Obviously, I've not been able to cover all the companies that were on show at Civils 2004, so if your company has been overlooked, I apologise, but you have to show me summat that grabs my attention if you want a mention. Send me your info, make a point of inviting me to visit your stand at the next exhibition, bribe me with cups of tea and Gypsy Creams if you must, but you need to do something that makes me want to tell the rest of the world about you.
So, to all the other geo-textile companies, to the manhole and pipework companies, the geo-engineering crowd, the surfacing specialists and all the others that haven't been featured, thanks for your efforts, and I hope you'll not take it personally.
Tony McCormack - April 30th 2004