Marshalls' 2009 Newbies
At any other time of year, the following might have appeared a couple of weeks or so ago, but with the introduction of the comedy 'front garden' legislation in England and then the annual Glee jamboree , compounded by the problems created by a new hosting company with a spartan attitude to customer service, it's been delayed longer than is probably fair. However, after sitting on the teeter-tottering in-box perched at the edge of my desk since last month, the guide to New Products for 2009 from Marshalls has now been given a place on the psychiatrist's couch and will now have its deepest thought processes and innermost feelings laid bare.
Rather than simply announce the arrival of new products in the 2009 brochure, they've been corralled into a special publication all of their own. The cynic in me suspects this may have something to do with Marshalls' absence from the more traditional unveiling ceremony for new products which takes place at the aforementioned Glee each September. I suppose the few quid they saved by not attending Glee helped pay for this relatively sumptuous, full-colour, quality heavy paper, complete-with-cd publication which is better quality and more lavish than some other manufacturers main catalogue.
In all, there are eight new products for 2009, although six are merely different flavours of existing best-sellers, one is genuinely new, and one is so utterly top-secret that they can't even tell us what it is!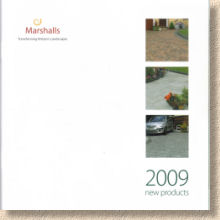 So: of the new flavours, the one that is bound to be a winner is the "Driveline 50 ® Vintage" , a tumbled version of the ever-popular Driveline 200x100x50mm block, except 'tumbling' has apparently been re-named as "sympathetically distressed", a slightly oxymoronic phrase along the lines of "lovingly thrashed" and "humanely destroyed". I haven't actually seen the distressed blocks for meself, but judging from the photies provided, it looks as though these are chamferless blocks and the finished effect is quite attractive: smaller than, say, Drivesett but a more appealing surface than the usual Driveline. Only three colours to start out: Brindle, Burnt Ochre and Charcoal.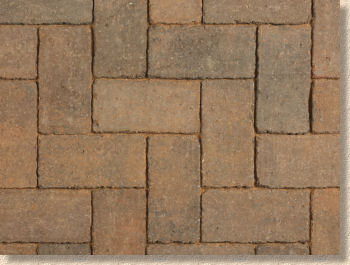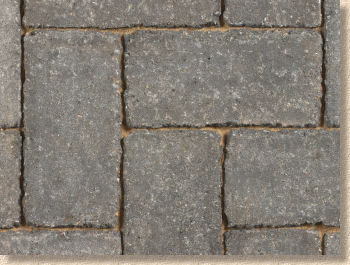 Driveline is a strong, established brand that would benefit from some fresh blood, and tumbling is a relatively simple secondary process that has undeniable appeal for the consumer. Put the two together and you're more or less guaranteed a successful product, as long as the price is right. As belts all over the nation are being tightened on an almost weekly basis, pricing is now more important than it has been for over a decade. Rightly or wrongly, good looks alone are no longer enough.
Argent® Priora® * was mentioned (and shown) in the coverage given to last month's Permeable Fun Day hosted by Marshalls at their Enfield outlet. In simple terms, it's the permeable version of the luvverly Argent granite-like block, now available in three tones (Light, Dark and Graphite [Even Darker]). The Argent Priora (sod those bloody ® marks!) will bundle all three sizes (240/160/80x160x50mm) in the one pack.
I've long admired Argent as a pavior, although I'd be wary of using the Light colour on driveways for fear of tyre markings, because it offers great character, a re-assuring texture and reduced reliance on artificial pigments for its colour. There's a greater willingness to "upgrade" driveway paving from the more usual fare, so it makes sense to offer a permeable version of what is one the company's best products.
* Can "Argent" be a registered mark? What does Rod Argent of 60's popsters " The Zombies " and 70's super-rockers " Argent " have to say about that? Can he still hold his head high? Should I be trademarking "McCormack"?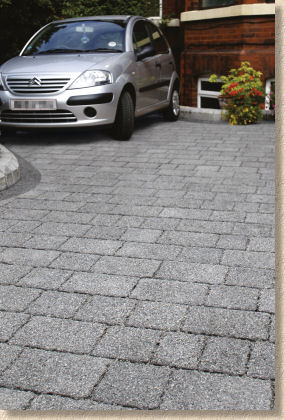 It would be easy to think that just about everything that can be done to Marshalls brand-leading Haworth-istan Moor has already been done. It's been riven; it's been sawn; and honed and polished and calibrated and now: … well now, it's been " Antiqued ". Sadly, the blurb doesn't actually explain what this Antiquing business might be. Instead it warbles on about "distinctive matured aesthetics" and "radiating pure quality", which is all well and good, but what does it chuffing look like???
Again, I haven't seen actual examples but I'm fairly sure this is the 'smooth worn' effect that comes from giving the flagstones a good old rub with a bath of ball-bearings, which despite its industrial overtones really does soften and age a riven stone, taking off the crisp new edges and making it look slightly worn and weatherbeaten.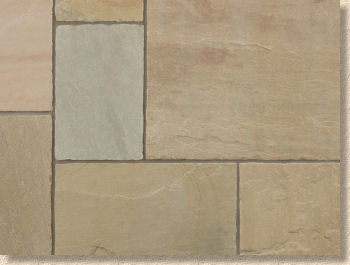 They've gone to town with this antiquing lark, applying it to no less than eight sizes (all calibrated for thickness, of course) and in the three more popular sandstone colour blends (Golden Sand, Autumn Bronze and Silver Birch) along with an all new "Silver Limestone". Sadly, it seems to be available only in those damned Patio Packs, which means buying in 16m² multiples, although there are both 2- and 3-ring circles with complementary square-off kits.
To be honest, I'm surprised it's taken this long to bring the Antiquing process to Haworth-istan Moor, because it does add a whole new dimension (not to mention a very useful enhanced profit margin) to what is becoming a jaded material. When you can buy imported sandstone and limestone for a tenner on eBay, you have to make a good argument to persuade customers to pay three times that for your product. Ethical Sourcing, Carbon Labelling and Corporate Social Responsibility statements can do only so much. Delicious upgrading via sensitive secondary processing can do as much, or even more.
Eclipse Granite has proven popular with customers wanting that so-called chic styling, and with contractors that have found the sawn format, dimensional tolerance and calibrated thickness a joy to lay, but it has been unfairly limited by being available in 800x200mm 'linear' (planking) format. The decision to expand the range by adding 600x600, 600x300 and 300x300 flags is very welcome, although partly muted by the fact that, yet again, it's in "Project Packs", this time, 18m² at a time, which makes it really inconvenient when you have a 25m² patio to lay, unless, of course, you have a tame Builders' merchant that will split a pack for you.
The same colour palette as the existing linear elements: Light (Silver Grey G603), Dark (G654) and Graphite (G684), this, like the Antiqued flags mentioned above, is a welcome and overdue addition.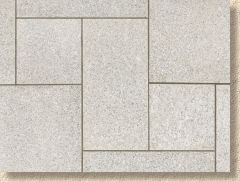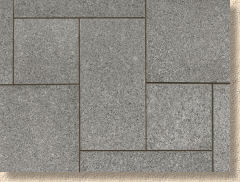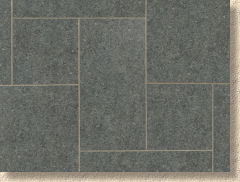 Firedstone is not a paving I've ever really warmed to. I understand the theory behind it, that it's a wet-cast imitation of flame-textured stone, but I've still not been swayed by its alleged attraction. While the texture is not too bad, it just can't ever replicate the subtle changes in colouring that result from flame-texturing sandstones. Its gentler relief (less bumpy) is a viable alternative to, say Heritage, but there's not enough character to it for me. You'd have to know and understand flame-texturing to appreciate what has been done to produce this paving and what it is that it's replicating, and I'm not sure many homeowners would.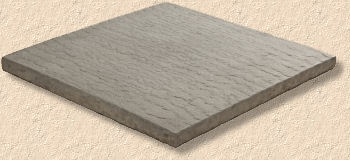 The original "Fired York" colour did nowt for me. Too much of the same tone, it looks cheaper than it was, and, to be brutal, I can't see this latest funereal addition doing much to change my opinion.
Project Packs: who do they benefit? Well, obviously they're really beneficial to Builders' Merchants as they reduce order picking and handling, and they usually involve selling far more paving to customers than they actually need to complete their "project". Consequently, the manufacturer/supplier benefits from the sale of all that additional unnecessary paving, but what about the contractor and the client?
The contractor may derive some benefit, particularly if they are the sort of cad that charges Customer A for two "project packs", and then carries away the surplus 10m² only to sell it to Customer B. The poor DIYer or homeowner, though, doesn't stand a chance. They get what they're given, in a ratio of sizes that are usually selected for the convenience of the packers rather than the end-user, and then have to list the surplus on eBay or in the local newsagent's window in the hope that someone out there is in desperate need of 5.5m² of Kandla Grey or Modak.
In the light of the above comments, it should come as no great surprise to hear that I failed to whoop and a-holler at the news that Marshalls' Natural Slate Paving is to be made available in this inconsiderate, unhelpful, profit-maximising, design-minimising format. 18 bloody square metres at a time, two colours (Dark Jade and Midnight Blue), in three sizes (600x600, 600x300 and 300x300) with far too many of the little 'uns in each pack.
As long as customers, be they contractors or DIYers, can buy individual flags, there's no great harm done, but this industry-wide obsession with supplying everything in Project Packs worries me because it limits design opportunities. The real strength of any paving products lies in its versatility, and proscribing the mix of sizes reduces that versatility.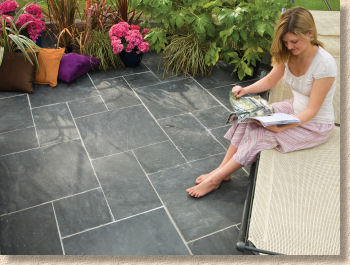 Having said all that, however, there's no denying the slate is a very attractive product if you like dark tones.
The one truly new product is the Heritage Sharp Face Walling . Anyone even vaguely familiar with the Heritage range should be able to visualise this product without the need for any photo. It's a 9-size walling system in the familiar Heritage colours (Yorkstone and Calder Brown) but is supplied in two separate project Packs: one 4.8m² pack containing 4 sizes in a 65mm bed depth module, and the other having 6.08m² comprising 5 sizes in a complementary 140mm bed depth module. That means you need to buy the best part of 11m² to get all 9 sizes into your wall. Judging from the photos, it seems that the blocks have a face and two ends moulded, which allows them to be used for pillars, corners or wall ends without needing to buy separate blocks.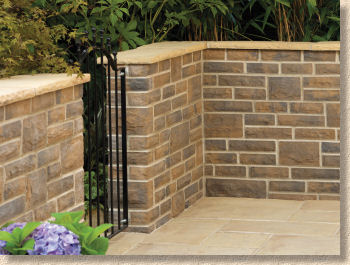 Wet-casting has developed enormously over the past few years, and so the quality of these blocks is light-years ahead of what we endured back in the 80s, but even so, it's not the sort of thing I'd have in my own garden. It would certainly work well as a complement to Heritage or other wet-cast riven-effect paving, although I would be loathe to use the same colour for walling and paving.
Walling is the one area that has proved difficult for the imported stone to take over. It's all to do with the cost of shipping cubic metres of stone from various parts of the globe, and you get four times as much 22mm thick paving from a cubic metre as you would for 100mm thick walling blocks. This has allowed concrete, brick and native stone to maintain their market share. This Heritage walling will surely grab a slice of that market for itself.
And so we come to the Mystery Paving . News of this "ground breaking improvement" has been floating around for a few weeks and I'm reasonably confident that I know what it is, but it's not my function to spoil the surprise or ruin all the hard work put in by the Marshallettes. I don't fully understand the logic of trumpeting a new product but not letting anyone know what it is: it's paving, FFS – how exciting can it really be? No doubt we'll see for ourselves in due course.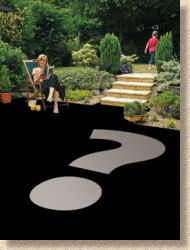 I do like this tactic of producing a 'new products' guide a few months in advance of the actual launch. It enables the more savvy designers and contractors to plan ahead and offer a better service to their clients. Admittedly, many suppliers already do something similar with their Glee publicity material, but this opulent publication pushes it to a new level. If I have one criticism to make it would be that the text tends towards aspiration and fluffiness, rather than useful description. And a few samples wouldn't hurt, either!
Of the actual products, the Driveline Vintage is more or less guaranteed to be a success, but my favourite would be the Eclipse Granite closely followed by the Argent Priora. The walling is nothing to get excited about, while the Firedstone is technically interesting but aesthetically boring.
Now: when will we find out about the mystery paving?