Bradstone Ireland launch new products
Creagh Concrete, who operate the Bradstone License for Ireland, have launched their 2004 catalogue, and it features a whole range of products that are new to the Irish hard-landscaping market.
Twinkle-eyed Johanna Beck, Bradstone's top marketeer in Ireland, told me,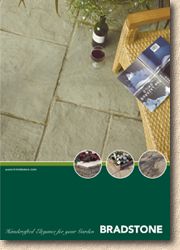 Slate Paving
Looking at the new products, one at a time.... This paving takes its surface profiles taken from original French slate masters, and aims to symbolise the chic garden patio. Available in both full and half packs, Slate Paving come in three sizes (600x600mm, 450x450mm and 450x300mm) allowing random layouts to be created.
All flags are 35mm thick and therefore require a full bed, as described on the Laying Flags page.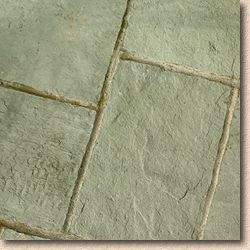 The flags have "authentic edges" which give an enhanced natural appearance, especially when used as step risers.
Available in Mourne Green it adds a certain 'ooh la la' to the outdoor room!
Old Town Gironde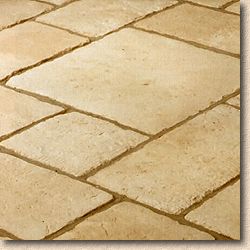 Old Town Gironde paving aims to re-create Mediterranean charm in the garden with a blend of surface character and strikingly subtle shades. The Gironde range of paving replicates timeworn French limestone flags and gives a warmer, gentler appearance to the patio.
Old Town Gironde is available in six sizes from 600mmx600mm to 300mmx300mm, to enable coursed, patterned or random layouts to be achieved with ease.
Sun Circle
The popular Sun Circle feature can be used to create an eye-catching focal point to the garden. Previously it was available as a two-tone circle (Grey/Green Mellow Cotswold Mix), two more shades - Grey/Green and Weathered York have now been added.
The Sun Circle can also be used as an attractive stand alone patio or it can be beefed-up with the addition of corner accessories and complementary paving to create a larger paved area.
The Sun Circle has a diameter of approx 2800mm, making it just big enough to take a typical circular patio table and chairs.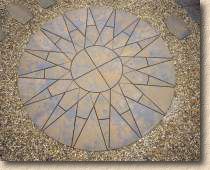 Traditional Riven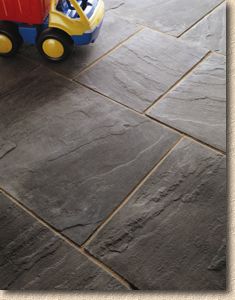 The Traditional Riven paving features a stratified surface profile to create that rustic feel, and the sawn effect edge adds further natural character to this distinct paving.
Traditional Riven comes in a "Weathered Limestone" shade. It is available in two pack options and in three sizes (600x450, 450x450 and 300450mm) allowing for a genuine random laid patio which is sure to complement a wide range of garden settings.
All flags are 38mm thick and should be laid on a full bed.
Also for 2004, Bradstone have added new shades to their most popular walling products.
Bradstone reckon that retainer and garden walls are making a comeback in modern gardens, so they've expanded their range, offering a greater choice of style and character of the materials available. The savvy gardener incorporates plants into the newly-built walls to create an older and more natural feel.
Madoc Walling
Madoc Walling aims to capture the timeless beauty of natural slate and is now available in the distinctive "Mourne Green" shade along with the traditional Weathered Limestone hue.
This easily-laid walling block, creates the appearance of dry laid natural slate, by reproducing the profiles of a number of stones in one z-shape walling block. A Madoc wall is built by stacking and interlocking a number of the z-shape which cleverly disguise the vertical joints.
The Madoc range also includes complementary accessories including coping, stone coping, infill blocks and a seat unit, which can be used to build matching features such as planters and barbeques. These can create focus points in the garden and can draw attention to a part where the eyes should linger. They may also help add interest to parts that may be hidden. Madoc walling & accessories are also available in the warm Weathered York shade.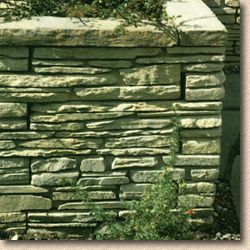 Mountain Block
The popular mountain block walling has long been a favourite among Bradstone's Irish customers. The unique blocks are specially shaped to produce curved, circular and even straight walls. The Weathered York shade along with the new Weathered Limestone shade mean this walling can suit a wide range of garden settings.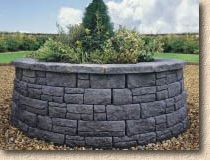 The Mountain Block has a range of profiles and a weathered effect which together aim to reflect the authentic and rustic appearance of dry laid natural stone. This walling system can be built to a height of 600mm and requires no mortar, as movement is prevented by nibs on the back and adjacent blocks. Mountain Blocks can be used to create boundary walls, raised flowerbeds, a tranquil pool or a graceful fight of steps.
Thanks to Creagh/Bradstone for the images and help with the text - more info is available from their website .