World of Paving™ launched
After months of planning, a new dedicated event for the paving and hard-landscaping industry was launched this week by experienced organisers, Marwood Events. World of Paving , as the event has been named, is scheduled to take place over two days next February at the impressive Ricoh Arena in Coventry.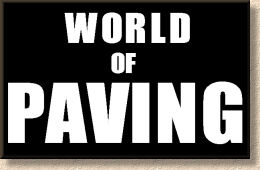 The show will be of major interest to suppliers and manufacturers looking to show their ranges and to launch their new season paving and hard-landscaping products for both the residential and the specification markets, whether their route to market is via builders' merchants or via the rapidly-developing direct sales route from manufacturer to installer. The whole event has been designed so that paving specialists, civils contractors and landscape designers can see the latest products and tools, as well as being able to identify new trends and developments, and all under the one roof.
"World of Paving has been in planning for the last ten months," says show organiser Anthony Kane. "We looked at what other UK events were offering the paving industry, and talked to both suppliers and installers about running a comprehensive industry event."
Anthony continues, "We choose the February 2010 date carefully to avoid clashing with any other relevant construction or landscaping event so it runs at a time when the industry is preparing for the new season."
Why Coventry?
With a close location to the M6 motorway the Ricoh Arena on the outskirts of Coventry is a purpose-built exhibition centre, opened in the last three years, alongside a hotel and entertainment complex.
"The 6,000m² of exhibition space (shortly to be extended to 8,000) provides room to grow the event in a mid England location without becoming 'lost' in huge venues like the NEC in Birmingham," Anthony explains.
"On-site there is parking for 2,000 cars and exhibitors and visitors can get from the free car park to the event in a couple of minutes," he adds. Ricoh Arena is close to Birmingham's International Airport and just 10 minutes by taxi from Coventry Station.
"We believe World of Paving will be a must-see event for anyone who earns their living in the paving industry" says Anthony. "Not only will a comprehensive display of the latest products, tools and services be gathered there but there will also be toolbox talks on issues of the day such as permeable paving and planning permission, specialist seminars and questions and answers on tax, VAT and financial and legal aspects of paving installation."
Anthony adds: "There will be plenty for the visitor to see – another attraction is a demonstration stage that will feature live 'How To' presentations on new technologies and finishes, running hourly throughout the 2-day event, and the presentation of the prestigious World of Paving Project of the Year awards."
Pavingexpert.com is fully supporting the event and hopes that it can become a regular fixture for the paving trade. Regular updates will be featured on the site with the intention of keeping everyone fully informed regarding progress, latest additions and seminar schedule. A fully interactive blog will enable exhibitors, contractors and anyone with an interest to chip in with their two penn'orth and help create an event for the whole industry.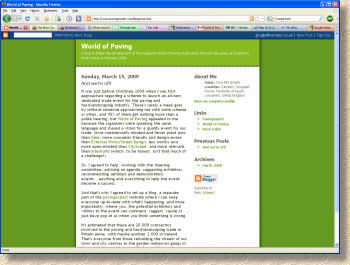 "A standalone event for the paving and hard-landscaping industry is sorely needed, as it can bring together all the parts of the industry; the manufacturers, the suppliers, the contractors, the designers and, of course, the clients, allowing all of us to exchange ideas and inspiration, and promote our trade to a wider audience," says pavingexpert's Tony McCormack.