EcoBuild 2010
Such has been the success of Ecobuild and its alter ego, CityScape , over recent years that I normally allow a full day plus a back-up visit the next day to cover it all, but trawling through the exhibitor list at the turn of the year, it became apparent that several companies from the hard-landscaping sector had elected to stay at home for 2010 and the CityScape model had been scaled back for the extravaganza of previous years. Combine this with a hectic schedule that would have required me to be away from home for the best part of a week, and the decision to allocate a paltry four hours to the event seemed practical, if not quite reasonable.
Somehow, those four hours became six and even then, I didn't get to see everyone of interest, and when I collapsed into the hotel bed late that evening, I was still trying to mentally re-arrange the schedule for the ensuing couple of days to engineer an opportunity to get back there for an hour or two, if at all possible. For reasons beyond the control of anyone with half a brain cell (thanks to the idiosyncrasies of a particular courier company that went awol for half-a-day) it wasn't to be, so the following review is nowhere near as comprehensive as normal, but it's all we have.
The first point to make is just how busy was the event. On the journey down, there was a concern that, given the parlous state of the trade at the moment and the paper-thin confidence amongst many manufacturers, there was a real risk that it would be a flop, with tumbleweed bowling along deserted aisles within the sepulchral halls of London's Earl's Court, but as the unmistakeable aircraft hanger form of Hall Two hove into view, the sight of queues waiting to get in came as a something of a sweet-and-sour surprise: great to see such interest, but Jayz! I hate queuing for anything!
By the time a mortgage to pay for the car park had been arranged, the queue had dissipated and I was able to wander in without hindrance, and was delighted to see busy aisles, thronged stands and the buzz of business in the air.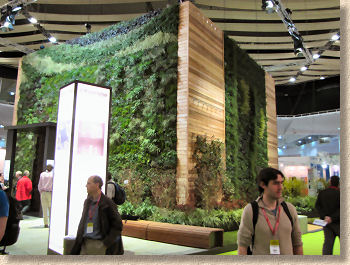 In previous years, many of the hard-landscaping companies have gravitated towards the CityScape feature in Hall 1, which this year seemed to comprise a moss-covered empty cavern, with others dotted around to fit in wherever they can. This year, most of the exhibitors of relevance to our trade are strewn here there and everywhere, with only Formpave and Addagrip within block-lobbing distance of the alleged centrepiece.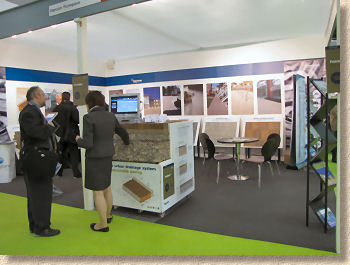 Formpave have launched a new brochure, which will, hopefully, be looked at here next week, but the stand remains pretty much the same as that which has served them well at previous exhibitions, with the two walls bedecked with slip-cut sample boards and intriguing site photos, while the two open sides invite visitors to explore further. The centre is dominated by the working model of a permeable block pavement which is still, by some way, the best model of this important technology I've ever seen. Alongside, a large plasma telly plays a fascinating video showing the installation of the Formpave system on a huge project in Vancouver which is well worth catching, if Formpave ever decide to make it available on YouTube or similar.
Addagrip , too, rely on an open, inviting stand, where the back walls are covered with samples of their resin bound, resin bonded and decorative surfaces, and yet another 3D cut-away model of permeable paving. Resin based surfacing has seen a real surge in interest over recent years and there are new suppliers and installers popping up on what seems like a daily basis, so it's reassuring to see that a couple of those that have been in the trade for longer than most are still with us, and indeed, going from strength to strength, despite the pernicious undercutting of price and quality that is taking place by some of the young upstarts.
I'm sure there are good suppliers/installers amongst the newer companies, but in a market that is struggling to maintain a reputation worth having, remember that there is a good reason why companies such as Addagrip and SureSet are not only still with us, but leading the industry from the front.
Speaking of SureSet , they found themselves exiled in Hall 2, in a location that couldn't possibly be further from the CityScape centrepiece without actually leaving the site. Again, a stand with open sides, and a very open presentation which has the floor covered with the SureSet products and the walls decorated with images and information. The maroon and cream styling of SureSet is very strong and impossible to miss, even amongst the busy aisles surrounding one of the talking-shop "theatres", where Kirsty Wark (or a damned good sound-alike) was refereeing some circular argument about carbon costs.
The floor, or part of it, had been considerably improved by re-surfacing with an aggregate sourced from recycled sanitaryware (crushed bogs and p***-stones, to normal folk) which had been resin-bound and smoothed out to create a truly lovely looking surface, all with an environmentally-friendly bent.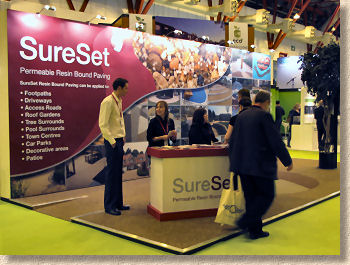 Resin-bound surfacing has been playing up its permeable potential since the introduction of the front garden paving comedy legislation 18 months ago. Resin-bound permeable surfacing offers incredible design possibilities, limited only by the imagination. One scheme recently completed by SureSet involved the creation of an underwater world within a children's play area in Bournemouth. Simpler and more effective than mosaic tiles, resin-bound surfacing opens a whole new galaxy of possibilities for designers and specifiers.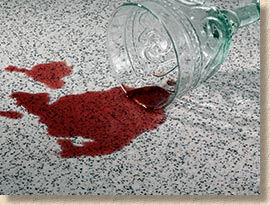 Following on from last year's showing, R2 Paving Solutions returned to promote their range of unstainable HanseClean paving and the complementary HanseBeton blocks along with the innovative Patio Overlay Kit , they have plenty worth looking at. Although their main stock in trade would be commercial paving projects, many lines in the range they carry are genuine contenders for smaller, residential projects where something different and distinctive is required. The stain-proof HanseClean flagstones are a godsend for the sort of patio used for summer barbecues and family entertaining. If you've not already checked their website ; why not? You won't be disappointed.
More familiar to readers of this website as Pavestone , the Gloucestershire-based company was in attendance under their Bekstone guise. While Pavestone built a reputation for imported natural stone and pavers, Bekstone is responsible for manufacturing concrete walling blocks here in Britain. Based in Oxfordshire, the company has a pedigree in producing Cotswold-inspired masonry, and now the range has been extended to include walling that echoes many other regions of the country.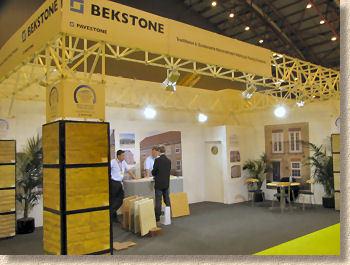 Another familiar name would be Baggeridge . Once a mighty brand within the clay paving industry, it has now been subsumed into the Weinerberger brand where it has to fight for hay amongst stablemates such as Terca, Sandtoft and Corium. Clay pavers have never been a massive player within the trade, but they are a genuine part of our culture and tradition: we had clay pavers on our streets and alleyways long before those young upstart concrete blocks appeared. Nowadays, British manufacturing capacity is verging on extinction, which deeply saddens me, but new products are still appearing, albeit from continental factories. Products such as these intriguing plus-sign shaped permeable pavers, which are made in Germany but will be available in the UK. I think these are great. They are fun, they are distinctive, they are attractive and they are permeable in a novel way.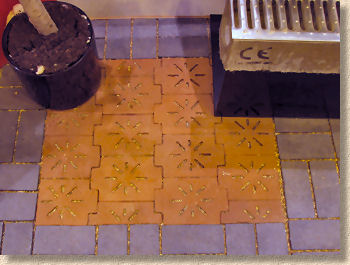 Novel, too, is the move into producing, of all things, a linear channel range. Manufactured from fibre-reinforced concrete, these are utilitarian rather than pretty, but then, once installed, we only really see the grating of a channel, so does it matter what the channel itself looks like. It's thought that these will retail from around a tenner per linear metre, which certainly makes them competitive. On a side note, an idea I saw some years ago has resurfaced with Weinerberger. What I saw was aluminium (or aloominnum, as it was described to me in that country) rather than iron, but the concept is the same. A sort-of fluted channel just 100mm wide intended for laying as surface water protection across thresholds such as garage doors. Eminently simple, and guaranteed to work, the issue remains that the channels are a veritable heel trap for women's fancy shoes.
On the subject of drainage, Aco would be considered by many to be the go-to name for linear drainage systems, whether it's a simple channel in front of the garage or a industrial capacity storm drain system. Always at the forefront of innovation, the company will be unveiling an exciting new soakaway concept in the very near future and we hope to have a special feature here on this website. Obviously, not too much can be said at this stage, but having been briefed on the basic idea, it's safe to say that it's a product that would be of interest to every contractor involved in patio and driveway installation. Watch this space, as they say.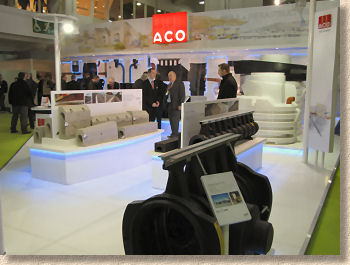 As mentioned at the outset, time was at a premium during this all-too-brief visit, so apologies to all those that I did not get to see. Hoofmark, Proctor, Boddingtons and more were missed in the mad dash to see as much as possible in minimal time. This is not the best way to benefit from the event. It's a huge show, and there's a lot that's not directly relevant to our trade, but there's enough there to keep you busy for several hours and it deserves time to explore and discuss and sup tea.
The attendance seemed to be very good and although it was the first day, those exhibitors I did see were all pleased with the footfall. Let's hope this indicates a renewed confidence in the industry as a whole, and that the troubles of the last couple of years can now be put behind us. It was a shade disappointing to see the CityScape ideal diluted and dispersed; hopefully that will be reconsidered in future, as there is a lot of sense in grouping similar product groups, if only to save on shoe leather!
Next year, when the whole event moves to ExCel in London's Docklands, I'll try to make sure I have at least a full day. I think the show deserves it.