Formpave announce SUDS conference
Formpave, Concrete Block Paver manufacturers based in Gloucestershire, have announced they'll be staging a conference devoted to permeable paving and SUDS (Sustainable Urban Drainage Systems) in the New Year.

The CPD-accredited event will take place at the Marriott Hotel in the centre of Bristol on Tuesday 22nd February 2005 and has been developed, in part, to celebrate 10 years of success for Formpave's permeable paving systems and the highly-regarded Aquaflow in particular.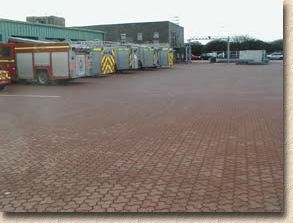 A number of guest speakers have already been lined up: Brian Darcy from SEPA will be talking about the use of SUDS in Scotland, Dr Stephen Coupe from Coventry University will examine the use of geotextiles, while Fiona Napier from Abertay University will be discussing heavy metals and how permeable paving can be used to minimise their environmental impact. More details are scheduled to be released early next year, but the event is already attracting a lot of attention and is likely to be heavily booked in advance.

Simon Hart, the Project Manager for Formpave, told Pavingexpert,
For reservations or for additional info, call Formpave on +44 (0) 1594 836999 or Email Simon or have a peek at the PDF Flyer that's available from the Formpave website.