Winning year for Global Stone
Global Stone customers have had a great year, with a number of notable successes in shows and events around the country. Lancashire's Steve Massam Landscape Supplies were awarded a prestigious "silver" at the RHS Tatton Park Show in July ,and went one better the following month when they won gold at the Southport Flower Show. Modak Rose paving and circles supplied by the team at Global Stone were the stars of the show, and the horticultural displays were set off with borders of Cobra Pebbles.

Modak Rose was first introduced to the UK by Global Stone, giving their select network of stockists a lead in the market, and this committment to finding the very best from around the world continues to be the advantage of the Global Stone range.
Over recent years, consumers have become increasingly discerning in their design and expectations for the garden, while TV lifestyle and garden programmes have driven the demand for quality materials. Right now "natural materials" are very fashionable and large sections of the industry has been taken by surprise at the speed of change in consumer tastes from 'cheap'n'cheerful to higher value products.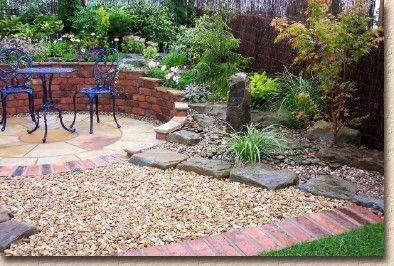 Simon Blaxill, the MD at Global Stone told Pavingexpert,
"From the outset, we've offered stockists the means to meet the aspirations of not only landscapers but also designers and the public. Marble and travertine retails at up to £60 inc. VAT and many traditional outlets would not entertain such a product. However, an increasing number would and do. They offer their customers the choice and range that many are looking for. Usually they have good displays to inspire their customers on site and have staff with a passion for landscaping. These combined attributes often win customers from competition who focus on price."
Simon reckons they have identified that stone paving is popular not only amongst "those with deep pockets" but is now being purchased by home owners with relatively small patios. To suit the needs of this often overlooked market, a "courtyard" range is being introduced for 2005 with a number of feature products which will enable more compact areas to incorporate designs such as small feature circles or hexagons.
"Traditionally stone has been associated with country houses with large patios but with Global Stone this no longer need be the case,"