Brett 2009 Brochure
In this season of bountiful brochures, it's essential not to become blasé about what is served up from the various suppliers that fund their creation.
Someone, somewhere, will have put an enormous amount of effort into creating what they consider to be the best possible brochure for the budget and resources they have available. It might not run to one-hundred-and-odd pages; it might not feature double page spreads of high-resolution photography; and it might be economic with the descriptive text, but every brochure deserves an objective review that takes account of the scale of the business behind it.

But when you're facing the twenty-somethingth brochure since the start of December, the prospect of coming up with something new to say, of finding words that do justice to the endeavours of those unnamed, unknown marketing teams, of remaining capable of viewing each page as an honest surrogate for customers, contractors and competitors can pose a real challenge for even the most anoraky of paving obsessives.
Word arrives from far-flung Leicestershire: could I spare an hour or two for a couple of Brettsters to go through their new customer brochure? Oooh! This sounds interesting. Most brochures arrive with nothing more than a chaperoning compliment slip; some involve an exchange of pre-emptive emails or even a telephone conversation, but it's rare for anyone to want to meet face-to-face to discuss a brochure. Does this mean it's summat supremely special, or does it mean that they're nervous and want to apply the 'spin', to massage my perception?
So, with cynicism initially set to 'extreme vigilance', I sit down to lunch with two of Brett's best marketing brains, and despite my best intentions and avowed determination to remain suspicious at all times, I soon find myself engrossed in what reveals itself to be a wholly new approach to the achingly-familiar paving brochure.
Over 12 months ago, Brett decided to re-think their attitude to the residential market, and the most visible result of the subsequent re-assessment is the new Brett brochure. They went right back to the beginning: who uses these brochures? What do they get from them? What does Brett get from them? What does the customer actually want from a brochure and what would they gladly see omitted?
Cue the focus groups. Oh eck! I have an innate distrust of focus groups. They tend to be self-selecting, unrepresentative, and focussed on providing answers the guinea pigs believe the cage-owner wants to hear. So imagine my surprise when the feedback from the focus groups echoes that received through this website, uncannily so! It's almost as though someone had been reading my emails!
What did come out of the focus groups was their dislike of waffle and trumpet-blowing, and a preference for photies and ideas: lots and lots of photies and ideas, please. This with that; them with those; this there, and these next to that. And not just photies of paving, but photies that show it in a wider context; not just a garden chair, but a whole garden. And can they be gardens that are actually attainable by those stalwart citizens that don't receive six-figure bonuses for ballsing-up a business?
Lots to think about, and what has emerged from all that cogitation and contemplation is the Brett Gardens and Driveways….err…brochure? Or is it a magazine? It certainly looks more like a magazine than your typical brochure with a cover that uses teaser headlines and an authentic-sounding title rather than a brand label. There's even a pseudo price flash, even though the price is "free". This would not look out of place on a rack in WH Smiths, sandwiched between " House Beautiful " and " Homes and Gardens ". A4 sized, exactly 100 full-colour semi-gloss pages, and subtle earth tones on the cover – just what you'd expect from a quality magazine.
Yeah but that's just the cover: what's it like inside?
The magazine format is maintained with a no-nonsense contents page as soon as you open up. Just two categories, the entirely predictable "Gardens" and "Driveways", with ancillary features dotted throughout, just like a real magazine! This is followed by a whole four pages of "styling guidance", before plunging head-first into the real content, starting with Garden paving.
Many of these reviews give prime consideration to new products, but with this publication, it is the format and styling of the brochure itself which commands most attention. Yes; there are a sprinkling of new products that will get a mention in due course, but the arrangement and composition has to take the lead, because that is ALL new and exciting and genuinely innovative.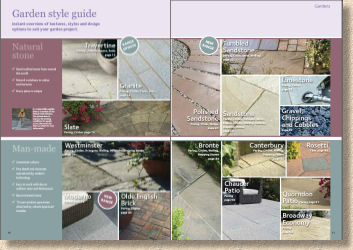 There's a real 'dip and browse' feel to it all. The Gardens section opens with a two page taster, with a smorgasbord of product, both stone and concrete, laid out in featurette format for direct comparison, with flashes indicating new lines. Rather than having specific products allocated specific pages, themes are used, so that a double-page feature might cover granite paving in all its delicious forms, from flagstones to cubes, planks to circles.
Interspersed amongst the pages of product are mini-features that look at subjects such as DIY or Contractor, using gravel and Brett's record at the nation's favourite flower shows. The only things missing are the full page ads for mobility scooters or cholesterol-reducing bread-spreads!
Better talk about some paving: the Granite Planks are new, and seem to be the 'in thing' for 2009 with many of the more astute suppliers offering their own version. Brett have two colours, the ubiquitous G603 silver-grey and a contrasting darker grey (G623?) they've named 'graphite'. 900x150mm gives it a 6:1 ratio, and at 30mm thick with sawn edges and an even but non-slip surface, these are bound to find a million and one uses during the coming season.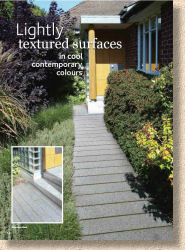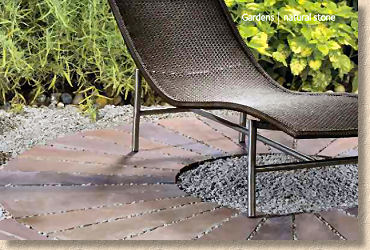 There's also a new 'plank' option in the Polished Sandstone . I've never been a fan of polished sandstone: I don't think removing every last vestige of texture does justice to the stone, and there's a perception amongst the public that such a smooth stone just MUST be slippery, even though it's not. Honed or shot sawn finishes are perceived as safe, but polishing suggests floor tiles and slipperiness and insecure footing. Ignoring this personal prejudice, I do like the Wedge format which enables the creation of intriguing straight paths with alternating wedges, or sinuous curves and arcs. Lovely idea – now apply it to a stone that's worthy of it, such as that granite.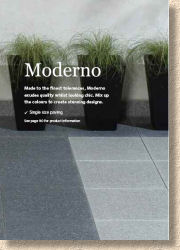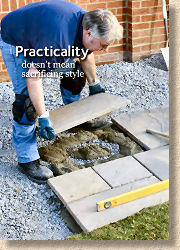 Moderno is a granite-like terrazzo finish 400x400x40mm face-mix concrete flagstone, available in the de rigeur monochrome palette of black, grey and white. Very modern, very chic, but it needs a mate to make it work. On its own, it hasn't sufficient character to fill a space, so combine two of the colours, or complement it with a smooth granite or slate to really make it show off its understated charm.
The Driveways section uses the same styling, starting with a 'splash' spread to show off the range, and following up with standalone features inserted between product groups, this time considering issues as diverse as approved installers, permeable paving and whether a kerb is needed.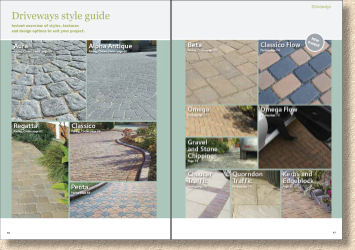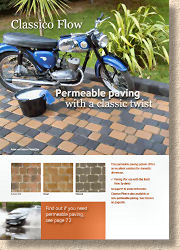 The only 'new' product is a permeable version of the classic Classico which is made even more attractive by coupling it with a beautifully-restored BSA Bantam. Given the Bantam's notoriety for losing its oil, it might not be a good idea to leave it there for too long. Send it to Borlochs Hall and I'll give it a good home!
Classico occupies a special niche in the block paving league. It's definitely more upmarket than a standard 200x100 format block, and more stylish than a tumbled product. It doesn't have the cheesiness of a moulded-texture unit nor does it have the rigid geometry of something like Penta. It's only real competitor from mainland Britain would be the Ionica from Cemex ReadyPave, but as they aren't even certain that they want to be in the paving business any longer, Classico has the field to itself, and deservedly so.
Having a permeable format just makes it even more desirable...although possibly not in that particular colour combination!
Brett have a mature and well-balanced selection of block paving for driveways. There's something for every taste and budget, with no obvious swamp-donkeys to let down the side. Despite the company's significant expansion over the last few years, it's still difficult to get hold of their products anywhere north of Stoke-on-Trent, although there are what they call "developments in the pipeline" that should help address that particular problem in the very near future.
Introducing permeable formats to the best-sellers is what you'd expect from any properly managed company, and I have to admit genuine admiration for the way in which the products have been introduced without undue ceremony, and that a fuller range of front-garden-legal paving solutions has been presented as alternatives to CBPP.
Finally, the technical and guidance pages close the brochure, and that comfortable, cosy magazine feeling continues through what could easily be a dry and tedious section. On the design and planning side of things, an uncluttered, simple, jargon-free handful of pages prompt further consideration and direct the casual user to relevant parts of the Brett website or the helpline telephone number.
Again, there are softly-coloured 'feature' boxes on the page that provide basic information on the sort of questions that are often raised by those that don't buy paving on a regular basis. What if I don't need a full pack? What do I need to allow for jointing? What thickness of paver should I be using?
All of this contributes to the customer-friendly magazine format. No long passages of text, no complex images, nothing that would intimidate or unnenerve the casual browser, but enough to whet the appetite and convince them that it is possible.
The technical information covering sizes, colours and pack quantities is minimal, verging on sparse, and I was initially concerned that this would limit the potential usefulness to contractors, but that, apparently, is all part of the masterplan. The brochure is fairly and squarely targetted at customers; that's what came out of the focus groups, that a not-a-hairy-arsed-builder-in-sight magazine format would appeal to the purchaser and reinforce the magazine feel. For contractors, a standalone, dashboard-friendly 210x125mm, spiral-bound technical guide is available to provide us with all the facts, figures and technical gubbins that makes our lives worthwhile.
This Trade Product Guide deserves a review of its own, if truth be told. It contains all the technical information that's been left out of the customer brochure, but so much more besides. There's just about everything a contractor could need: product codes, pack quantities, packaging type, dimensions, coverage, complementary products ... there's even a space provided to jot down prices!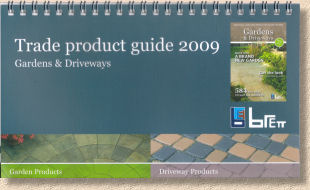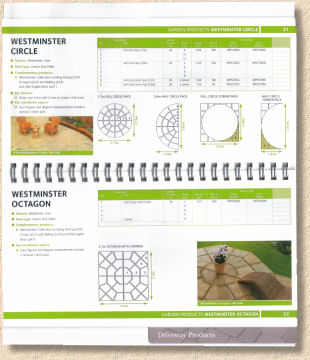 Fewer pictures, obviously, and those that have survived the cut are much reduced in size, but if they are included they are there with a purpose; to illustrate colour or texture, rather than to sell us the product in the way that the photies in the main brochure do for the residential customers.
If you're a contractor, this needs to be on your dashboard now!
If you've read this far you should be able to tell that I like this brochure-magazine: I really like it!
Granted, it doesn't have the powerful photography of some brochures, and it has benefitted from a more generous budget than others, but set all that to one side, and what I love is the magazine format. It's refreshing, informative, entertaining and enjoyable. As I wrote back at the start of this piece, it's easy to become blasé when looking at all these publications, and it's even easier to forget just who they are aimed at. As contractors and paving professionals, there's a tendency to see it from our own very limited viewpoint, when we ought to be able to regard it as a customer would.
Some of the products, particularly the concrete flags, are approaching pensionable status and there's a growing need to update the range, which is why the Moderno is a welcome addition. The stone paving is steady, reflecting the market as it is rather than how it could be, but that may be a symptom of the times and the tightened belts. The block paving, as stated, is damned near perfect, with no obvious omissions and no dead weight. This is a great brochure and the products should have to prove their worth by earning their place within its covers.
Test it for yourself! Get a copy and give it to your partner: watch her or him thumb through it, relishing its light, easy-going, consumer-friendly content, and all without their eyes glazing over as would normally be the case when confronted with anything to do with paving.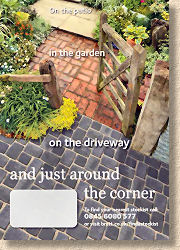 This is the most innovative 'brochure' I've seen in a decade. I fully expect to see many of its ideas picked up by others in 2010 and beyond, and there can be no bigger compliment than that!
Pick up a copy or at your local stockist or call 0845 608 0577 (now free if you have a BT line!)