Brett ventures north
After years languishing in the wastelands of Lower Britain, Brett Landscaping and Building Products have finally found their way to the North-west of England and will be making their debut at the RHS Tatton Show , where they'll be exhibiting the latest evolution of their "Real Life" garden designed by multi-medal winner Geoff Whiten.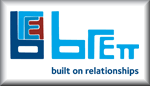 The contemporary design is said to combine Brett's attractive and versatile hard landscaping with a vibrant mix of flowers, shrubs, fruit, vegetables and culinary herbs to provide a flexible open space to suit today's modern lifestyles.
"We've taken our medal-winning 2008 Chelsea Flower Show design a step further and given it a thoroughly modern twist," says Brett Landscaping and Building Products' marketing services manager, Zack Barrett.
The focal point of the garden will be a stylish pergola which provides a sheltered alcove for all-year-round entertaining and relaxation. The garden will also feature paths providing easy access to planted areas, while three sleek, raised stainless steel water fountains are intended to complete the contemporary look, complementing the crisp clean lines of the block paving and flag stones.
"Because many people have so little free time in today's hectic modern world, we've included plants that are not only easy to source but easy to care for," says Zack. "We've also incorporated a selection of fruit, vegetables and herbs to show people how easy it is to 'grow your own' without having to manage a large vegetable patch, which can be time consuming.
People are increasingly conscious about the food they eat so we hope the Real Life by Brett garden will encourage them to reduce their reliance on imported foods, if only in a small way."
Designer Geoff Whiten adds:
"The Real Life by Brett garden is very much an extension of the home. With a balanced mix of open space, a private and inviting seating area, and very manageable planting, it's a great place in which to unwind."
As a leading garden designer and consultant, Geoff is no stranger to providing inspirational ideas to show visitors. This year marks his fourth appearance at the Tatton Park Flower Show, where he has already won three coveted medals. His accolades also include more than 30 medals at the RHS Chelsea Flower Show, including six golds. In May, Geoff won a medal for Brett Landscaping and Building Products' Real Life by Brett garden at the 2008 Chelsea Flower Show . The award was Brett's second Chelsea honour in two years. The show garden was also a runner-up in the BBC's People's Choice award.
Geoff has undertaken a number of prestigious projects, most noteably the restoration and re-landscaping of the eight-acre garden at Lambeth Palace, London home of the Archbishop of Canterbury, where he helped design a number of new features. He has also designed a 'House of the Stars Garden' for the Ideal Home Exhibition; a patio garden for an exhibition at Selfridges in London's Oxford Street; and a garden for BBC2's On the House in the grounds of the Pebble Mill studios.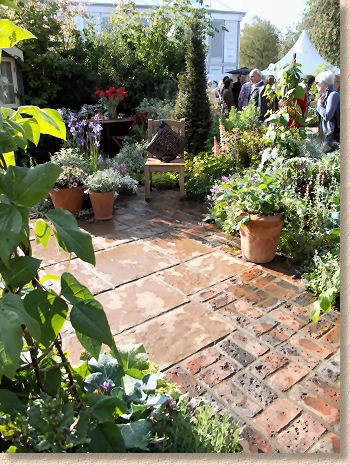 The plants and hard landscaping:
Geoff's design at the RHS Tatton Park Flower Show utilises a number of hard landscaping products currently being developed by Brett Landscaping and Building Products. The main paving area in the design showcases Brett's concept block paving, which will be laid in overlapping rectangular areas to give the garden a distinctive modern look. This face-mix paving features an exposed layer of quality aggregates over a base mix of low-cost concrete which has no pigments and other "beautifying" additives – making a relatively environmentally friendly paver that is same time strong and durable with a natural and contemporary feel.
Zack Barrett, Brett Landscaping and Building Products' marketing services manager, says:
"Using a product with two different layers of concrete has enormous benefits. By having a bottom layer of eco-friendly, low-cost concrete and a thick surface layer of attractive aggregates and concrete, we can create a beautiful, high-quality finish without the expense. The expensive components are only used in the part of the block that is actually seen."
Brett has used the same production process to create the larger, warm terracotta flag stones used in the garden's seating area.
Adds Zack:
"As we continue to develop this production technology, we hope to increase the amount of recycled materials used in our concrete blocks without compromising on the quality of the finish."
The RHS Tatton Show takes place at Tatton Park near Knutsford, Cheshire from Wednesday the 23rd to Sunday the 27th of July. Far less crowded and much more accessible than Chelsea, Tatton gets better with each passing year and proves that when it comes to garden shows, if you want summat doing proper, do it up north!