DIY and Garden Show 2004
The annual DIY and Garden Show took place at Earl's Court Exhibition Centre from 18th to 20th January 2004. Only one major paving company was present at this year's event, but there were several smaller companies with tools, gadgets and products that would be of interest to paving contractors and the keen diy'er alike.
As ever, Bradstone had a well-laid out stand, in a prominent position, featuring all of their new products for the 2004 season. The enchanting Sally Gant, National Account Manager for Bradstone, was handing out "Goody Bags" containing the brand new 2004 catalogue, along with a Garden Designer cd-rom , a handy Trade Directory which gives the basic technical data on all the Bradstone products, and a few fripperies including a frisbee, obviously intended to be used when the lads are hanging about on site, waiting from the Builder's Merchant to deliver the pavers that were promised for 'first drop'!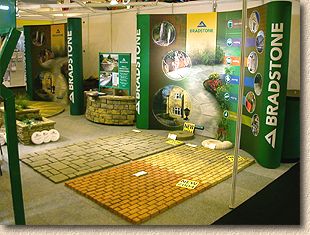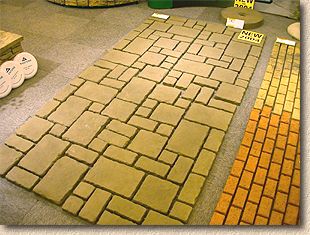 Sally told me that the new range of Carpet Stones were attracting most attention. As reported on this site following the GLEE 03 show, Bradstone have resolved a number of licensing issues regarding production of the Carpet Stones range which has meant that they've been able to introduce new styles and to shift production from Holland to two of their plants in the UK. All of this should mean that the merchants will be able to offer better stock levels and lower prices.
The Grey-Green Random layout Carpet Tile looks certain to be a big seller, although they're not suitable for driveway use. The new Terracotta and Cotswold coloured brick-style units offer a more traditional look, and would be ideal for garden paths and informal patio areas.
Also new are the Travertine flagstones and the Gironde circle units. The Travertine were first shown at GLEE last year, but the colouring was never quite right; however, the new production is much improved, with subtle colouring and an improved texture.
The Gironde range of French Limestone inspired paving is now available in two sizes of circle, both with 'Squaring-Off Kits'. The smaller circle, at 2.8m diameter, features the four-part centre with tow 450mm wide outer rings, while the larger, 4m diameter circle has an extra 600mm wide outer ring.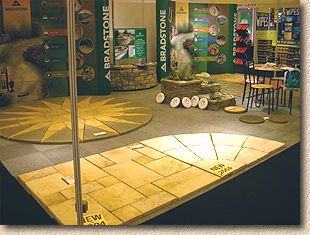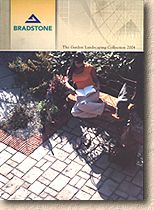 The new Bradstone Catalogue should be in your local Builder's Merchant now, or within a few days, and it's a well-presented effort with some very good photos, which I'm hoping to cadge for use on this site.
The Random Carpet Stones feature on the front cover, underlining the belief Bradstone have in their new product, and there's a collection of little-known Rugby players complete with cauliflower ears, bent noses and some gaudy trophy or other on the back cover.
Other new paving products on show included the EcoGrid Cellular Matrix units, sold in this country by Laserfix of Birkenhead, but manufactured in Holland by Lankhorst .
The cell pavers are manufactured from a recycled plastic, which they call KLP, and so they won't rot, disintegrate or discolour over time. They can be used as grass pavers, although using a gravel-infill is becoming the most popular choice.
Michael Wilkinson, Laserfix's Development Director, reckons the 30mm units should retail at around £13 per square metre, with the more robust 50mm units being knocked out at around £16 /m²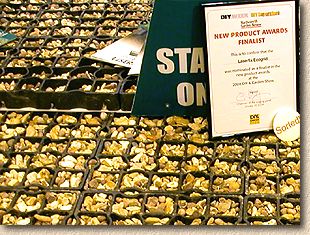 Hanson Building Products " Supamix " imprint had a smaller stand than usual, but used it to good effect to show off their new range of Japanese Beach Cobbles, intended for pools and water gardens. Whether the Cobbles really are Japanese, or just 'Japanese-style' wasn't clear, but the colours and textures are bound to be appreciated by those keen on the Oriental style of garden design.
The other Supamix products, including their pre-mixed mortars and concretes, were also on show, but we've all seen them before and there's nowt new to report.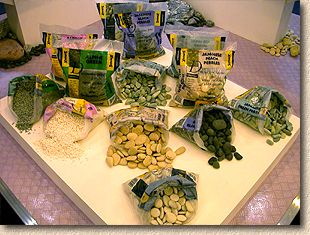 Amy O'Hara had forsaken the warm winter sunshine of her native Florida to bring her company's Driveway Resealing and Renovating products to our damp and chilly islands. Over in the US, resealing of asphalt and bitmac driveways is something of an annual task, like clearing out the gutters and jet-washing the patio. Over here, this simple idea, which can have such a dramatic effect on the appearance of a tired-looking tarmac drive, is something of a novelty, with only one or two products readily available.
Gardner Asphalt Corporation believe the European market is poorly served in this market and so they've brought some of their American know-how to give us a taste of what is possible. Gardner is the largest supplier (what they call #1) of packaged asphalt products in North America, and have over 50 years of experience in the industry. Their patented Pro-Gel re-sealer will rejuvenate a stained or faded tarmac driveway, making it look fresh and new, and for a fraction of the cost of having an overlay done.
Gardner are looking for UK and European distributors, and given the high number of scruffy looking blacktop driveways we have in Britain and Ireland, this could be a great opportunity for someone out there. If you're interested, contact Amy, their International sales Director, via the Gardner website .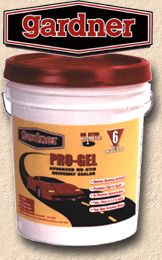 Bits and Bobs:
Brief mentions for other products seen at the show that may be of interest...
Solar technology International displayed a range of Solar-powered garden lighting , including this little number, the Tuscany Step Stone, which features a solar-powered unit embedded into a replica slate stepping stone. It emits a warm amber glow, just enough to guide visitors across a lawn or other garden setting, and they come in a set of three for only £60. The whole unit measures a tad under 290 x 290mm, and the light itself is around 125mm square.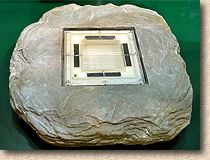 Godfrey's of Dundee manufacture and supply a wide range of geo-membranes and geo-textiles, ranging from heavy duty civil engineering applications, sold as the "Autoway" range, down to simple and convenient "Paveway" geotextile, for paths, patios and Driveways.
Sales Director John Marshall showed two 'handy' packs aimed at the patio and driveway market, with a small roll-pack containing 14m² of the rot-proof and tear-resistant textile, with a slightly larger flat-pack containing 50m²
Everbuild displayed a range of Building, Sealing and Cleaning products, including an 'all-purpose' paving sealer that they reckon can be used on patio flags, block pavers and natural stone.
Their "Path and Patio Seal" is a solvent-free acrylic sealant that dries to a hard-wearing film with a low-sheen finish. The 25 litre drums should sell for around the £40 mark, while the 5 litre tins cost around a tenner.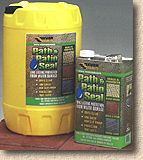 Tools Time: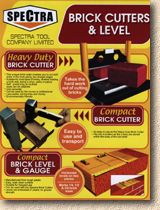 Spectra Tools from Yorkshire had a couple of brick-cutting gadgets that rely on hitting the chopping blades with a lump hammer rather than levered pressure, as is used with standard brick and block cutters.
However, priced at only £15 for the compact model and £25 for the "Heavy Duty" model, these might appeal more to the DIY market than the professional contractor.
Spookily, on a stand not a million miles away, Trimble Construction Instruments , from Ohio in the US, were showing off their laser levels, which are named....Spectra Precision ™ Levels. They offer a range of laser line generators, pointers and distance meters that make setting-out even easier than ever.
Trimble have their European distribution arm based in Germany and you should be able to find out more about their products via your local specialist tool supplier.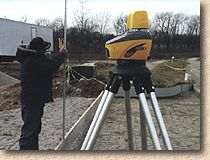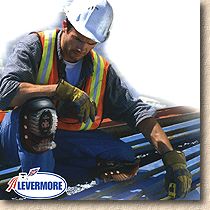 Only a time-served block layer knows the intensity of ache and pain that comes from kneeling in damp grit sand all day, screeding out beds and laying blocks. Worst of all, when your knees are already damp and chilled right through to the bone, is kneeling down to lay a few blocks only to find a small but incredibly spiteful and malevolent pebble directly under the knee. The pain induced bears no relation to the size of the culprit, but it has been known to make grown men weep.
As someone who can hardly walk some mornings, thanks to knees knackered in service to the paving trade, take it from me: a good pair of kneepads are worth their weight in gold and these "All-Terrain" babies from London-based Levermore are better than most. Your knees will thank you for evermore!