PlayPave from Marshalls
So: I find myself in that London, attending a flower show, at the invitation of those nice people at Marshalls …wait a minute! Déjà vu – didn't this happen a few weeks ago or did I dream it?
No – this is July, the rain is warmer, and the venue is some ginormous, ostentatious gaff in west London by the name of Hampton Court. The last time it was some ginormous, ostentatious gaff in west London by the name of Chelsea Hospital– totally different. How could I ever have confused the two?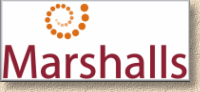 The reason for a second cultural mission to Lower Britain in the space of a couple of months is the so-called "soft launch" of a new paving product from the largest UK manufacturer. Just why a new paving product would be launched at a flower show isn't immediately apparent, but, says Marshalls' Commercial PR Manager, Jeremy Swallow, come on down and all will be revealed.
He didn't mention the mud. Like a Glastonbury for the horticulturally inclined, the site is ankle deep in sloppy, squishy, squelchy goo. Decorated wellies are de rigeur, and the much-derided Chelsea Tractors are at long last getting their matte black citified tyres anointed with authentic, off-road mud from a real field with actual grass. The car park looked more like a rugby league training ground in late December than the back garden of Henry VIII's edge-of-town pied-a-terre, while the soggy-looking exhibitors were spreading industrial quantities of chipped bark in a futile attempt to provide firm footing for the brave visitors. If asked to sum up this flower show in a single word, that one word would be "trudge". There was a lot of trudging going on, far more trudging than is reasonable for July, trudging above and beyond the call of duty.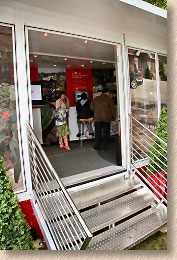 In the company of my hosts, we trudged over to the Marshalls' display area, and filled with the spirit of summer holidays, they've treated themselves to a brand new caravan. Painted up in the company livery, it's designed to provide a portable platform for presentations, not least of which is the relatively new "Garden Visualiser" reviewed back in May. When not parked up in a prime spot at Prestatyn or Filey, the 'van will tour the country offering day-trippers the opportunity to create a visualisation of their own garden at home as it could be when sprinkled with the Marshalls' magic, and it even has the ability to provide a virtual walk-through aided by the in-van team of paving and design specialists.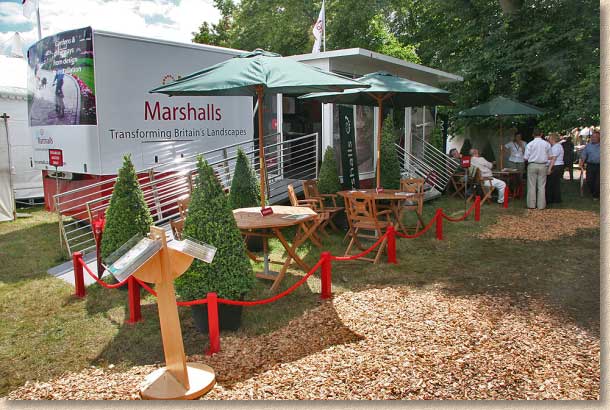 Given the conditions, you might expect a leading paving manufacturer to have a bit of hardstanding, some dry ground, but no! Eschewing the obvious, they've gone for the 'natural look', with comfy-looking patio furniture strewn about what was, at some time one presumes, grass. Not a single flag, kerb or block paver in sight! In fact, it was only when tempted into the air-conditioned sanctum sanctorum with the promise of bacon butties that any actual paving was to be seen, which leads us, rather conveniently, to the purpose of the mission.
PlayPave is what they are calling a "hybrid safety paving". In simple terms, it's a 450x450mm concrete flag with a 25mm topping of coloured rubber, designed for use in children's play areas as a more versatile and cost-effective alternative to the usual wet-pour crumb-rubber surfacing.
Over the next 15 years, the government is planning to spend a whopping amount of money on upgrading the nation's primary schools, and Product Manager, Steve Reddington, has identified a significant potential market for a paving line that is not currently covered by any of the major manufacturers. With over 30,000 schools and nurseries lined-up to be revamped, each with an estimated 50 square metres of play surfacing to be installed, that's a million and half m&up2; of bouncy, kid-friendly paving required.
PlayPave is said to offer significant advantages over alternative surfacings. Modular manufacturing ensures a consistent depth of surface, offering 600mm Critical Fall Height (CFH) compliance, something that can't always be guaranteed with poured in-situ installations. Further, installation itself could hardly be easier, as the PlayPave units are flags, laid in exactly the same way as any other flags, using traditional paving skills rather than specialist (and pricey) installers. No need for a pre-laid base of blacktop or concrete: lay them on a straightforward screeded bed of sand/cement mortar, using standard tools and techniques.

The PlayPave units will be supplied in a wide range of colours intended to stimulate both design possibilities and the children's imaginations, but even more exciting is the possibility of having fun design features available 'off-the-shelf', while bespoke designs, such as school logos, motifs and legends can be easily prepared to order. Unlike wet-pour surfacing, intricate and unique designs can be manufactured on demand and installed in one, simple operation. This really does make complex and exciting design possible without sending the budget through the roof.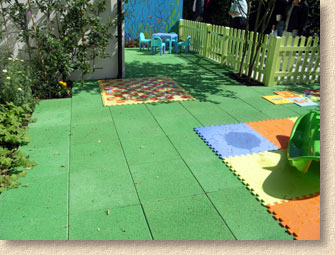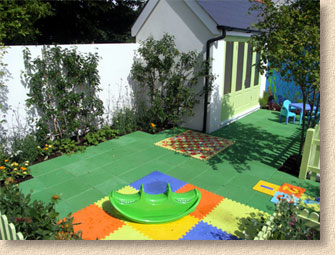 The first ever installation of PlayPave was undertaken in the Claire Whitehouse designed "Centrepoint Garden" at the Hampton Court Show, which answers the question posited at the start of this piece: why launch a new paving at a flower show? Centrepoint is a UK-based charity devoted to supporting homeless and socially disadvantaged young people to make a fresh start in a safe and secure environment. PlayPave will provide a safe yet stimulating surface for young children in the Centrepoint hostel garden, and, once the show has closed it gates on Sunday evening, the paving will be lifted, carted across the quagmire, and installed at a Centrepoint hostel to ensure its benefits are enjoyed by those who need it most.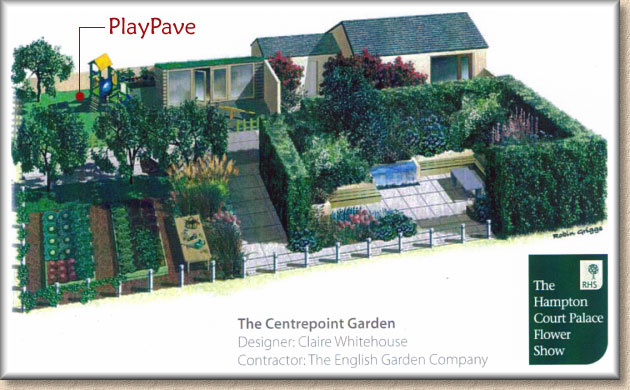 Steve Reddington reports,
"supporting Centrepoint in its mission to create their RHS Show Garden and future development has been a privilege. The Garden embodies all their young people's wishes to help create the perfect environment. Play is a vital component of this development, helping bind people and communities together. Marshalls' PlayPave ensures that this experience is enjoyed in a safe space."