GLEE 2006 - Page 3 of 4
This is the third page of the four-page Pavingexpert review of GLEE 2006. Use the panel above to navigate to other parts of the review. This section looks at the medium-sized companies specialising in natural stone paving.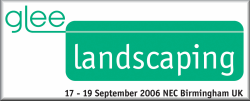 Natural stone has been the moneymaker for the paving industry throughout much of the past decade, and the market has now reached a stage of maturity where the buyers, both professional and DIYers, are looking for something a little different. The market for the run-of-the-mill Raj Green, Desert Sand, etc is all but saturated and this was exemplified by the likes of Price's Paving who were offering just this sort of thing for just 10 quid per square metre. Where's the profit in that?
They also had some of the foulest, most disgusting, lanolin-drenched, oil-stained ball-breaking 150mm thick mill flags it's been my misfortune to see. I stood gobsmacked that anyone could be so gormless as to believe that the…the…there's no other word for it…the shite that they were displaying as reclaimed yorkstone on their stand did not warrant the cost of skip to cart it away. Someone should have dug a big hole and buried it, putting it, and us, out of our misery. The fact that this utter crap was directly adjacent to the StoneFlair stand can only have detracted form what was already an awkward location for Ian and his team.
Luckily, several of the other stone paving exhibitors had really excelled themselves, and I'm eternally grateful that the quality of their new products managed to salve my troubled mind and expunge the nightmare vision of those bloody awful yorkstone monstrosities.
Natural Paving
Natural Paving first appeared at Glee 2005 and immediately made an impact with their range of "stone block paving". Since then, MD Paul Shephard has kept me up-to-date with new products, new ideas, and his infectious enthusiasm for what can be done with stone is an example to us all. He doesn't sell Raj Green flagstones: he specialises in high-end, quality, distinctive products, such as the stunning "Midnight Blue" tumbled limestone octagon that dominated the centre of the display.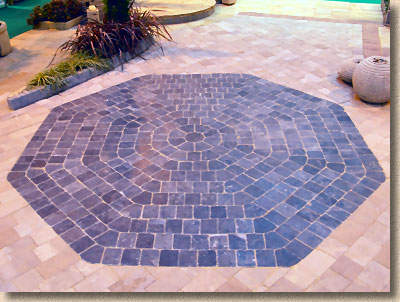 Earlier this year, this website hosted a feature on the first residential installation of the Natural Paving 3-size tumbled blocks, and that has engendered enormous interest in both the blocks and the company, and when you look at what was on show here, it's hard to stop yourself from slavering all over the stand. Round-top limestone edging kerbs; half-battered small element kerb units; stone block paving in a considerably expanded range of colours; granite walling; bull-nosed step units….everywhere you looked there was another gem that inspired the mind and fired the enthusiasm, making you want to install it somewhere, anywhere, as long as you get a chance to work with these gorgeous materials. This is what paving should be about: quality products, superb colours; clever textures; and limitless versatility. Just two minutes on Paul's display tells you exactly why stone paving has taken the market for its own since the turn of the millennium.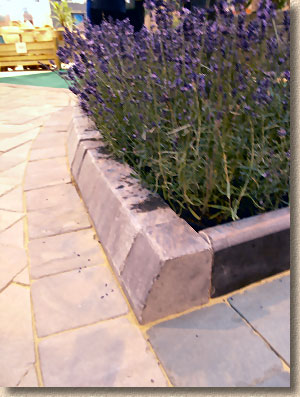 The move to a bigger display area allows them to show more products in a more decorative, opulent manner, but the stand had a feel similar to that of Stonemarket: too open and two-dimensional. It needed some height, it needed something to break it up and make it feel more informal. Having built a good relationship with Paul and his team over the past 12 months, I'm sure this will come. They are still a young company, still learning; they were right to concentrate on product this year, but I hope they'll take this constructive criticism in the spirit in which it is intended – these products deserve a more luxurious, three-dimensional arena in which to flaunt their charms.
Pavestone
The theme of product excellence was continued with the Pavestone stand. Kevin Fowler has become a regular exhibitor at Glee, but for the first two or three years, I never felt he had the right mix of products.
I think the first year I met them at Glee, no-one would talk to me, and then there was an over-indulgence with the imported concrete block pavers that left me cold. A couple of years ago, it seemed that the whole stand was paved with the polished Modak. Last year saw a marked improvement and there were a number of products that I really liked. However, this year, I have to say that Pavestone is the one company that has upped its game more than any other exhibitor – they have created a stand that is worthy of their products in just the way I hope Natural Paving will be able to do in exhibitions to come.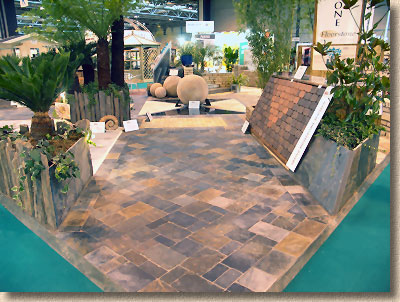 There is so much to admire on this large stand, and almost nothing to disregard. The tumbled Chinese slate that has been used to pave two diagonal paths leading into the stand is simply stunning: there is no other word for it. I hung around for a few minutes listening to what other people were saying about it, and it was almost universal acclamation for a paving that provided the nearest thing to a visual orgasm anywhere in the hall.
But one product would not be enough. Kevin, far more communicative this year than he has ever been before, explained how he had made a conscious decision to concentrate on quality, high-end products and move away from the simple flagstones. The one Indian flagstone he did have on show, a vertically tumbled sandstone they sell as "Oxford", is a premium product that you won't find sold by a local farmer off the back of a trailer.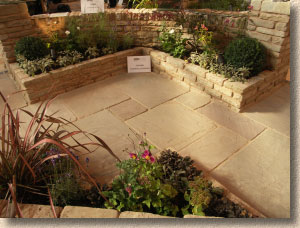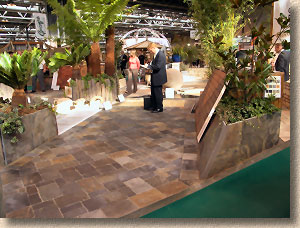 I loved the way in which height had been created by building planters using vertical peacock slate monoliths; I loved the way that sections were separated from the main area by low walls, all of which engendered a sense of exploration. The central 'chat area' was perfectly scaled and there was no sense of the stand being under- or over-staffed. I spent a wonderful half-hour playing with the new version of the PaveCalc software – I wish I had the time and space to describe it more fully, but I do feel that it warrants a news feature of its own, as soon as the Pavestone team feel it is ready to be shown to the wider public.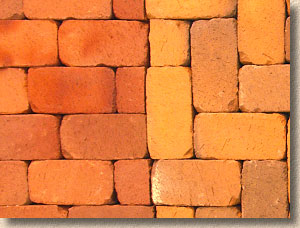 No sign of the concrete blocks this year. This is purely a matter of personal taste, but I could never take to the colour blends of many of the tumbled Pavesetts, so their absence was not mourned, and besides, I was much, much happier to see a superb selection of tumbled clay pavers, in rich, natural colours. Yes, they were on near-vertical racks, but even so, their inherent charm and warmth was apparent and I'd love to see them in a "real" situation.
Global Stone
` Two Essex-based stone suppliers next: Global Stone are Glee regulars, and never fail to have a thought-provoking selection of stone for both internal and external use. A few years ago there was a sense that they had almost every stone known to man, and that their displays were more of a geologists dream-come-true than a marketing exercise for their well-sourced and never-less-than-top-quality products.
This year, there were fewer products but the overall effect seemed more professional. As Sales Manager, Julian Wood put it, they've refined their range, and that is it to a T. It is indeed a refined range of the better, higher-end products. Although the day-to-day stuff, such as Raj, Modak and Fossil Mint, is still available from their network of outlets in south-eastern England, they used the space here at Glee to show off the products that you're not likely to see elsewhere. The tumbled sandstone setts were attracting a lot of attention, and I thought these were possibly the best item on the stand. The large format, and the rosy-buff colouring, is so reminiscent of the chunky gritstone setts we have here in Northern England. Having them jointed with the honey-coloured GeoFix doesn't provide enough of a contrast for my eyes, but even so, their innate beauty cannot be missed, and the new circle kit is a great addition.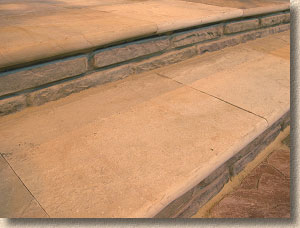 The bull-nosed steps are another banker. This does seem to be the year when everyone has latched-on to the fact that fettled or square edges are not always the best thing for steps, and that a full bull-nosing just adds a touch of class to the whole construction.
This could have been another flat display, but the raised central area did help break it up. However, I've always felt that when a stand has a central look-out post, it can be intimidating to visitors, who must approach the sales force from a lower position. Natural Paving also had a slightly raised 'chat area' but theirs was tucked into a corner, which is more discreet and less intimidating. Maybe I was too charmed with the central fountain of last year, but I did feel a little less comfortable on this layout than has ever been the case before with Global Stone.
CED
CED, the second of the Essex boys, are not new to Glee, and are no strangers at all to the stone paving trade. They are rarely absent from any of the specification shows, such as Civils, Interbuild or External Works. Garden centres and retailers are, I suspect, not their natural market, but it's a valuable market and it would be remiss to ignore it.
The stand itself was more-or-less identical to that seen at Interbuild earlier this year, but there's nowt wrong with that. The H-U-G-E boulder at the front provides a sense of drama and indicates the sort of scale at which CED can operate. The granite setts, picked out in the Interbuild review, are still the best thing on the stand, but that's not to deny the quality and excellence of the that were also shown.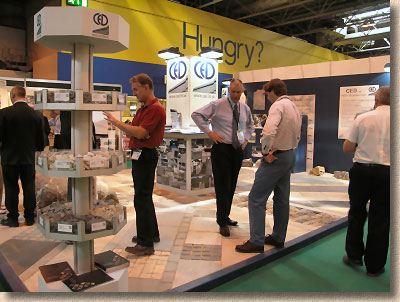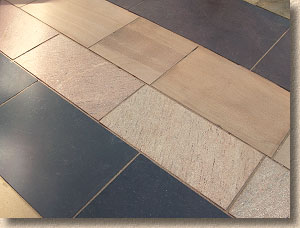 However, it did feel that CED were a little out of their depth at this event. The staff are very knowledgeable, probably too knowledgeable for the sort of buyers that come to Glee. They'd be more comfortable chatting with designers, specifiers and sad gits like me that love their stone. Still, it was good to see them here, as I feel it helps give the whole event a stronger hard-landscaping presence, which will, I hope, encourage more of the trade to exhibit here, and perhaps persuade the likes of Brett, Midland Slate and Westminster Stone to reconsider their absence.
Strata
The last of the stone paving exhibitors to be mentioned is Strata , a new-to-Glee company that is actually managed by none other than Gary Sargent, who has a good few year's experience in the trade. He's now teamed up with Sanjeev from Stone Age in India and is one of the few traders that hasn't been caught out by shortages and transport problems over the past months: in fact, he's been in a position where he's been supplying companies with much more prominent profiles.
He might not thank me for saying it, but it has to be said; this was the worst-laid paving at the show. I know it's always difficult to get a top-notch standard of finish at a trade show, but the contractor Gary used does seem to have been way out of their depth, which is a shame, because some of the paving was suffering due to poor display rather than any genuine problem or shortcoming of the actual product. In particular, the peacock setts were all but ruined by the uneven laying and non-existent jointing that served only to make them seem far more rugged and challenging than is the case.
However, anyone with an eye for this trade should be able to see past these problems, and that eye, if it had any sense of direction, should have lighted upon the Cathedral stone, a marvellously mellow sandstone that would fit right in with almost any garden, and exclusively available from Strata...for now.. There was also a very appealing tumbled and polished limestone that, in texture at least, is highly reminiscent of well-worn Portland stone. It was difficult to judge colour because of those damned hall lights compounded by the wall lights used to illuminate selected products around the walls of the stand, but I'd hazard a guess that it is probably just a shade or two more buff than the native Portland.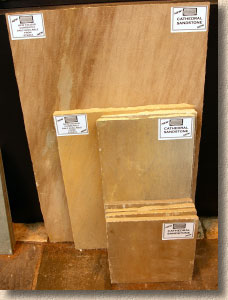 Pratt's Bottom
Finally on this page, an observation. A certain Preston-based stone importer took exception to my review of last year's show, making false and unjustified accusations regarding my motives; in particular, that I sought payment from various exhibitors for inclusion therein, which I found grossly offensive. This petty-minded gobshite subsequently banned me from his stand and promised to put up a banner at this year's show declaring that Pavingexpert was not welcome at his display. As expected, the silly little man failed to live up to his promise, and I missed my chance of glorious notoriety. Hopefully, he'll ban me again when he reads this.
Page 1 | Page 2 | Page 3 | Page 4 || News Index Page