Tobermore's new vision
"Turmoil" is defined by Chambers' dictionary as " confusion, agitation or disorder; upheaval ". It's said to have its origins way back in the early part of the 16th century and to stem from Middle English moillen , to make wet or muddy. Wherever it comes from, it would not be a word normally associated with Northern Ireland's leading block manufacturer, Tobermore .
However, the effective collapse of the construction market in the Republic combined with the loss of several key staff members to rival manufacturers did, for a few months, result in confusion, disorder and upheaval. Tobermore were in turmoil.
On the surface, the company seemed lost, mortally wounded thought some, but due in no small part to a committed workforce and an impressively solid order book for the specification market in Northern England and Scotland, rumours of their demise are, to paraphrase Mark Twain, somewhat exaggerated.
Instead, the dark months have been spent licking wounds, recharging batteries and re-thinking their strategy for the British market. Previously, the company more or less eschewed the merchants, preferring to deal directly with the customer, whether that customer was a repeat business contractor or a one-off homeowner. This strategy offered significant savings for customers and potentially healthier margins for Tobermore, as there is no middle-man taking their cut, but the flip-side of that particular coin is that there's hell of a lot of legwork and marketing required to make contact with those would-be customers.
A winter-long considered review of the British market in the light of a leaner construction industry and a more compact sales team has resulted in a new strategy, one that now embraces the merchants, relying on them to drive sales to new customers, while Tobermore focus on procuring specification orders and providing a second-to-none support service to stockists.
Yeah but, isn't this what every block manufacturer says? They all claim to offer the best service and support; they all sweat blood chasing commercial projects; they all sell their souls to capricious specifiers for that big prestige order. In a shrinking market, where total CBP sales have fallen for the last three years, why should any merchant consider Tobermore?
Sales and marketing supremo, Brian Wilson, reckons that keener pricing along with a block quality he believes to be the best on either side of the Irish Sea should help. Use of face mix technology combined with access to some of the best aggregates in Ireland ensures Tobermore blocks have a tight, dense face, with solid colour, while the textured granite-effect blocks (Mayfair and Sienna) are amongst the best I've ever seen. And to aid their sales team, the company has also produced an impressive array of targeted marketing materials. A new "Paving and Walling Specification Guide" is an absolute joy, a steel spiral bound compendium featuring 148 tabbed and colour-coded pages of stunning photographs, genuinely useful text, and wonderfully clear diagrams. This is not a brochure aimed at the homeowner, but a genuine 'specification guide' for contractors and specifiers, so we don't have to endure the sort of florid text and intangible aspirational concepts so beloved of those publications.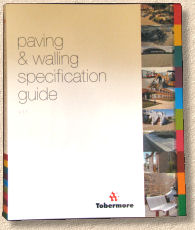 The guide is sub-divided into sections for block paving, flags, steps, kerbs, machine lay, retaining walls, and more, which makes it quick and easy to find the required item. Top line products are afforded the courtesy of a full, A4 sized colour photo complemented with reasonably-sized swatches and the key technical information provided in tabular format, including data on exactly how much of each product is carried as a full load!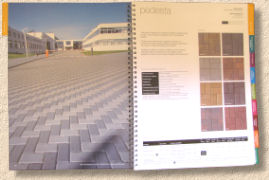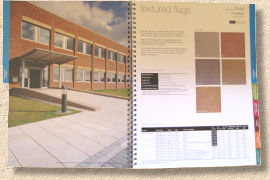 While not as extensive as "Product Selectors" from some other manufacturers, this one really hits the spot. The focus throughout is on products and the info necessary to design, order and install. The one real concession to construction advice is a very useful "catalogue of designs" for permeable paving, which offers a selection of 2D cross-sections for the more common constructions, which ties in with Brian Wilson's identification of permeable paving as a major market for Tobermore in the immediate future. Elsewhere, the products are given centre stage and the full page images are a fantastic sales aid. I know from feedback to the website that customers want to see photies, and many of the photies in this publication are little short of stunning.
While the "Specification Guide" will keep contractors and specifiers happily occupied for many an hour, the marketing re-think has caused the Tobermore team to accept they have to attract new customers. Developers, designers, landscape architects and even the builders' merchants all need to be made aware of what Tobermore has to offer. Brian was concerned that the company's focus on Ireland and Northern Britain may mean customers elsewhere are not familiar with the Tobermore brand, and unacquainted with the type of projects in which the business has been involved. So, a range of "sector specific" guides have been prepared, where each A4 booklet looks at how Tobermore have worked with some of the best known names in the retail, commercial and leisure sectors.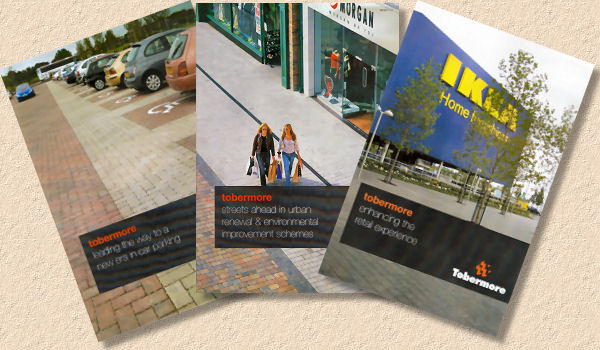 There are guides for commercial buildings, streetscapes, car park schemes, education, housing, sports and leisure, and the retail sector, where, with customers such as Ikea, Lidl, Tesco and Aldi, Tobermore have been particularly successful. Each guide is essentially a collection of full-colour photographs illustrating how Tobermore blocks and walling have been used on a wide range of development schemes throughout Britain and Ireland.
There are guides, too, for permeable paving, for retaining walls, and even a very useful guide for small contractors looking at how Tobermore can help small business make the most of their opportunities.
As stated back at the beginning of this article, rumours of their untimely demise are plain wrong. The company has re-invented itself for the second decade of the 21st century and the ever optimistic Brian Wilson is genuinely excited about the challenges and opportunities that lie ahead. He's realistic: he accepts that it is going to require hell of a lot of hard work, and that it is a marathon, not a sprint, but for now, the turmoil has been quelled and the path ahead has been charted.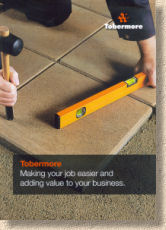 How well it will work with the merchants remains to be seen. I've long felt that merchants wield an unhealthy share of power in the CBP market, giving them far too much say over terms and pricing, which puts the squeeze on even the biggest of manufacturers, but I understand the reasoning behind Tobermore's decision. It's important that in their courting of merchants, they don't lose that mutually beneficial connection they've always had with the contractor.
I'll be watching with interest how things develop.