Glee 2011
Blinking 'eck! Is it really 12 months since I last sacrificed a whole day of my very limited free time to traipse around Glee at Birmingham's NEC gradually becoming more and more disenchanted with the piss-poor showing from the erstwhile hard-landscaping industry? It is! So WTF am I doing back here? Do I never learn?
Actually, there are two good reasons why I made the 180 mile round trip pilgrimage. One is to show moral support for a manufacturer I admire enormously and the second is because another exhibitor all but begged me to review their new offerings. And while it was well worth the journey to validate the first objective, the second never came about because, on the day, and despite advance warning of my planned visit, there was no-one suitable (by which I mean courteous and personable) to talk to.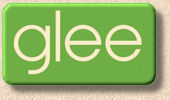 To be fair, I pulled out of the NEC car park at 4pm in torrential rain and facing a misery-inducing 90 mile trudge through spray and brake lights back to Warrington, but with a much lighter heart than has been the case over the last couple of years. There was more to see this time (there could hardly be less), and there was more positivity from the exhibitors, which somehow teleports from them to me. There were also a couple of pleasant surprises, which always helps the mood, but more of that later.
Glee used to be about new products. Most of the manufacturers and importers would use this once-seminal event to launch their new ranges for the coming year, and at its peak, it could be daunting to take in everything that was on show. In this so-called age of austerity, where " we're all in it together ", except some of us are deeper "in it" than others, innovation and new products have been few and far between. Thankfully, there has been some progress this year, and there is a sprinkling, a light dusting if you will, of fresh ideas.
Westminster Stone:
Pride of place must go to Westminster Stone's new venture in league with the National Trust. This new National Trust Collection was 'soft-launched' at Chelsea back in the bright and heady days of spring before we had a chance to be let down by yet another soggy summer, and the range was featured on this website at the time. The National Trust is a quintessentially British brand, reeking of stately homes, well-filled bodices and afternoon tea at inflated prices. As a brand, it is bigger, more recognisable, and has more 'customers' than any paving manufacturer. Its repository of architectural history should make it ripe for benign exploitation, but for whatever reason, previous attempts to 'monetise' (as the current term seems to be) this treasury of cherished paving and landscaping have withered and faded.
The new link-up with Westminster Stone promises much. For the NT, it is a new beginning with fresh ideas, while for Westminster, it is a fantastic opportunity that can provide much needed impetus to a sector of the industry that has struggled to hold its own against the onslaught of cheap imported materials. For them, the NT collection will not be a sideline, but a major part of their business, which is guaranteed to focus their attention on making a real success of this new venture.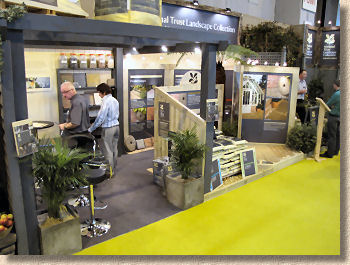 The collection is split into four themes, each featuring a reproduction flagstone of the highest quality based on moulds taken from a celebrated stately home, along with complementary accessories and a selected classic gravel. There's no point in repeating the info provided months ago, so check out the original report for the detail.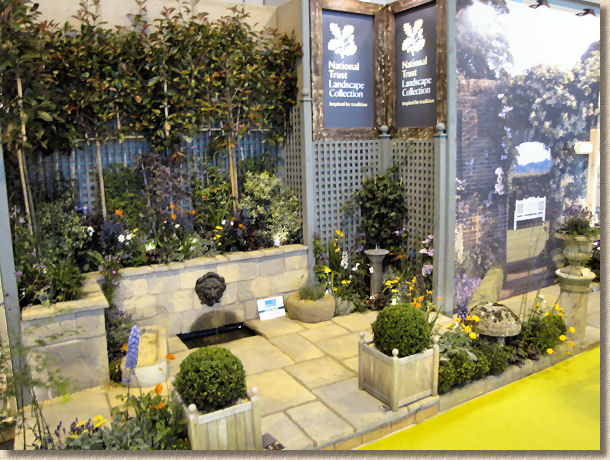 At this official launch, the focus was on identifying potential distributors and outlets. Westminster Stone have put together a compact but very attractive marketing display, with each unit measuring around two square metres but capable of displaying the paving, the accessories and the gravel from any of the collection themes along with ancillary information in what has to be recognised as a cultured and very tasteful package that would be a credit to any garden or DIY centre. And don't just take my word for it: they walked away with the award for Best Garden Display, a well-deserved tribute.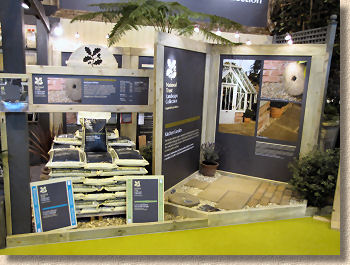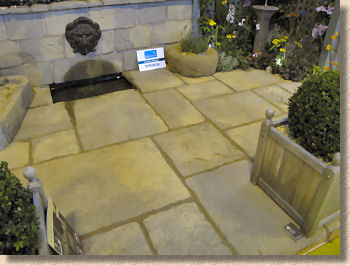 Natural Paving:
Show regulars, Natural Paving , had quite a few new products but were adopting a radically different approach by not launching any of them at all. Instead, the plan was to show what they had available and then gauge the feedback from visitors to their stand. So, if one particular flagstone or sett was widely admired, there's a good chance it would appear within their range at some time next year, whereas if another flagstone was tut-tutted, it will probably sink back into obscurity.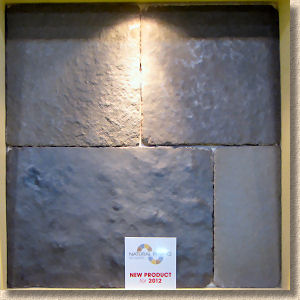 Obviously, they had displays of their currently popular products, such as the York Green sandstone. They also had a show of native walling stone, and the unmistakeable Pennine (Namurian) gritstone which features big, chunky grains in shades of cream, grey and gentle buff. This is an underused stone outside of Lancashire and Yorkshire, and it deserves a wider audience. In ashlar form, it's bursting with character, but when sawn and dressed as pillar, copings or pier caps, it exudes a rugged solidity that is hard to match.
The most obvious of the new pavings is a multi-hued quartzite, which has a gently riven surface texture and comes in three modular sizes. I struggled with this one and I think that is because the range of colours is just too wide for my sensitive visual cortex. There are dusky olives and rusty oranges, tans, greys, buffs and creams. It would be easy, in theory, to create two or three individual palettes, with, say, the khaki olives and muted browns in one set, and the vibrant tans and buffs in another. This, for me, would make it a more coherent product. It's good quality stone, but there's just too much colour variation.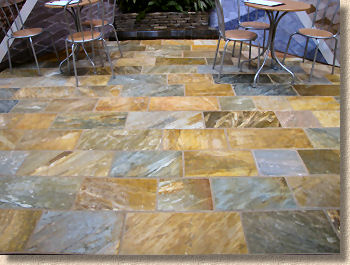 Dotted around the external panels were a range of other potential offerings too numerous to detail, but I particularly liked the brushed blue limestone, and I can't fail to mention the tumbled Fossil Mint. Yes! You didn't mis-read that last bit. A tumbled Fossil Mint flagstone that hasn't fallen apart or crumbled to dust in the process. And they say that miracles never cease…!
BorderStone:
It seemed that BorderStone , the only Aggregate Industries imprint to turn up this year, had actually taken over the whole central section of the ever-shrinking Hall 4. Their multiple display stands stretched from horizon to horizon, one featuring paving, another the sort of garden ornamentation that appeals to the Garden Centre buyers that now dominate Glee's core audience. As mentioned previously, I didn't get to talk to anyone at length, but there will be a separate review of AI's plans and products in a week or two, so watch out for that.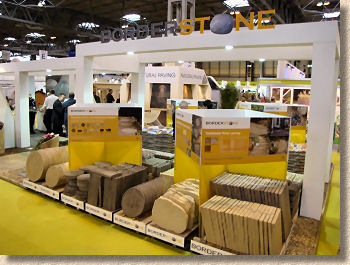 Strata:
Strata Stones are another show regular and a brand that seems to grow in both turnover and stand size with each passing year. There was a lot to see on this huge stand, but not all of it falls into what I consider to be my remit. Water features are, patently, a big seller for the aforesaid Garden Centre Buyers, but hold zero interest for me. I find they are too subject to the fickle fortunes of fashion, and I reckon that, in 10 years time, it will be possible to identify exactly which year, and probably the season, in which a particular garden was constructed by the water features it contains. Last year, it was granite, and before that it was slate. This year, the theme is very definitely rainbow sandstone.
Anyway, Strata's mission to provide quality stone to the hard-landscaping trade continues apace, with some very impressive looking circle kits, including a very distinctive Celtic Cross feature, and an expanded range of 'Project Packs' which are intended to enhance the design potential of what can be a fairly prescriptive format. The Volterra looks very promising, with its dark grey tones and intriguing texture which are, as the fashionistas say, "Bang On Trend".
Strata are developing a network of prestige display centres which will showcase their products in a dedicated setting. At the moment, the centres are located within established and respected landscape distributors rather than being standalone dedicated locations, a model tried previously by other manufacturers/distributors with varying degrees of success (or failure, in some cases). I remain convinced that these Paving Centres remain the best way to sell quality paving and hard-landscaping. They are a fantastic sales aid for contractors and a real boon to the more discerning clients who can actually see their preferred paving in a realistic setting and natural daylight, rather than relying on PhotoShopped images in a brochure. There will always be the customers for whom product selection is primarily based on price rather than quality, and for them, the interweb and eBay will be their natural source, but for the sort of customer who doesn't mind spending a little more to ensure a premium product and a better standard of service, Paving Centres are the future.
Global Stone:
Somewhat scaled back from previous showings at Glee, and unfortunately tucked out of the way behind a sprawling display of unnecessary Chinese tat, Global Stone are a very welcome return exhibitor. A sparse display compared to some of the others, but very evocative of the latest brochure, and actually very calming and stylish.
In amongst the miniature displays, a couple of very appealing new products lurked, and the stand-out item for me is what was called a "Crinoidal Limestone" back in the mists of time when I was studying geology, which Global have now dubbed as "Neptune". It's a creamy-grey-greeny honed limestone which is bursting with fossil crinoids, a sort of paleozoic starfish which looks more like a plant (hence their unofficial name of "Sea Lilies"). A fascinating rock, but how suitable is it for the British climate? I suppose it will be similar to Travertine, but hopefully much more competent and less prone to crumbling. Personally, I see it as a gorgeous detail, maybe complementing internal flooring. In larger areas, I fear the gorgeous fossils will become lost.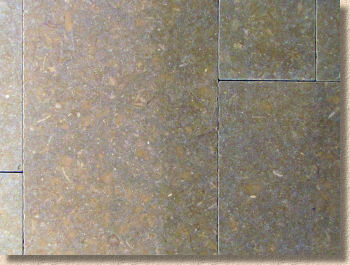 It's good to see more limestones on offer. I've always felt they are an underexploited paving in Britain, probably because our native limestone is preferred for walling rather than streetmasonry. Some of the imported Asian limestones are, in my worthless opinion, probably the best value-for-money natural stones currently available.
Lonstone:
A Glee perennial, Longborough Concrete stuck with the show when many others left, and it's beginning to pay dividends. Last year, they decided to take a chance by showing a range of concrete reproduction troughs and planters as an adjunct to their paving range. And wouldn't you know it, the troughs and planters were a wow, and so this year, they've expanded the range, and given over 80% of their stand to showing these, with the paving playing a peripheral role, and they've never been busier.
This is a classic case of tailoring your display to the audience. Glee is now a show for garden centres and garden centres don't sell much paving, but they do sell a lot of planters. So while the reliable Lonstone Paving still accounts for the bulk of the company's turnover, at Glee, it's the Garden Range that takes precedence and plumps up the order book.
Living Stone:
One company I had not expected to see here this year is Lincoln's Living Stone . Word filtered through earlier this year that they had succumbed to the economic onslaught, but, as Mark Twain once said, news of their demise was greatly exaggerated and after arranging a refinancing deal, their future is secure and they are back with their offering of bagged aggregates, imported stone and wet-cast paving.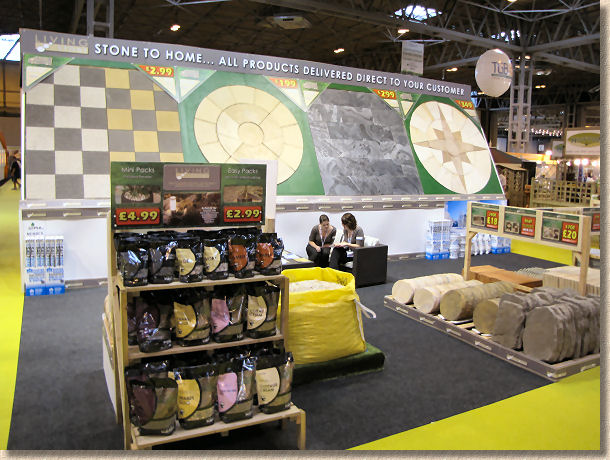 The range is pretty much as it was. There are a couple of new imported flagstones, including a strange shiny charcoal paving that they say is a quartzite, but looks nowt like any other quartzite I've ever seen. It seems to have lignite or possibly actual charcoal pieces that are sort of fossilised within the grey matrix. Like the Volterra from Strata, the dark tones are bound to appeal to current taste but it's another stone whose performance in the soggy seasons of Britain remains to be seen.
And the rest:
There were quite a few other hard-landscaping suppliers spread throughout the hall. Plenty of bagged aggregate suppliers, but nothing startlingly new. LaFarge were half-heartedly showing off their exposed aggregate decorative concrete but they were more interested in selling their pre-bagged mortar and concrete mixes.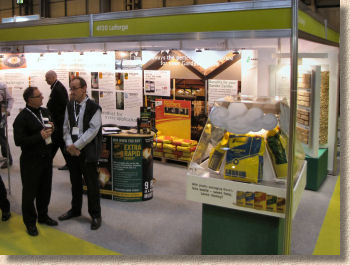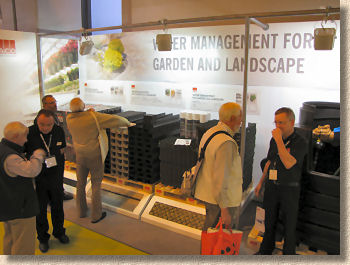 Aco were the only drainage manufacturer, and chose to show a small selection of their Hex Drain linear channels along with the GroundGuard cell paving. The slot version of HexDrain is proving to be phenomenally popular but its awkward shape and associated fittings are defying attempts to create a retailer-friendly 'project pack', whereas the standard grating version has been available as a so-called 'Garage Pack' for quite a few years now and is a big favourite with distributors large and small.
One noticeable development was the preponderance of polymer jointing products. Since the market was established, predominantly by Romex and NCC/GftK, both of whom decided not to show this year, every back-yard chemist has come up with a formulation and it seemed that yet another mortar was being offered at every turn. Most of them are, at best, patio grade products that will appeal to DIYers and contractors looking for a cheaper alternative to the established, proven products, but I can't see them troubling the professional and commercial markets too much.
So there we have it. A much better show than in previous years, and a more positive outlook for 2012. If you'd have told me 12 months ago that I would actually enjoy Glee this year, and feel that it was worth the effort in attending, I'd have thought you were mad, but a year is a long time in the hard-landscaping trade!