SureSet, Coal and Dragons
The link between the Resin Bound Paving specialists at SureSet , the history of coal mining, and a red dragon might not seem obvious at first, but there is a link, and the answer can be found at Cardiff Bay.
Anyone approaching Cardiff via the bay is bound to have his or her attention grabbed by the imposing figure of a Red Dragon at the water's edge. We all know that the Red Dragon is the centuries-old emblem of the Welsh people, but the design of this particular dragon cleverly incorporates a representation of the coal-bearing geological strata that played such an important role in the history of South Wales. The whole has been created as part of the Cardiff Bay Barrage - The Age of Coal Heritage Project.
Obviously, for such an intricate design the need for a range of colour finishes with proven durability was paramount, and so Harbour Authority Operations Manager, Roger Thorney, was able to specify SureSet resin bound surfacing system to achieve the desired result. A 3mm bright Red recycled glass has created the main body of the dragon, with natural gravel for the surrounding areas. The eyes use 3mm Black and elsewhere 4mm Green, 4mm Grey and 3mm Dark Terracotta complete the overall effect.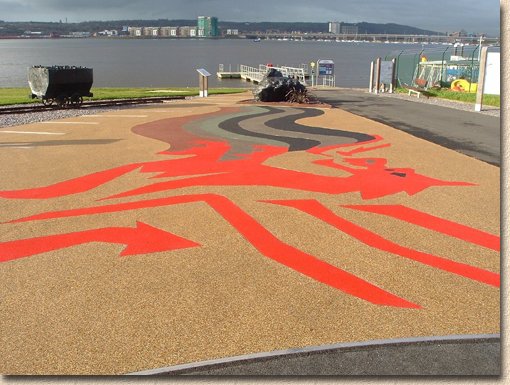 In normal circumstances the massive range of SureSet colours can be laid side-by-side without any problem, but with such a strong contrast between the principle colours it was important that the edgings should be totally accurate. SureSet were able to achieve this by incorporating a metal strip as an edging detail that helps enhance the overall appearance. In contrast, the bands of coal were laid colour-to-colour, without any edging strip, as this enables more subtle colour changes, as would be seen in reality.
For the Harbour Authority, Operations Manager, Roger Thorney says,
"The Age of Coal Dragon is a clear reminder of our region's heritage and the choice of colours was critical in its success. The selection of SureSet has ensured a consistent, accurate and durable finish for this very popular project."
Natural aggregates and recycled glass in an assortment of colours, as used for The Age of Coal dragon, imported marble or even crushed CD's are amongst the 1,000 plus SureSet aggregate blends available. The crystal clear resin enhances the colour of the raw materials, regardless of type, and the versatility of SureSet gives clients the additional freedom to use it in intricate patterns, again as illustrated at Cardiff. Application possibilities are endless but the system has already been used extensively for access roads and car parks, driveways, pedestrian areas, footpaths and cycleways, tree pits, patios and pool surrounds. SureSet resin bound paving comes with a guarantee recently extended to seven years for all materials.
SureSet provides a nationwide supply and lay service for the larger contract and for designers and specifiers comprehensive data in PDF format can be downloaded from the company's web site or call their Warminster base for further information +44 (0) 1985 841180