Caveat Emptor - Cowboy alert
It's been a busy few weeks, hence the lack of regular news items, but during my absence a letter came in from someone fairly well-placed in the food chain at Brett Landscaping Products, and I reckon it's worthy of wider attention.
No breach of confidence in publishing this, as Shirley herself states that it is to be considered as an "Open Letter". The theme is something that will be developed further on this site in the coming few months, with important news regarding trade associations and "quality-checking" organisations.
Anyway, on with the letter...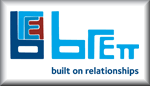 Dear Tony
The Federation of Master Builders (FMB) has launched a campaign supporting Trading Standards asking consumers to 'wise-up' to bogus builders and rogue traders. Apparently UK homeowners are losing more than a billion pounds a year to cowboys. It's a lot of money, but in fact most of those in the construction industry are thoroughly professional; in the business to make a product, provide a good, reliable service and grow, for the good of themselves and their customers.
I agree that people should only choose builders who are members of a 'bona fide' trade organisation such as the FMB, but many companies in the construction industry also have registered installer schemes - or similar networks - allowing homeowners to choose an established builder that they can trust. Brett Landscaping and Building Products has an Approved Installer network which we police on everything from quality of fitting to customer service. We select only established installers (in business for at least two years), conduct spot checks and measure homeowner satisfaction with feedback forms. We also offer guarantees on the product and the installation. Companies like Freefoam Building Plastics, Network Veka, Masterframe Windows' Bygone Preferred Installer Network, also offer similar schemes. These networks help generate enquiries but also promote professional conduct and high quality work.
No-one should be harassed or tricked by bogus builders into having unnecessary work done. But homeowners need to accept some responsibility too, choosing professionals rather than family or friends to step in. Only last week, Donnachadh McCarthy wrote in the Independent that he asked an 'actor friend' to fit double-glazed units into the original timber sash window frames in his house. No mention of whether this friend was FENSA registered, as required by law. I suggest that the Federation of Master Builders should concentrate on promoting these and similar schemes rather than knocking the public's already poor perception of our industry.
Yours sincerely
Shirley Mansfield
Marketing Director
Brett Landscaping and Building Products Ltd