Tatton 2007
It's been an unusually busy year for me attending garden shows. Most year, I restrict myself to just two or three: I'll occasionally make a sortie across the Pennine wastes and show my face at Harrogate; I try not to miss Southport because it still feels like an overgrown village show, and because I spent a good few years working in and around the town; and there's big RHS shindig at Tatton, because it's more or less in my back yard. However, with having attended two other big shows already this year (Chelsea and Hampton Court) I wasn't sure what Tatton might have to offer that I hadn't already seen.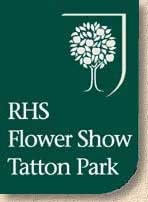 Over the past month or so, over the course of several conversations, three of the better manufacturers suggested it might be worth a visit as they had 'shifted focus' and rather than having 'branded' show gardens competing for medals, they were helping out a number of individual gardens, of various scales, and were keen to express their support for these garden shows as key events for landscape design and for private customers looking to upgrade their patios and driveways.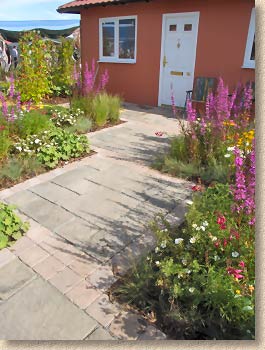 Tatton has always featured the main 'show gardens' arrayed around a copse known as The Egerton Clump, with smaller gardens literally scattered throughout much of the rest of the huge site. This year, it was noticeable that there were more small gardens than ever, that they were more widely distributed so as to provide hidden gems of design amongst the fripperies and sideshows, and that woodchip was THE big surfacing material. In fact, I wish I had shares in a certain large woodchip supplier, as it was impossible to walk more than a few metres without seeing some hi-vis bedecked attendant strewing yet more woodchip from the distinctive branded bags in a reasonably successful attempt to dry up the soggy ground and provide a just-about-traffickable surface, both in the open and within the marquees.
The one thing that has always appealed to me at the Tatton show, more than any other, is the wealth of displays by young designers, landscapers, contractors and local authorities. I suppose the budget is much more realistic outside that London, and there's less risk of stage fright. I know there's positive encouragement for smaller enterprises to 'have a go', and this never fails to result in some exciting and idiosyncratic efforts. So, this year saw caged flora in the form of gabions with plants, but no stone, and an intriguing 'climate change garden.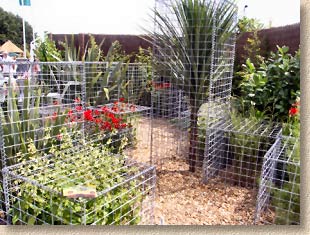 Considering the hard landscaping, the noticeable trends (other than woodchip) was the blatant underuse of Indian Sandstone and a shift towards more 'exotic' stone, notably travertine, granite, and a fair sprinkling of native materials, both new and reclaimed. Not a lot of concrete paving, other than the exemplary installations in gardens supported by Messrs Marshalls and Tobermore, and almost no decorative concrete walling – most walls were either stone or render. No decorative concrete either, although Kelly Spirrin and her team from Superior Driveways did have a "booth" that was permanently busy with folk asking about their resin bound paving system and their cut-above-the-rest PIC. When I spoke to her, Kelly was so enthused with the response from show-goers that she was seriously considering looking for a partner of a horticultural bent to help her create a proper display for 2008.
Marshalls had dragged their caravan up from that London, and obviously learning from the quagmire experience at Hampton Court, the forecourt area outside the 'van itself featured some actual paving. The sales team explained how Marshalls had decided not to construct a show garden of their own, but to focus on providing paving and hard landscaping products for a number of gardens, and often in a low-key manner – no obvious corporate branding or brochure handouts. Even so, the caravan had a steady stream of visitors looking for advice and posing the usual "How much is…" and "Where can I get…" questions.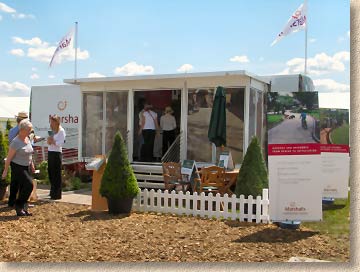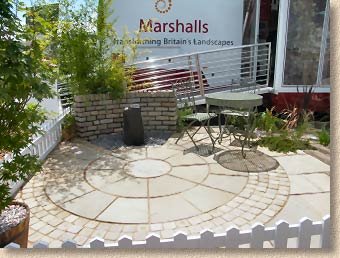 In contrast to Marshalls understated presence, Tobermore had a more visible impact and were positively buzzing over the award of a silver gilt and a coveted gold to the two gardens they had supported with product and sponsorship.
One of the first sponsorship ventures for Tobermore when they launched their products in mainland Britain back in 2004 was the " Spaced Out " project based at nearby Jodrell Bank. Following the highly successful construction of a scaled model of the solar system covering the length and breadth of the country, the project has continued to promote interest in all things astronomical amongst the nation's schools and colleges.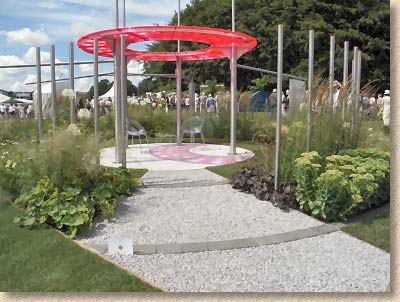 The latest feature, a themed show garden here at Tatton was centred on a design to commemorate the launch of Sputnik, the first satellite to be sent into orbit. The team had a live link to the space station and were delighted to be the proud recipient of the Gold medal for a simple but attractive design featuring a circle of Tobermore-supplied granite flagstones beneath an elevated ring of red Perspex carried on smooth and shiny steel stanchions.
Nigel Marshall is Project Director of the Spaced Out team, and he explained the concept behind its very unusual design.
"The RHS encourages designers to stage innovative gardens at the Tatton Park Flower Show and that's what we now know we achieved. Space data and the choice of materials allowed for us to produce an innovative, creative design that incorporated an artistic installation.
The designers were able to create a visual effect with a perspective element, allowing us to promote Phase 2 of the Spaced Out project. Tobermore has played a big part in that.
We had been able to select quality products from Tobermore's range that are just right for our designs, and had been impressed by Tobermore's knowledge of their products, technical advice and prompt delivery."
The silver-gilt winning garden from Bezza Nurseries also featured a circle, a stunning spiral of Tegula and Mayfair Setts wrapped around a central gully and leading off to an iron cage walkway through the planted areas. This, for me, was a genuine 'family' garden. It was stylish and functional, attractive and practical, and if the 'show piece' features were excluded, would not be beyond the budget of a typical 3-bed semi anywhere in Britain. It wasn't a jaw-dropper; it wasn't outlandish or arty-farty; it was an honest-to-goodness realistic garden for the 21st century and deserved more than silver gilt.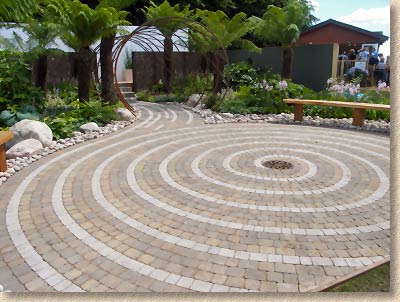 John Everest of Bezza Nurseries says,
"I called the design 'Into the light' and the whole idea was centred on the use of natural light and shade creation, and the contrast of the two. The front of the garden had an open seating area paved with Tobermore products, and then I had a walkway that lead through to the back of the garden made of spiral metal loops and the side pieces twisted over creating my shady area and drawing the eye to the back of the garden.
At the very back of the garden there was a white wall which when looked at through the spiral pergola, appears illuminated, creating an optical illusion. When using the Tobermore Mayfair paving in the walkway, the natural granite aggregate used to manufacture the product sparkled making the walkway reflective and appear like a stream running through the garden. One of the points we learnt last year was to provide as much high quality planting in the garden as possible and this year the garden made a real impact on the judges"
Natural Paving , as regular readers of this site will know, specialise in realistically priced but not run-of-the-mill imported stone paving and walling. Since the launch of the fantastically successful Natural Stone Block Paving last spring, they've not been tempted to rest on their deserved laurels, but have continued to innovate and invigorate a highly competitive market. They had supplied the paving for the big feature Carter-Allen Private Bank garden. At the other end of the scale from Bezza's laudable effort, this was just the sort of garden that needs a stately pile as a backdrop, and an account with a private bank to pay for it, no doubt!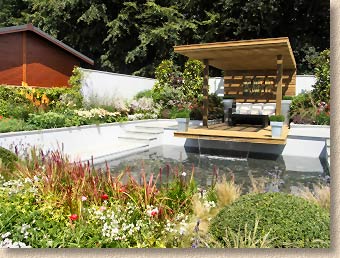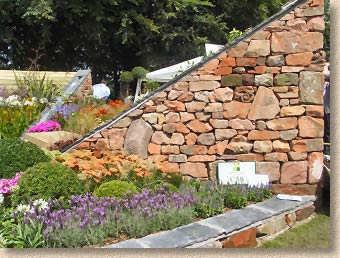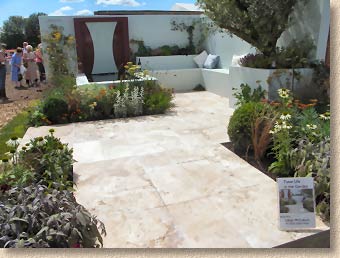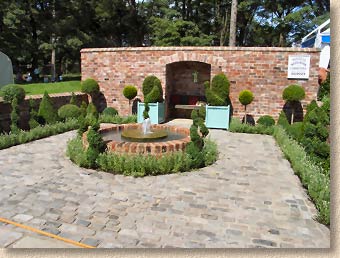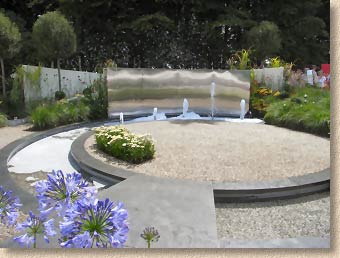 Tatton may not have the élan and kudos of Chelsea, but it is an important event for northern gardeners and designers, and as such, it warrants better support from the hard landscape manufacturers. While the superb support of companies such as Tobermore, Marshalls and Natural paving is to be commended, where are all the others? Bradstone took best in show at Chelsea but didn't even show their face at Tatton: why? It can't be a regional bias, as their head office is in Asbourne, Derbyshire, just 30-40 minutes from Tatton. What about all those stone suppliers based in the north? If CED, Silverland and Rock Unique can put in the effort at Chelsea, why can't Hardscape, StonePave, Farrars and all those other "proud to be northern" suppliers support what is the premier event for northerners?
As an honorary northerner, I find it annoying that folk up here are always whingeing about bias towards that London and the south-east, but when they have a chance to show what the north can do, they can't get their arses into gear. It's so bloody disappointing!