Tobermore Designer Conference
Tobermore Concrete's Designer service has gone from strength to strength in recent years and with the opening of the first Paving Centre in mainland Britain, they've recently added a number of British-based designers to their retinue of talented individuals and practices that are able to offer the fixed-fee service to private clients.
As the design service has grown in popularity, the Design Team up at Tobermore Towers had become aware that a growing number of clients required a more in-depth service than what was being offered in the standard 30-minute or 90-minute consultation. Some clients would want a design for a patio and a driveway, or their project would encompass more than one area, and the designers were struggling to offer the high level of service within the allotted time frame.
So, to meet demand, Tobermore took the opportunity of the Designer Conference held on February 22nd to unveil their new " Premier Design " service, which will offer clients the services of a professional landscape designer for their larger projects and all at a fixed fee. The flat-rate fee allows for a site visit, survey and measure-up, discussion with client regarding requirements, creation of a coloured design sketch and calculation of quantities. The client is then able to appoint their own contractor or select one of the preferred contractors from the Tobermore list.
The full Premier Design service costs just £ 250 or € 350 in Eire. Contact your local Tobermore Paving Centre to arrange an appointment.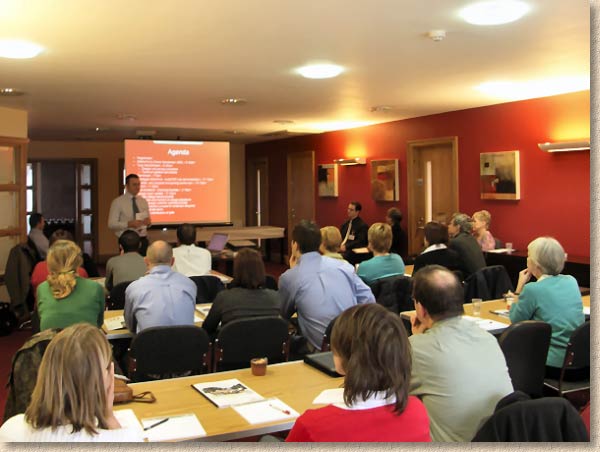 Meanwhile, back at the Designer Conference, the delegates were subjected to a contractor's perspective of design drawings and specifications by a certain Tony McCormack, which inspired a great deal of discussion and debate. The first of two 'drawing aid' presentations followed, with an overview of AutoCad 2007 LT from Belfast's Pentagon Solutions with a very tempting software + training offer for the Tobermore Designers.
Next, a chance to get out into the fresh air and a tour of one of the block making plants to see the Tobermore Tegula block being made, from raw ingredients through block pressing, curing, tumbling and packaging. Groups of eight were led through the factory while the whole manufacturing process was carefully and patiently explained. I've been on many block plant tours, but the thrill never leaves me. I never fail to get a shudder through my spine as I feel the vibration of the press for the first time.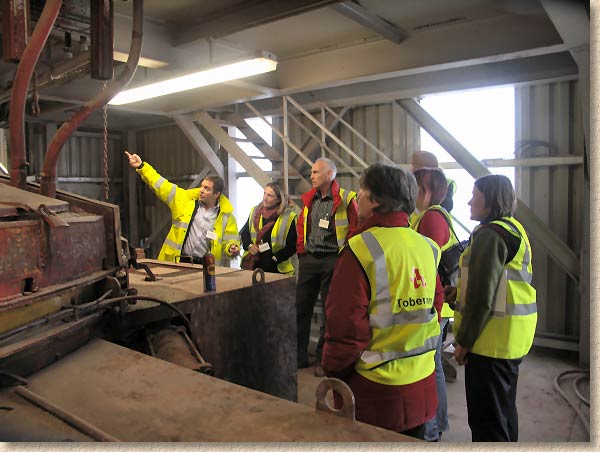 More fresh air and a tour of the Paving centre to look at new products and old favourites, before a well-earned cooked lunch and the afternoon session. This was kicked off by the second of the drawing aid presentations, the tablet-based "Drawing Express" drafting tool from Trial Systems Ltd . This is a dedicated landscape design tool that uses a custom-built tablet and database to produce stunning hard- and soft-scapes at what seemed like a breakneck speed. Many of the delegates that hadn't seen the system previously were highly impressed and Trial Systems offer of a free "Train and Try It" session is likely to be taken up by several designers in the near future.
The Tobermore Design Team took the group through the thinking and implementation of the new Premier Design service, answering questions on how and when, and explaining how it fitted in with the existing 30-minute design clinics and 90-minute site visits.
To round off the day, a discussion session on jointing techniques and materials led by that bloody McCormack bloke again, and then distribution of the goodie-bags which, much to the delight of those present, included a set of high-quality coloured markers to be used with the new Premier Design service.
As a casual bystander, it was enlightening to see at first hand the passion these designers have for their subject, and to listen to how they work through their designs. As a contractor, it was invaluable to have the chance to be shown an alternative perspective. For Tobermore, I can't help but be impressed by the dedication of the Design Team, and the company as a whole, to producing better landscapes by working with talented design professionals and experienced, highly-skilled contractors. That has to improve the image of our industry, doesn't it?
Tobermore HQ, Co. L'Derry

Tobermore Bangor Co. Down



Tobermore Leyland, Lancashire