Charcon's new Product Portfolio
There's been a bit of a tidy-up at Aggregate Industries over the last year or so. Such a large grouping of businesses runs the risk of duplication and identity drift, which is what seemed to be happening at one time. Bradstone was the garden/domestic brand, but driveway block paving came from Charcon, while StoneFlair concentrated on the imported stone paving, and Border specialised in decorative aggregates. It was eminently possible to use four, five or even more AI businesses on the same project and have to deal with each company individually.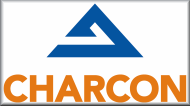 The past twelve months has seen a renewed focus and the key brands within the group now have clearer identities and roles of their own. Bradstone has started to market block paving, imported stone and decorative aggregates under its own name, while Charcon has been squarely targeted at the commercial sector. This doesn't mean Charcon block paving will no longer be used for residential driveways, nor does it exclude Bradstone products from being specified for commercial developments: it's more a matter of focus. Charcon is the commercial imprint while Bradstone (and StoneFlair/Border/etc.) will be portrayed as the brand(s) for residential projects.
All of which brings us to the new Charcon "Product Portfolio", a tome if ever there was, of (nearly) all things concrete in the hard-landscaping trade. Following the recent spate of 'brochure' reviews on this website for domestic paving and hard-landscaping products, the Charcon "Product Portfolio" is in a completely different league. First of all, it's far bigger than any of the other publications considered this year: it even comes in its own cardboard box - and it has the look of a serious technical manual, rather than a glossy sales catalogue, a look emphasised by its semi-rigid frosted plastic cover and spiral binding. This is definitely NOT the sort of catalogue you casually pick up from the counter at your local Builder's Yard.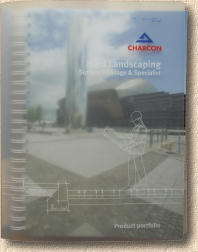 The internal cover page is a simply stunning image of the Cardiff Millennium Centre, unspoiled by any text or logos, and that sets the tone for the remaining 200+ pages: clear images; clear text; clear information. The whole is divided into 10 logical sections, and although there is inevitably some overlap, the layout is straightforward, self-explanatory and the required product can be located in a matter of milliseconds.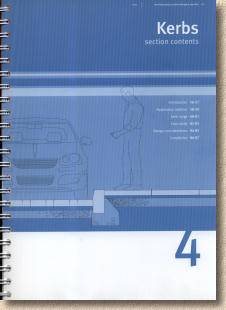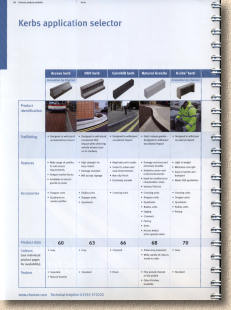 Each section is prefaced with a distinctively-coloured CAD-architect-style sketch, with the same colouring used at page edges to create a colour-key for quick visual indexing. Some of the larger product groups are illustrated with a full-page image of unfailingly superb quality, and then it's into the "Application Selector", which is a tabulated layout listing key features of each product, such as typical applications, colours, textures, and page numbers for further information. This format allows rapid scanning of a wide range of similar products enabling them to be compared and contrasted to aid identification of the most likely candidates. It's a very effective 'summary' table and the information is extremely well-presented. It's the little touches, such as having the page references in a larger, bolder font so they are immediately obvious, that make this such a useful feature. The sub-sections are rounded off with one or two "Case Studies" of real-life projects where Charcon products have been used, and brief guide to typical constructions.
There's neither the time nor the space to go through all 10 sections, 200+ pages and countless products in this short review, but it would be remiss not to pick out one or two of the new products that I feel are bound to cause a bit of a stir amongst designers, architects and contractors, so here we go...
The Eco range
We all know that the construction industry can't continue quarrying primary aggregates and filling the holes so generated with all the stuff we no longer require. Recycling is a growing issue for the manufacturing trade, and Charcon, as part of the AI brand, have shown more commitment to the cause than any other manufacturer of a similar size. Their Eco range uses recycled and reclaimed materials - not just the aggregates, but the water used in manufacturing, the packaging, even noise levels have been addressed to reduce environmental impact. In the short-term, this means the price at the trade counter is a bit more than you'd pay for similar, non-sustainable products, but society has come to expect a premium to be paid for "environmentally-friendlier" products. In the longer term, with progressive taxation on primary aggregates and an enlightened attitude to sustainable manufacturing, products such as these should (must!) become the norm. By introducing them via the more socially-aware local authorities, there's a real chance this type of product will have the volume market it needs to sustain itself as a viable brand, and to establish itself within the consciousness of designers and architects.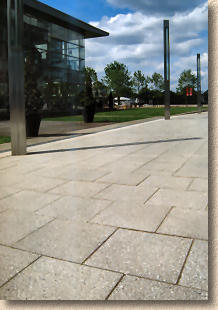 Andover
For me, one of the highlights of last year was the invitation to the Grand Opening of the new block making plant at Ashington , and while there, I was treated to a sneak preview of a new washed block paver that is now commercially available and rejoices under the stunningly original name of "Andover Washed".
Washing is a post-pressing process that removes some or most of the fine matrix (sand and cement) from the surface of the blocks, leaving behind an attractive, exposed aggregate. It's a technique that has been popular on the continent for a number of years but has never really been 'pushed' within the UK market. Yes: I know Stone & Style and Marshalls have had this type of product on their roster for a few years, but it's been over-priced and/or under-promoted. Personally, I think this type of block paving is the best response the pressed concrete industry has to the onslaught of cheap imported stone. The surface is more naturalistic; it has an organic texture, and careful blending of the exposed aggregates in the face-mix can re-create almost any natural rock type. Further, a reduced reliance on artificial pigments for colour, and a more durable, dirt-resistant finish could be the killer-features needed to ensure concrete blocks have a future within our urban landscapes. Andover washed is a first step: the silver-grey is quite reminiscent of a light granite, and there are two complementary colours - Anthracite (charcoal grey) and Buff (buff). Available in seven dimensionally accurate sizes, from 100x100mm up to 300x300m, this is a paver that can be used in a different layout on a thousand different projects!
Kerb-Drains
Two revamped products in the combined kerb-drain product line. Mini-Highway is a compact two-part product manufactured in pressed concrete and ideally suited to urban roads, while Highway Ultra is a polymer concrete product available as a one-piece or a two-piece unit. These linear drainage systems are devastating the traditional point drainage systems when it comes to highway construction. Slightly higher kerb costs are more than offset by vastly reduced excavation and installation costs associated with the traditional pipe-and-gullies layouts. 15 years ago, combined kerb-drains were a wonder: they are now the product of choice.
Returning to an environmental theme, it would be crass not to give a brief mention to the innovative SUDS products. The Permavoid sub-base replacement gizmo won all sorts of awards when it was introduced last year, and while it's not yet taken the industry by storm (no pun intended) it never fails to attract attention and interest. As SUDS becomes a bigger and more important part of the design process, Permavoid is thought-provoking and ideally placed to become established as the brand-of-choice in what will be a massive market in the coming decade. Infilta is Charcon's permeable block paving system and it's good to see that Charcon have licensed the attenuation system developed by Formpave and Coventry University. I'm sure there's an economic imperative to such a deal, but our environment will benefit from wider appreciation of what has to be the way forward in large-space surfacing technology.

Obviously, it would make sense to obtain your own copy of the Charcon Product Portfolio. It's destined to sit at the side of your computer or on the dashboard of the van as it is an invaluable reference tool for anyone involved in commercial hardscapes. The images are stunning yet subtle: "showcase" photos are used when the aesthetics of a product need to be shown, and these are supplemented by smaller 'detail' photos where necessary and sketches that eloquently explain a more complex concept, such as three-dimensional structure. However, this is not a thumb-through brochure. The photos and diagrams are balanced by clear, concise and factually relevant text, rather than the usual marketing blurb, all of which results in a manual that is attractive, informative and readable. There's even a couple of cd-roms inside the back cover - what more could you want?
Order your own Charcon Product Portfolio - Call 01335 372222