Glee 2010
Following last year's non-event coupled with an underwhelming exhibitor list, it seemed hard to justify committing a full day to travel down to the NEC in Birmingham and then waste it forlornly wandering around the skeletal remains of what was once the key exhibition for the residential paving market. Had it not been for a promise to meet various colleagues, friends and acquaintances there, the nostalgic yearning for lost days of glory would not have been enough to convince me to waste two-thirds of a tank of diesel and once again fall prey to the legitimised highwaymen known as the M6 Toll.
Regular emails from the blinkered unOrganisers promised 'big names returning' but it would seem their definition of a big name differs markedly from my own, and my worst fears were confirmed when, upon entering Hall 4 the traditional domain of the biggest names in residential hard-landscaping, the entire panorama consisted of terracotta pots, timber sheds, glasshouses and the sort of pension-wasting tat that festoons the nation's garden centres. Oh dear!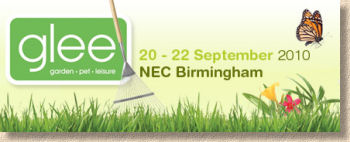 A couple of the 'pile-it-high-sell-it-cheap' decorative aggregate wholesalers have prominent positions near the linkway to the wonders of Hall 3 (lawnmowers, shredders and chimineas) but neither DecoPak nor Kelkay have ever managed to inspire me with their bland offerings of three bags of slate waste for a tenner. These aren't paving people or hard-landscaping aficionados: they are dealers of dross. There's nowt wrong with what they sell, but to them it's just a commodity and I've yet to speak to anyone on either stand with any real appreciation for our trade.
Then there was sprinkling of other companies that, in theory, ought to be paving people but aren't. I've no wish to waste my time listening to some sales-droid who refuses to understand that, when it comes to jointing pavements, GeoFix is even less use than the cheesy gunge that collects underneath your toenails, or that a particular "bonding agent specially developed for paving" is nothing more than vastly over-priced SBR.
In total, I found seven exhibitors that could be considered genuine paving manufacturers/suppliers. Seven. It's more than last year, admittedly, but it's a long way short of the days when I had to split this annual review into three pages just to cover the exhibitors worth a mention.
Natural Paving should be familiar to readers of this website and those that follow these things will recall that they are one of the few companies to stick with Glee when most of the other 'regulars' have given up. Last year, they shared a cosy space with BALI. This time, Paul Shepard and his team opted for a sole-occupant spot, albeit on a much less grand scale than the glory years. In place of expansive floor displays and oriental tea bars (sadly missed, I hasten to add), it's now a matter of posters, placards and single stone samples.
Pride of place was given, unsurprisingly, to the Fired Earth range of premium products, such as the deceptive York Grey sandstone shown above, which surprises many by not actually haling from the White Rose county, nor, indeed, from any other part of these islands. The stand was never less than busy and Paul believes it was a worthwhile venture with several very good leads in the first two days, but the decision by the unOrganizers to drop the Sunday opening seems to have reduced the number of Contractors visiting the show.
Strata Stone opted for a similar strategy although they did have a floor display of the exceptionally attractive "Azure" limestone which is a secondary processed Kota Blue featuring a subtly polished and then lightly textured finish. This is the first time I've seen this product "in the flesh" but even the ever-unhelpful lighting of the NEC couldn't mar its obvious charms. It really shouldn't be a surprise to hear that a garden featuring this stone won a prestigious Silver medal at July's Hampton Court RHS Show.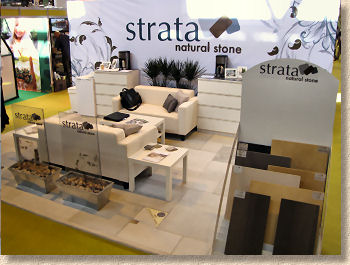 Gary Sergeant revealed that Strata's appearance had been an eleventh hour decision and done of a very keen budget, which wasn't immediately apparent from what was a bright and inviting display. Like Natural Paving, Gary's Gang had been here for the ill-fated 2009 show but that hadn't been enough of a disaster to put them off and the initial feedback for this year is that they should pick up enough business to justify the investment.
Across from Strata were newcomers to the British market, Barleystone Paving from Co. Cavan in Ireland. They are one of the mid-sized Irish paving manufacturers specialising in fairly typical CBP products which wouldn't be enough to set them apart were it not for the excellent close finish they get on their blocks.
The Castlepave Smooth (untumbled) paving is attractive with a great blend of colours, but the real winner for me are the small Kingspave Setts, 60mm deep and 75mm wide with lengths of 110/90/75/50mm and in 4 colour options. I know the trend is for ever larger CBPs, but I love these little 'uns when they are used to form a band course inside a traditional soldier or edge course. Gorgeous!
Also from Ireland we had another carry-over from last year in the form of McMonagle/Romex. McMonagles are the official distributor of the Romex products in Britain and Ireland, but are also one of the most important natural stone suppliers, offering stone from all over the world as well as the delicious Donegal Quartzite from their own quarries in the far north-west of Ireland.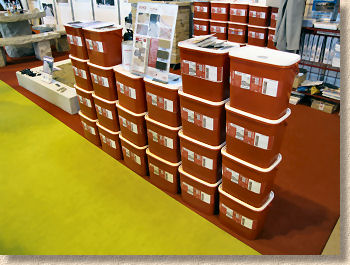 On the Romex front, there are several developments lined up for the next few months, the first of which is the new plastic tub for the Romex Easy. The patio-grade ready-mixed resin-based jointing material was previously supplied in metal pails but the new packaging is lighter, easier to open and easier to recycle. No news on whether the stronger grades, such as D1 and D2000 will be moving to plastic tubs in the future, but watch this space, as they say.
The other new development worth mentioning at this point is that several of the better organised distributors are now supplying Romex jointing materials in 'own brand' packaging. It's the same product that you'd find in the familiar pails; it's just a courtesy thing that these select distributors will now have their name on the packaging, along with McMonagle and, of course, Romex.
Lonstone returned to Glee after taking a break last year, but this wasn't an acknowledgement that missing 2009 was a mistake: anything but! Since their last outing, they've developed a whole new line of very impressive "reconstituted stone" troughs that are fairly and squarely aimed at the garden centre market, hence the re-appearance.
The troughs are incredibly well made and available in a wide variety of sizes and two finishes: a smooth-ish fine picked surface and a chunkier, more rustic rough punch look. As ever the sodium-orange lighting at the NEC doesn't show off the colouring to its best, but if I were to say there was *enormous* interest in the troughs, it would be an understatement. The company took its first order 10 minutes after the show opened on Monday morning, and hasn't stopped since.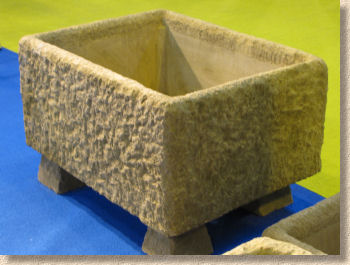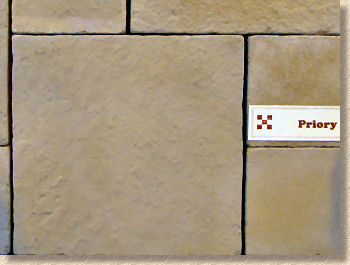 They are also producing decorative staddle stones which complement the troughs, and they've even found the time to develop a new line of paving which has been dubbed "Priory". It's a two-tone Cotswoldy buff-yellow range of modular flagstones that have a gentler, less riven surface and have been designed to provide a more furniture-friendly surface for patio furniture.
Living Stone also made a re-appearance after last year's hiatus, and they continue to explore new marketing routes, most notably their innovative deals with superstore retailers Costco and Tesco which has seen their paving on sale at your local supermarket. Obviously, customers are not expected to lift a couple of project packs onto their trolleys: the paving is ordered via the store for home delivery in a few days. It's a clever move, but just how receptive are the shoppers remains to be seen.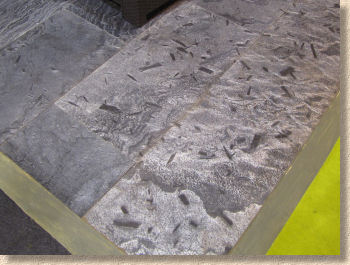 As ever, Phil and Andrew have been looking for new products as well as new opportunities and have got their mitts on a busy, charcoal-flecked dark slate from India that is intended for indoor and outdoor use. It's certainly different but a little too reminiscent of coal measure stone for my own taste. The oscillating dual-treatment of the wave paving is more my sort of thing. One half of each flagstone is shot-textured while the other is honed and polished and the overall effect is quite pleasing if slightly limited in design potential.
Finally, I wonder if Border Stone was the "Big Name" that the unOrganisers had in mind when sending out all those emails? As a trading style of one of the world's largest landscaping brands, Aggregate Industries, it has to be regarded as a potential biggie, but what's all this tat on their stand? Cast concrete Loch Ness Monsters? Gurning Buddhas? Cutesy garden animals? WTF???
Newly installed brand manager, Richard Slade, explained that it's all part of the Border Stone mission to be a key supplier to the garden centre market. The strategy requires Border Stone to supply not just paving and decorative aggregates, but patio furniture, statuary, water features and any other concrete or stone products that could conceivably be required by the nation's bewildered gardening fraternity.
Border Stone has always had the brief of catering to the nation's garden centre outlets, but the last time they honoured Glee with their presence (2008), there was an obvious upmarket direction to their offerings with a significant number of decent products and innovative developments, but the reincarnation seems to have involved a retrograde step towards anonymity and lowest common denominator.
I understand the strategy; I can even appreciate the thinking behind it, but I'm not keen on the current range of products. I never thought it was possible to make a flagstone more twee and god-awful than the infamous imitation 'Farthing Coin' monstrosity, but they've managed it! Wet-cast flagstones in the form of trainers or some sort of comedy footwear that have been run over by a plate compactor or roller. Another internet acronym springs to mind: FFS!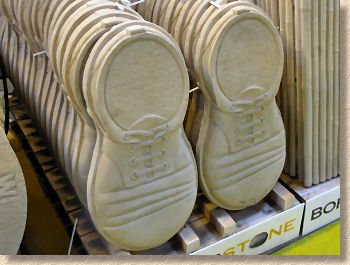 Overall, I did manage to spend a full day at the show without dawdling or wasting time looking at irrelevancies, but then at least half of my day was spent talking to non-exhibitors, contacts from a whole host of companies who had chosen not to spend money on exhibiting but to turn up just to see what the competition was up to, and, as some of the more honest ones admitted, to see whether there was any future for the event and the hard-landscaping trade.
It's hard to avoid the conclusion that the unOrganisers have gone all out for the garden centre trade and rejected the innumerable pleas to make the show more attractive to the construction industry, to designers, architects, contractors and specifiers. Obviously, this strategy has its merits in that it has seen the return of Lonstone and Border Stone, but it's another year with almost zero credibility and very little to appeal to busy hard-landscapers. More worrying, one of the odious, duplicitous, thieving twonks that ran the largely ignored hard landscaping show earlier this year (after ripping me off for several thousand pounds) was skulking around, pestering decent folk into signing-up for the poorly attended ghost-ride of an event. Is this what we've come to: a choice between irrelevance or charlatans? Surely our trade deserves better than that, doesn't it?
Unless someone else has a better idea of how to draw attention to new products, developing trends, innovation and inspiration, I really don't know what the answer is, but there has to be one. Two years into the Dark Ages for Glee and there's still no sign of a light at the end of the tunnel. Glee 2011 doesn't look too promising from this distance.