Introduction:
Whilst this web-site has been developed to provide descriptions and specifications for typical construction methods that are suitable for most paving projects, it is must be borne in mind that these pages cannot provide one of the most important factors of a good paving job, namely "experience" . For that, an experienced contractor is required.
A good contractor will be able to evaluate a project and arrange a schedule of works to suit the site. More importantly, such a contractor will be aware of the potential problems and dangers that may occur during a project, and will be able to work around them, or take the necessary remedial action.
However, anyone attempting a project without the aid of a contractor, should be aware of the most common dangers that could be faced. The most obvious risk during a paving project occurs during the excavation stage. Excavation involves entering uncharted territory, with a sharp implement, and there are a number of potential risks than may be encountered. These are dealt with below, in decreasing likelihood of occurrence on a typical, residential paving project.
Modern underground services (since about 1985 onwards) are usually ducted, not only for added protection from risk, but also to aid identification. There is a table explaining the colour-code system on the ducting page.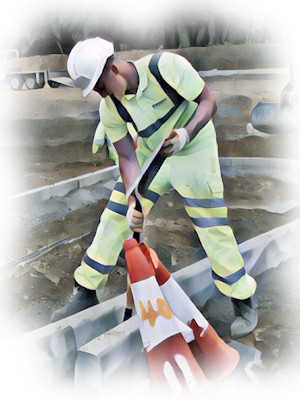 Black, sheathed and armoured cable, in the 10-75mm diameter range
Newer cables are typically buried 300-450mm deep, and often have a marker tape laid 150mm above them, but do not take this as a standard
Older cables may have a tape-like band wrapped around, or may have a concrete marker tile above them
Cables can also be found in steel or plastic ducting, usually red, but sometimes black
Be aware of possible DIY extension cables, running from the house to a garage or shed. These may only be Twin and Earth or similar, and present a serious danger. Such a cable is YOUR responsibility, not the Electricity Suppliers - you can use the services of a qualified electrician for this type of cable if you prefer.
NOTIFY YOUR ELECTRICITY SUPPLIER IMMEDIATELY
Make area secure from children and pets.


Do not attempt to investigate - wait for the experts.
Newer pipes are a distinctive yellow plastic approx 32mm diameter
Older services may be steel pipes in the same size range
Ducting should be yellow
If you smell gas at any time, stop all work immediately and call it in!
NOTIFY YOUR GAS SUPPLIER IMMEDIATELY
Make area secure. Keep sources of ignition, eg: lit cigarettes, well away
Often a semi-transparent, armoured cable 15-20mm diameter
Newer cables are often laid inside 40mm plastic ducting, usually grey in colour
Cable TV or Broadband cable
Often a thin, double cable no bigger than 10mm diameter
May be in plastic duct, often a 25mm corrugated black, grey or green coloured type, but sometimes in 32mm or 40mm green plastic
Contact your Service Provider
Newer pipes are 20mm blue plastic, but older services may be black plastic, or lead
Ducting should be blue
Water supply pipes should have 900mm of cover as frost protection
If you encounter such a pipe on a residential project, either it is too shallow, or you are too deep!
Contact your Water Supplier. If you have a lead service pipe, they may replace it with a modern pipe at the correct dept, free of charge. They may elect to lower a shallow service, and may charge for this.
Usually 100mm diameter clayware or plastic pipe, possibly surrounded with a gravel or sand, or even concrete
It may not be possible to re-align or lower any drainage if your foul and surface water systems are tight for fall. If this is the case, any exposed drains beneath a vehicular traffic area should be encased in concrete, as shown on the Drainage page
Beneath foot-traffic areas, the pipes should be strong enough to take the load of a light pavement and pedestrians
If in doubt, contact a local builder of drainage contractor.
The very bottom of the brickwork
May be sat on a concrete raft, or concrete strip footing, but older properties, may be bedded onto spreader courses in direct contact with the earth beneath
If you expose any part of a foundation, you are either digging too deep, or the foundation is unusually shallow for some reason
Consult a local builder or structural engineer.
If you expose any part of a supply cable or pipe.....
N O T I F Y T H E R E L E V A N T U T I L I T Y C O M P A N Y I M M E D I A T E L Y
....they will send qualified engineers to assess the situation and take any remedial action required, often at no expense to the householder, provided the cable/pipe is not damaged. If you damage a cable/pipe, you may be expected to pay for the repairs. All good contractors should be fully insured for such an eventuality.
Useful Links and Downloads
There are plenty of resources on the web to help minimise risk when excavating. Some of the better ones are listed and linked below:
HSE - Avoiding Danger From Underground Services
Structural stability during excavations
General Safety Advice
There are a few other "risks" that may be encountered when undertaking a paving project. Most of these risks are reduced by applying common sense and wearing protective clothing.
Footwear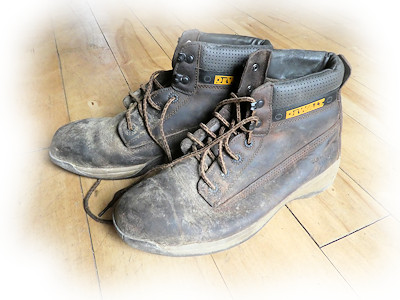 Some paving materials are quite heavy - wear safety boots, preferably with steel toe-caps and a pierce resistant midsole. If working with wet concrete, wear wellington boots, as the alkali reaction of wet concrete will eat away the stitching on normal footwear. Look for boots that comply with EN345, giving toe protection to 200 joules.
Gloves
Paving materials are by nature quite abrasive, and cement or materials containing cement can "burn" exposed skin. You should wear protective gloves when handling such materials. The rubberised gloves last longer but make your hands stink and need regular washing. The knitted gloves wear quite quickly but are fine for digging etc. There are also anti-vibratory gloves that absorb some of the vibration from heavy power tools and help reduce the chance of Hand Arm Vibration Syndrome (HAVS)
Dusts
All dusts should be avoided, which is only common sense, but also take care not to inhale cement dust, which can seriously irritate the lungs. When using power saws to cut paving materials, you must use DUST SUPPRESSION and you must ALWAYS wear a particulate dust mask. Suitable masks will comply to EN143 or EN149. Cements and brick dust are classed as fine dusts.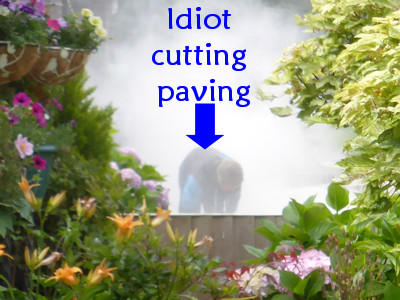 Eye Protection
This is especially important when cutting paving materials, whether with hand tools, block splitters or (last resort - see above) power saws. A pair of safety goggles can be bought from Builders Merchants or Hire Shops for a couple of quid. Replacement eyes are much harder to get, and more expensive.
High Visibility Clothing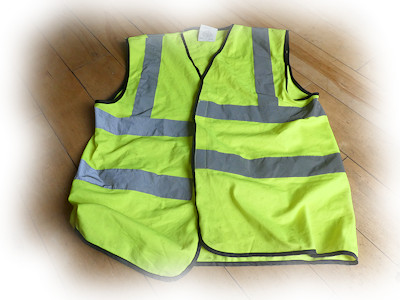 Hi-vis is usually required on construction sites and is always required on streetworks. It is not mandatory on residential projects although many contractors choose to use it to ensure their staff don't fall into bad practice.
The requirements will range form a basic tabard on low-risk sites, through to full jacket and trousers with prescribed reflective strips for works on major highways. In the UK, work on rail projects typically requires orange hi-vis rather than the more usual "Saturn Yellow" used elsewhere.
General Clothing
Overalls or standard work-wear will protect exposed skin from cements, and reduce the risk of cuts, grazes and abrasions. Beware of loose clothing, especially when working with power tools. Wear a hard hat if working on a job with overhead works or if working in trenches.
Working with cement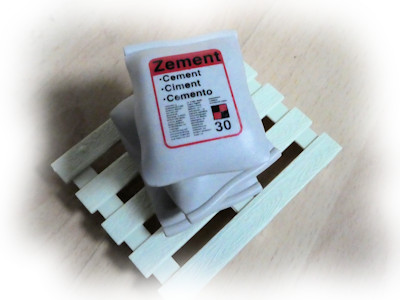 Mixing cement with water releases an alkali. Avoid breathing cement dust. Wear protective clothing when working with cement. If wet cement comes into contact with the skin, wash off with water immediately. If cement splashes into the eyes, flush with water and seek medical attention immediately.
Working with sewers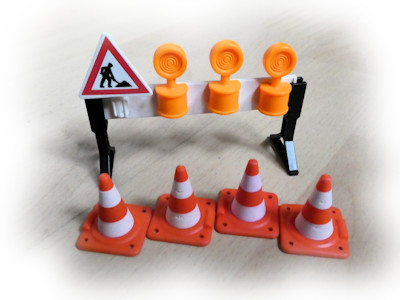 Working on any part of a sewer system presents risk. Cuts and grazes can easily become infected, rats may carry diseases, wear protective gloves and clothing at all times. Gases generated within a sewer system can lead to unconsciousness. Only fully trained and certified personnel should enter sewers or manholes. If in doubt, contact a local drainage contractor.
IMPORTANT:
The information on this page is issued in good faith as GUIDANCE. Pavingexpert.com cannot accept any responsibility or liability for any accidents or mishaps that occur to users of this website. Readers are strongly urged to follow all relevant safety training and guidance issued by plant hirers, suppliers of materials and site supervisors.
Please work safely: if in doubt - ask!