Al-Vac introduce handy vacuum lift
The AL-Vac Handyman vacuum lifter has become an acknowledged solution for those involved in lifting and laying kerbs, flags and other heavyweight paving, whilst also needing to comply with HSE Regulations.
Al-Vac has now introduced a truck mounted version of the Handyman that is claimed to provide even greater versatility and worker comfort. Coupled to a small mounted crane, the Handyman can operate from its own batteries or direct from the host vehicle power supply. The crane can be located anywhere on an appropriate truck body to meet specific needs or can be demounted for use on other equipment. The unit's hinged and pivoted arm has also been designed to reach any part of the truck body, thus providing still more positioning capability. Lifting capacity is 150kg.
The Handyman comes supplied with interchangeable heads: a long, narrow unit for lifting kerbs by their top face, and there's a circular head for flat flags and stone paving. The kit is available for outright purchase or as a rental package, making it an easily financed option for any contractor.
With simple control and operation from the handlebars, positioning and lifting is aided by the bar's hinged construction - totally eliminating the need for bending.
Al-Vac can also supply vacuum lifters for the larger job where the truck mounted Handyman's 150kg capacity may be insufficient.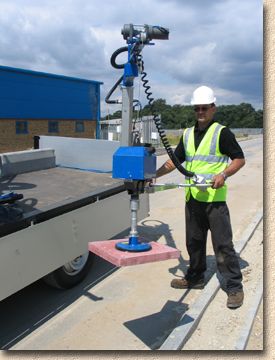 Further information on the truck mounted Handyman and other Al-Vac vacuum lifters is available from:
Al-Vac UK Ltd., Poole Lane, Bournemouth, BH11 9DU
Tel: 0870 241 8772
... or take a look at the Al-Vac website .