External Works 2005 - A Review - Part II
This is the second half of a review of this exhibition. Click here to read or return to the first half.
Resin surfacing
There were several companies offering play surfaces, the wet-pour rubber products that have become standard around all children's playgrounds as our society seeks to wrap the little darlings in cotton wool until they're big enough to permanently ensconce themselves in their darkened bedrooms with a Playstation, a Not Poodle, and a packet of Rizlas. Of more immediate interest to me was resin-based surfacing, and the four biggest suppliers in the trade were all on parade.
Ronacrete have been a good friend to this website, and always have a warm welcome and a comfy chair for a poor, crippled webmaster. CEO Simeon Osen chickened out halfway through Day 2, safe in the knowledge that Steve Taylor and Donna LaCarpentier were more than capable of dealing with the steady flow of interest their FastGrip resin-bond product attracts. Donna is irrepressible at these events and there's never a dull moment on the Ronacrete stand.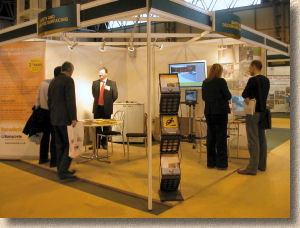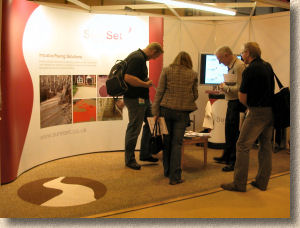 Another good friend of the website are SureSet UK and they specialise in Resin Bound aggregates – if you still don't know the difference between resin bonded and resin bound, then you really ought to read the explanation page . Sales manager Victoria Lewis has a new, updated logo to show off, and yet another SureSet mug to be added to the collection here at Borlochs Hall. As with everyone else, Victoria says they had a great show, and generated a huge pile of new leads. What impressed her most was the sheer quality of the leads – heads of departments, senior buyers, practice principals – the sort of leads young sales managers dream of!
At the other end of the hall, in a prime location next to the entrance to the Traffex/Parkex crowd, Uckfield's very own Addagrip Surface Treatments had a stand showing off their resin-bonded AddaStone product, the resin-bound AddaSet, and the impressive AddaPrint resin print system, which I'll be looking at in more detail later this season. AddaStone is one of the most widely specified resin-based surfaces in the UK, and the AddaSet trowelled-in option means that AddaGrip can offer both popular systems. The Addaprint uses a resin-based thin-layer material that can be coloured to suit the project and then imprinted with any of a large number of patterns such as flagstones, setts or brick paving.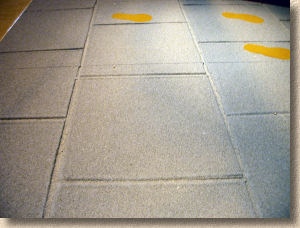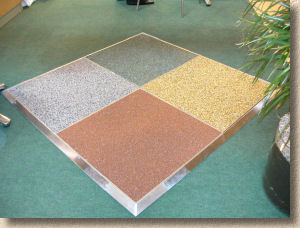 Last of the four is Ayton Products' Clearmac, another resin-bound offering, although they also offer a resin-bonded system by the name of Tri-Pave, and a selection of play surfaces based on wet-pour rubber. I couldn't detect anything particularly distinctive with the Clearmac/Tripave range, and I did wonder why both were quoted at the same price, even though they use significantly different quantities of resin and aggregate. I indulged in a swift half of shandy with an contractor mate of mine on Wednesday evening and he, too, was bemused by the Clearmac/Tripave pricing policy. Either the Clearmac was being sold too cheaply or the Tripave was over-priced, but, as he said, "there's summat not reet!"
Cell Systems
Onwards and upwards – another group of products that was well-represented are the cell systems, those plastic, grid structures that can be filled with grass or gravel. I know from the number of enquiries coming in to the website that these have really caught the imagination over the last few years. The biggest problem has been convincing people that the grass is the weak link in these systems and no matter which option you choose, no grass in these islands can cope with repeated vehicular trafficking, day in and day out.
I had a longish chat with Netlon 's Phil Allen and this is something we hope to address between us in the coming months. Netlon have a range of products that can be filled with turf, fitted over existing turf, filled with gravel or other loose aggregates. The relatively new Netlon 25, at only 25mm deep, is intended to be clicked together and literally dropped in position over an existing grassed area. The cell matrix carries the load as the grass grows through the matrix and it's difficult to imagine anything much simpler.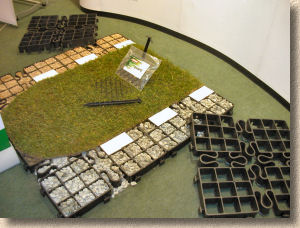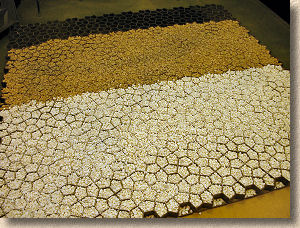 Tenax have a more 'traditional' cell matrix, that is filled with either turf or gravel. What's intriguing about the Tenax cell is its seemingly haphazard, random arrangement of the individual cells which gives it a more natural-looking appearance. Tenax also provide a superb range of over-turf meshes than can be rolled out for occasional overspill parking, and then rolled back up until needed again. They've also recently launched a bright orange barrier-fence-on-a-roll that would be a useful addition to any builder's van. The test roll on display came from their Italian manufacturing plant, so the text didn't make much sense, but versions with English or Welsh text should be available within weeks. I was also impressed with their GrassTrack product, a heavy duty mesh with a permeable membrane fixed to one side. It can be laid membrane down to prevent muds and silts being 'pumped' up through the mesh when laid over a grassed area, or membrane up to give a pedestrian-friendly surface that's almost carpet quality.
Ecogrid is another cell matrix but it is targeted primarily at gravel stabilisation rather than for use with turf. The individual tiles are smaller than those of the systems mentioned previously, there being 9 to the square metre, but it does come in two depths – 30mm and 50mm
I know I also saw Ritter paving cells at the show, and I tried to get back to have a chat as it seems the UK distributor has changed since my last dealings with them, but due to lack of time (too long talking about stone setts with David Burton and Michael Heap) by the time I got back around there, the show ws closed and they'd packed up and gone. I'll try to catch up with them over the next week or three.
Edging Systems
Two metal edging systems on show. EverEdge is the steel edging system that's reasonably well-known in the trade and is a firm favourite for lawn edging. However, Simon Arrowsmith showed me a new, 2.5m version that should be in full production later this spring and will be more suitable for path and driveway edgings. He's promised to let me know as soon as it's available, so keep your eye on this News section.
Permaloc is an aluminium L-shaped system that is popular in the US but has never really taken off over here. However, Russell Turner has been plugging away with the various depths and lines and has gradually built up a sizable band of admirers, including Addagrip and several architectural practices who have been delighted with the simplicity, fast fixing times and the ability to create really sweet curves and arcs.
Rounding Up
Final mention goes to a charming lady, Kelly Jones of the Landscape and Amenity Update magazine. Kelly and I have chatted on the phone at fairly regular intervals for the last couple of years but never actually met. I didn't even know she was going to be there until I was hobbling past on my way to catch up with someone else and I saw her name badge. It's always good to put a face to a name, especially when it's such a pretty face! For those of you not familiar with LAPU, shame on you! It's a free bi-monthly publication that covers all that's best in both hard and soft landscaping. Some months you just have to accept that it will be half-full of bloody lawnmowers and golf buggies, but their hard-landscaping and pedestrianisation specials are an essential source of information for anyone in this trade. And it doesn't cost you a penny!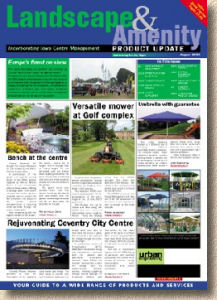 So: to sum up – this was a marvellous show, I thought. A great mix of products and companies, very well attended, and profitable for both visitors and exhibitors. The show is perfectly targeted at this industry and is the ideal complement to the flashing lights, radar gizmos and parking clamps of the sister exhibitions in adjacent halls. The seminars are a great bonus, but for me, the highlight had to be the marvellous 'Square' in the centre of the hall. It was a marvellously constructed showcase for a wide selection of quality paving products, and it also managed to create the perfect place to plonk down yer arse, gather your thoughts, and give the aching feet a few minutes respite before moving on to the next stand. So much more relaxing than the usual coffee-bar, and perfectly in keeping with the theme of the show – it would not have looked out of place in any city, town or village centre.
©Tony McCormack - April 22nd 2005