Yeah, yeah, yeah, it's alright for us professionals, but what about the diy-ers? Can they undertake their own paving and get a trade-quality finish? Well, some of our readers reckon so!
---
Project 1 - A New Concrete Block Driveway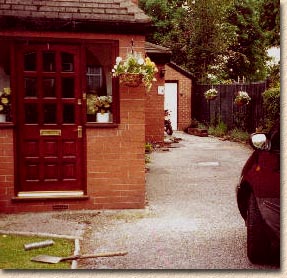 Gordon Murty from Warrington wanted his drive to be be block-paved in the middle of summer, when the trade is at its busiest and all the best trademen are booked solid for weeks. He emailed us a couple of times for re-assurance, but generally relied upon the advice and guidance given on this site to construct his own driveway in his free time.
This was what he started with. The old tarmac drive had seen better days, and was badly letting down the overall appearance of the property.
A JCB mini-digger was brought in to deal with the heavy excavation work. It easily chomped its way through the old tarmac, and made light work of the 200mm excavation depth.
Special care is needed around drains and services, so Gordon used a spade, which can be seen in the picture, to expose any pipes or cables he came across, and kept the digger's bucket well out of their way.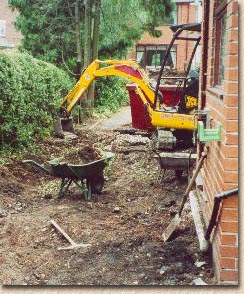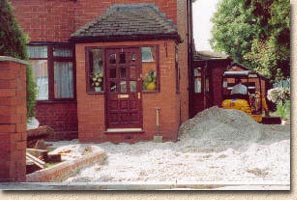 Gordon chose a red kerb edging for the paving, and these were laid on a concrete bed and haunch, as shown on the edgings page.
A wagon load of DTp 1 was delivered. With this job being within 30 miles of the limestone quarries of North Wales, a crushed limestone, the best available, was easy to source.
With the sub-base in and compacted, and the bedding layer of grit sand screeded out, the paving begins. Gordon has used a 45° pattern, which gives a full interlock, and is the most visually striking pattern to lay to a long driveway.
Note his edge course detailing; against the red splayed kerb, he has used a single width red paver, then a double width charcoal paver, to give a 300mm wide edge band. This will 'frame' the driveway and give it strong definition.
And here's the finished project - Gordon has really done himself proud and is an inspiration to anyone else who fancies giving it a go.
---
Project 2 - A Clay Cobble Patio
Mark Palmer fancied something a bit special in his rear garden, and decided to go for clay cobbles laid in a European fan Pattern. Mark made best use of our Brew Cabin forum , asking for advice and using it to swop ideas and obtain layout ideas for his project - see the thread " European fan pattern in clay cobbles " in the Block Paving Forum for the full discussion.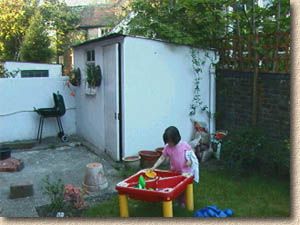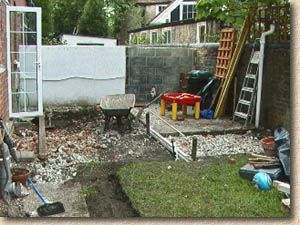 The existing concrete yard was unsightly and the shed was too big, and so everything was demolished, the old concrete removed and a "Blank Canvas" created for the beginning of the new work.
After installing a linear drain against the house, a sub-base was laid and then the new patio area was constructed using 56x56mm Marshall's Clay Cobbles laid in the fan pattern on a sand bed with 200x100mm Clay Pavers in a complementary colour laid as a soldier edging.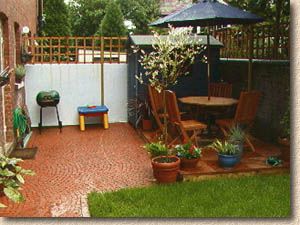 A new, raised deck for the essential dining-out furniture, along with a smaller, timber shed painted a discreet shade of blue, and a revamped lawn for their young daughter, and the job is complete.
Congratulations to Mark - and to Julie and Rebecca!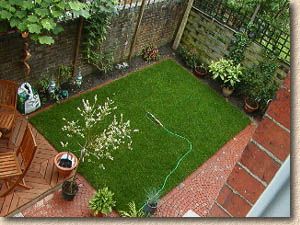 ---
---
Other DIY block paving projects featured on this site....
Want to add your pictures to these pages? Send your jpegs and a description of the fun you had to Tony at the usual address... info @ pavingexpert.com
---
---