Introduction:
There are two acceptable methods of laying flags - individual bedded and screed bedded. There are other methods, spot-bedding, ring-bedding, and ribbon-bedding but these are not considered suitable for any professional paving project. The choice of laying methods depends on the personal preference of the contractor/specifier, the type of bedding that is chosen, and the types of flags being used.
When stone flags are laid to town centre footpaths and other areas that are open to the general public, the rigid laying method is used increasingly. While this method is not radically different to that outlined below, it is important enought to warrant its own page where the methodology is illustrated in more detail.
Flagged driveways also have particular requirements which are considered on a separate page
---
Bedding Methods
Individual bedding
Screed Bedding
Where screeded beds are perfectly flat (ie: no change of plane), flags of almost any size could be laid, but where there are changes in fall or multiple planes, only the smaller flags can normally be used, as larger units would rock when seated onto a non-flat bed.
It is essential that the flags be of a constant thickness, hence the small element paving flags, wet-press manufactured patio flags and the smaller calibrated stone flags are the most suitable candidates.
---
---
Spot Bedding
Regardless of what you may have seen on TV DIY and Gardening programs, spot bedding is not an acceptable bedding method because...
Find out what causes this type of staining on the Reflective Staining page.
---
---
Ring Bedding: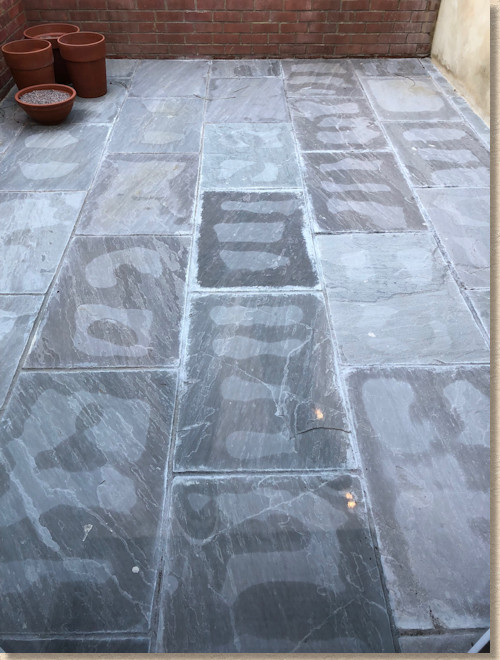 Ring bedding is defined as a "ring" of mortar being placed around the perimeter of the flagstone with, sometimes, a central dollop which the idiots involved believe improves support.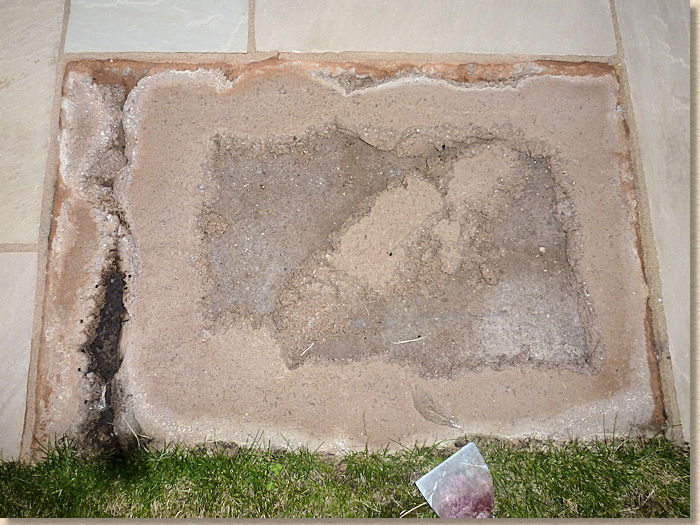 Once again, this form of bedding does NOT provide the "full bedding layer" required in BS 7533:4 . It is a partial bed. It has voids, hollows, gaps….call them what you will. It is NOT a full bed, therefore it is NOT acceptable, on any class of pavement, whether it's a high street or a patio.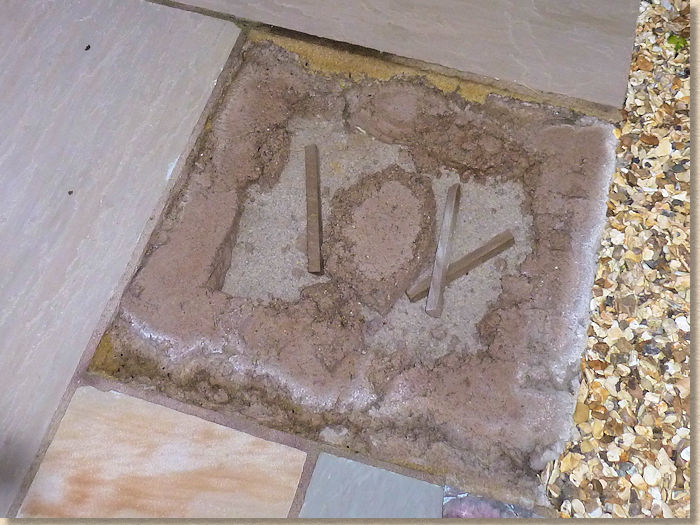 ---
---
Ribbon Bedding:
A further variation that is equally unacceptable is "Ribbon" bedding. This nefarious technique relies on three or four 'ribbons' of the mortar, usually running parallel to the short axis of the flags, with significant gaps between. There may be a couple of additional ribbons at the top and lower end of the long axis, too.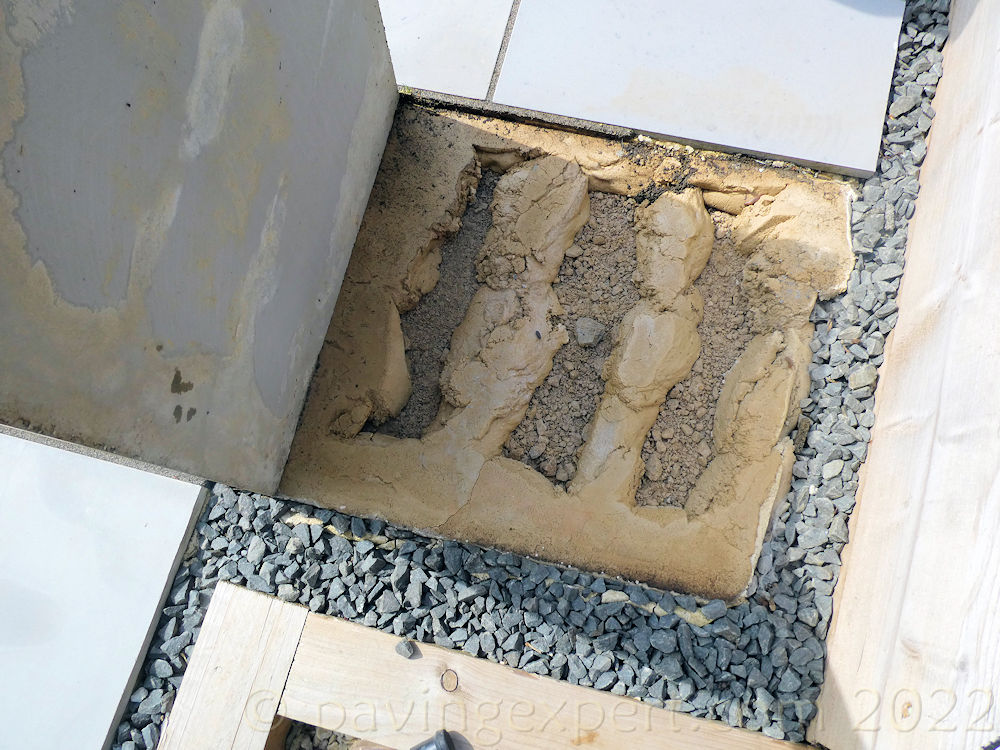 Again: it fails to provide a full bed or the 'uniform support' required by the British Standard, and therefore it is not acceptable, and no matter what excuses an installer may put forward, it never is acceptable.
And as with the other partial bedding methods, flags that have been ribbon bedded are more likely to feature reflective staining, this time in the form of.....you guessed it.... ribbons!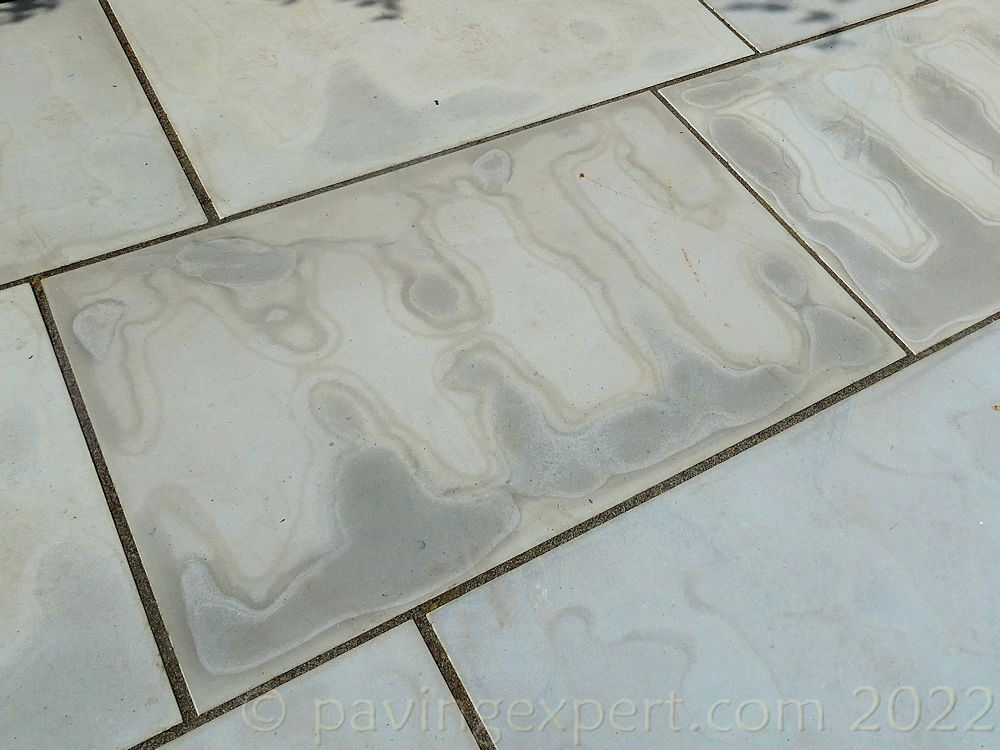 ---
Construction
Preparation
Decide where the paving is to run, and mark out as required. It is assumed that the paving is to be flush i.e. level, with the existing ground. It is a good idea to excavate wider than the planned pavement width, allowing an extra 50-100mm at the edges makes handling much easier.
Falls:
For commercial or specification paving projects, the minimum recommended falls for flag paving as stated in BS 7533:4 are 1:80 longitudinal and 1:40 transverse. There are exceptions, such as when proprietary drainage systems are incorporated into the pavement.
---
---
Sub-grade
Weed or root barriers are not essential unless there is known problem with roots or invasive, deep-rooted weeds, but it is unlikely that any weed will be able to penetrate the upper layers.
Where the excavated ground is suspect or unreliable, use of a construction geo-fabric may be beneficial.
"Do I really need a membrane or a layer of polythene underneath my paving?"
If an edging is required, it can be constructed at this stage or left until the rest of the paving is in place. Brick edgings, plain or decorative edging kerbs , kerbs or cobbles laid lengthways are all suitable.
---
---
Sub-base
See sub-base page for details of acceptable materials and compaction methods.
Bedding layer
Flagstones can be bedded directly onto either:
In general, most flagstones are laid onto a cement-bound material (a mortar or concrete). However, an unbound sand or grit bed can also be used when the situation warrants it. Just what that "situation" may be is examined in more detail on a separate page
When working with an unbound bed, DO NOT USE BUILDING SAND - it is too soft and can become 'fluid' when waterlogged, consequently moving beneath the flags, causing settlement, and it ioften contains too much iron mineral which WILL stain certain types of paving.
The use of a permeable bedding mortar is becoming ever more widespread. A separate page looks at why these mortars are used, how they are prepared and how they are used on site.
Coverage rate for bedding material is approx. 10-12 m² per tonne at 50mm thick, but this varies with moisture content. See Screeding page or the Aggregates page for more details on grit sands.
The bedding material should be spread to the area and compacted either by trampling or with a couple of passes with a plate compactor prior to bed preparation, which will be one of the two methods previously mentioned.
---
---
Individual bedding
The true art of flag laying is to get the bed right on the first attempt, so that the flag can be laid and consolidated without having to be repeatedly lifted while bed adjustments are made. If you have 100 flags to lay, and it's taking 3 attempts to get each bed right, you've laid 300 flags in actuality, but have only 100 to show for your efforts.
Screed bedding
Flags at a free edge
---
Buttering or not?
Open Jointing
Butt Jointing and Close Jointing
With dry jointing, the flag is positioned and pushed hand-tight against the preceding units, but not so tight that the joint is completely closed. For dry-sand joints, the flags should be separated by no more than 5mm. There has to be some gap to allow the jointing sand to enter, but it needs to be kept to a reasonable minimum otherwise there is a real risk that the jointing will be removed by scour action .
This technique is often incorrectly referred to as 'butt jointing' but it is actually "close jointing". Butt jointing normally means that adjacent flags (or other paving units) are in direct contact with each other. This is NEVER a good idea as any movement of the flags can result in spalling of the surface.
---
Laying the flags
Video: Using a Vacuum Lift to lay flags
---
---
Always lay flags the 'narrow' way - ie, if laying a 600x300mm flag, make sure the 600mm long edge is on the ground and that you are only stretching 300mm to lay the flag.
One technique we use to avoid excessive strain on the back, is to use the pavior's maul to take the bending motion out of lowering the flag. The head of the maul is used to hold the 'top' edge of the flag, which is then lowered by the tradesman who controls the flag's descent via the maul.
Laying from leading edge
It is not possible to use the maul assisted lowering technique mentioned above when laying from the leading edge, as there is no space for the head of the maul between the top of the flag being laid and the leading edge of the existing paving. This means extra strain on your back, so extra care must be taken.
---
Consolidation
Some of the small element paving is suitable for consolidation by running the plate compactor over the surface, rather than individually consolidating each flag. Do not attempt this method with patio flags - they are not strong enough and were never intended to be plate compacted - they are almost guaranteed to break and, on some of the decoratives, the surface detail will be spoiled.
Oh Flip! It's too high!
The flag can only be tapped down a limited amount. Beyond a certain point, no further compaction is possible and if you persist in hammering it with the maul, the flag will break. There is only one remedy, the flag will have to be lifted and re-bedded, but before you do lift the flag, make a mental note of where the flag is high and by approximately how much, then, when you've lifted the flag and stacked it safely while you adjust the bed, you can use a spade or a trowel to reduce the bed in the necessary areas. Once again, loosen the top 15-20mm of the bed and try the flag again. Hopefully, it's right this time.
Oh Sugar! It's too low!
---
Jointing and/or Sealing
A number of jointing options were briefly introduced above and such is the range of alternatives that a whole separate series of pages has been created to consider each in turn.
In summary, there are four main options:
Many factors contribute to determining which will be the most suitable jointing method for any particular project. There is no single 'always right' solution.
See Pointing and Jointing Pavements and Jointing for Stone Paving pages for further detail
---
---