London Stone Show - April 5-7th 2005
Natural stone continues to grow in popularity as a paving type, and it seems every week another supplier of imported sandstone, porphyry, travertine and all the rest appears on the scene with a promise to offer new and exciting materials at ever lower prices. While the vast majority of suppliers simply offer the same tried and tested products; the Raj Greens, the Fossil Mints, and the grey sandstones, there is an astonishing wealth of stone out there that many of us never get to see.
Next month's London Stone Show aims to showcase some of that wealth and bring it to the attention of those who can influence the market: the designers, architects, specifiers and even a few of us gnarly-handed contractors.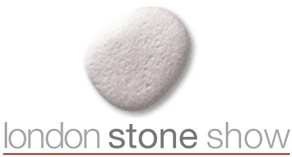 This is the third London Stone Show and this year sees a change of venue, away from Earl's Court up to the Wembley Exhibition Centre in North London. The organisers are promising 17,000m² of exhibition space, on-site parking for over 3,000 cars, and, most importantly, over 300 exhibitors of stone and stone-related products.
The show runs from April 5th-7th inclusive, and this year there'll be a "preview evening" on Monday 4th April that will feature guest speakers along with complimentary butties and a brew, and a chance for an eve-of-show natter with some of the exhibitors.
This is a 'trade' event, what is now known as B2B, the anointed acronym for Business-to-Business, and so entry is "ticket only" to accredited trade bods. Those turning up on spec will have to fork out a fiver, so it's well worth getting yourself registered in advance, which costs nowt and can be done online at the London Stone Show website .
A quick peek at the Exhibitor List reveals that it is dominated by the European and South-east Asian Importers. Plenty of Granite and Marble and Slate, but not a great deal from British and Irish companies, which disturbs me. I appreciate these shows are probably more suited to importers than to the home-based outfits that can get to see the key decision makers during the other 51 weeks of the year, but if the show becomes exclusively import based, it loses a huge part of its value as a comprehensive overview of what's available. Given the good level of support given by Irish companies to the sister-show in Dublin just before Christmas, it would be nice to see a similar level of support from the Brits.
With so many unfamiliar names on the list, it's not easy to predict what sort of products will be on show. No doubt there'll be the usual flooring, cladding, worktops and other internal applications, but I do hope we have a strong presence for paving, and for hard-landscaping in general.
There's two ways to find out how it all turns out: get yourself a ticket and take a couple of hours to wander around or watch here for the post-show report some time in April!