Charcon land Durakerb
Charcon, part of the Aggregate Industries group of companies, have revealed that they have signed a distribution deal with the Durakerb® Group, which will see Derbyshire-based Charcon distribute one million plus of the re-branded Charcon Durakerb® products. The Durakerb® Group is a market leader in the manufacture and distribution of a lightweight recycled polymer kerb system widely used within the civil engineering and highways trades.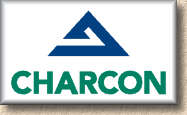 Each Charcon Durakerb® is said to contain up to 182 recycled plastic bottles generated from local kerbside collections within the UK. In the past year alone, the manufacture of the kerbs has diverted, from either UK landfill or export to China and India, in excess of 10 million plastic bottles garnered from local authority recycling schemes. Charcon Durakerb® will also supply kerbs for the Olympic Park site for the London 2012 Olympic and Paralympic Games.
One of the key selling points for Charcon Durakerb® is its contribution to onsite safety. Each kerb weighs only 5kg, so no mechanical handling equipment is required, thereby eliminating the risk to operatives of manual handling. Further, as the kerbs are not manufacured from concrete or stone, there is little risk of crystalline silica exposure when cutting the kerbs. Charcon Durakerb® is also claimed to reduce lifting injuries, posture abuse, hand and wrist injuries, and reduces the incidence of injury claims from operatives through improper handling of 'normal' kerbs.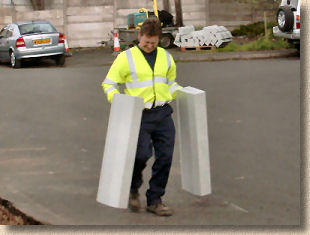 Additionally, Charcon Durakerb® claims further benefits such as:
Ease of handling and quicker installation rates
Reduction in cuts and crush injuries on site
Elimination of noise, vibration & crystalline silica dust emissions
It can be recycled "again and again" with minimal loss of mechanical properties
Encompassed CO 2 per HB2 unit is only 8.6kg, a 20% reduction from a concrete kerb.
Mark Bushell, Charcon's Director of Sales, said,
"We are very excited to add Charcon Durakerb® to our hard landscaping portfolio as it helps us to provide a complete solution for our customers. Charcon Durakerb®, with its high recycled content and lower CO2 footprint, also has great sustainability credentials that adhere to our environmental policy."