Karts and Cups for Tobermore
October saw a couple of notable triumphs for Tobermore Concrete, the Nothern Ireland based manufacturer of concrete and natural stone paving. Not only were they awarded the highly prestigious UK Business Excellence award, just weeks after walking away with top prize in the province's Chartered Institute of Marketing Awards, they organised a second evening of fun and frolics for their ever-growing band of UK-based contractors.
Better than the rest
Tobermore was joined by some of the world's top organisations including BMW, Siemens Medical Solutions and TNT at the gala UK Business Excellence Awards ceremony held in London's Hilton Hotel organised by the British Quality Foundation, but it was the South Derry company that walked away with one of only two major awards presented on the night.
The annual awards focus on Organisational Quality and in order to be shortlisted competitors must go through a rigorous audit as well as submitting an in-depth analysis of how they have demonstrated a commitment to business and organisational excellence.
The hard-landscaping manufacturer's first UK-wide award follows its recent success in winning top prize in the Northern Ireland Chartered Institute of Marketing Awards. In 2002 it was the overall winner of the N.Ireland Quality Awards and last year later won a Queen's Award for Export and Trade.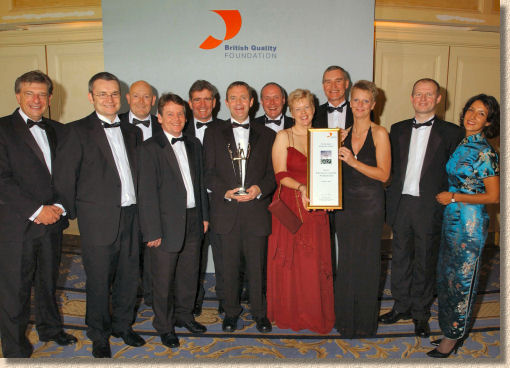 Tobermore's Managing Director, David Henderson, described the win not only as an amazing feat for Tobermore, but also a reflection of the strength of Northern Ireland's businesses.
"We have received several high-profile external recognitions in Northern Ireland over the past 10 years but to win the UK business excellence award is a major boost to the company and most importantly our people. The business excellence award involves all sections of the business and people and therefore has much more credibility to us than many other types of awards. This award marks a significant milestone in our company's journey of ongoing improvement. One of the reasons we decided to enter the UK Business Excellence Awards was to further benchmark ourselves against the best organisations in the UK. We found the assessment progress, while rigorous, to be extremely helpful in identifying areas where we can further develop in terms of quality and business excellence. To be exposed to such an eminent panel of judges proved to be an exceptionally challenging and valuable exercise."
Faster than the rest
Just a few days later, and the venue switches to the busy metropolitan centre that is Warrington, and the year's second Contractor's Evening. Tobermore have a policy of looking after their growing band of regular contractors, making sure they are well supplied with direct deliveries as well as all the sales and marketing materials they might need, but they take this one step further by arranging social events where contractors from points far and wide are brought together to swap experiences, tips and tricks, and generally share the craic.
A vibrant cultural mecca such as Warrington has much to offer the discerning contractor in search of entertainment: The Red Lion, where I spent far too much of my apprentice's wage; Mr Smiths, the venue for the infamous Hitman and Her TV program that brought Michaela Strachan and the eejit Waterman to our screens at some god-forsaken hour of the weekend; and F1 Speed-karting, a form of high-speed tourney for the 21st century. Sadly, the Red Lion has replaced its celebrated Progressive Rock jukebox and is now overflowing with lads and lasses in their underwear, while disco dancing isn't the sort of thing many contractors look forward to after a day on their knees preparing screeds, so the Karting it had to be.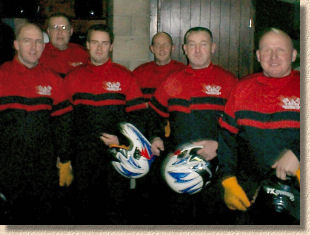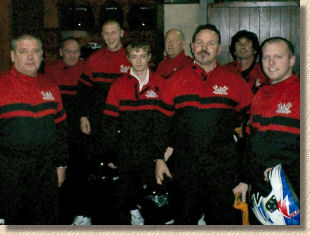 Organised by British Sales supremo, Mark Law (who just happened to have his own bash hat and was widely rumoured to have been practising for a month beforehand in the hope of being able to award himself the winner's trophy), over 30 contractors turned up for the initial briefing and to be sorted into heats which would lead up to a grand final.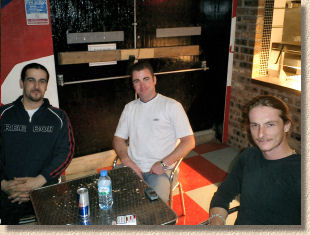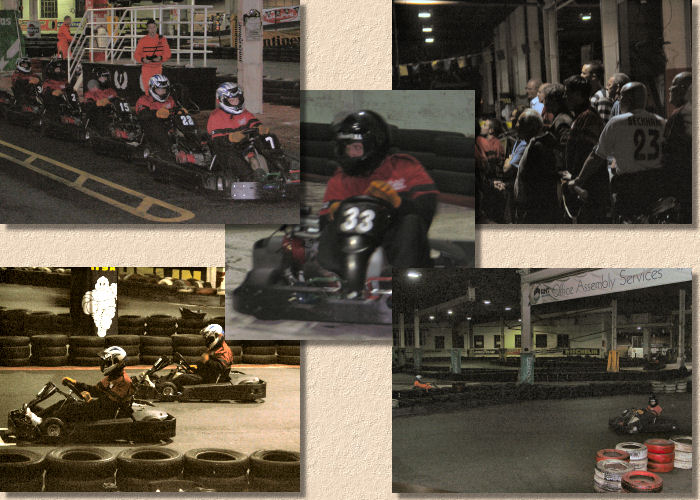 Tobermore BritishKarting Championship2005



1st Place
James McFadyean
JM Paving


2nd Place
Andy Lenihan
Wyman Construction


3rd Place
Martyn Shepard
Shepard Contracting