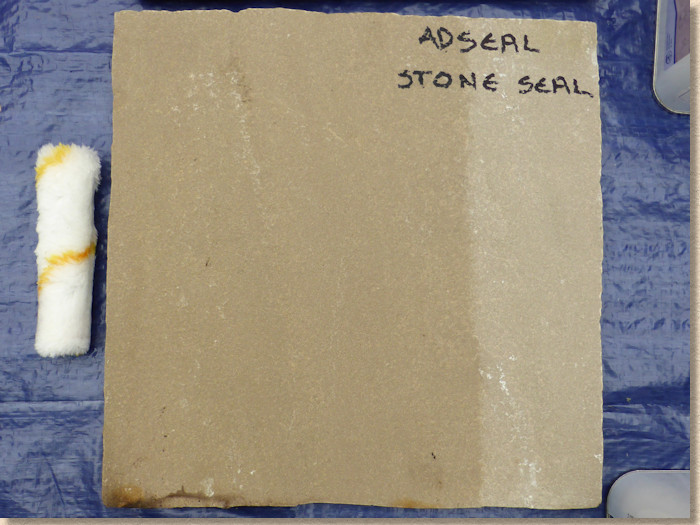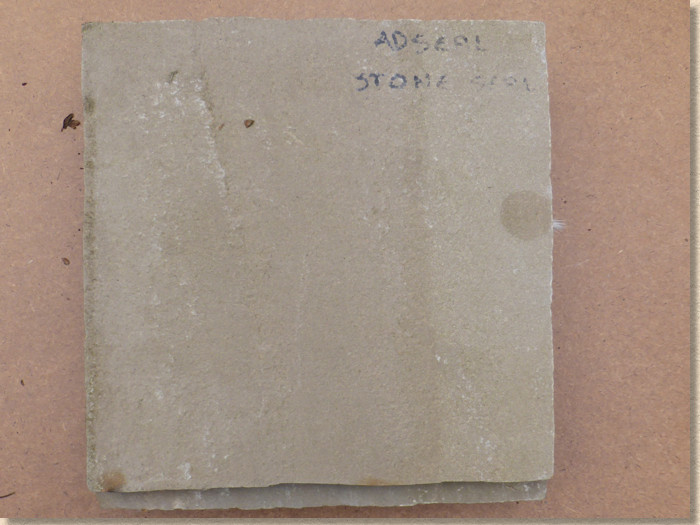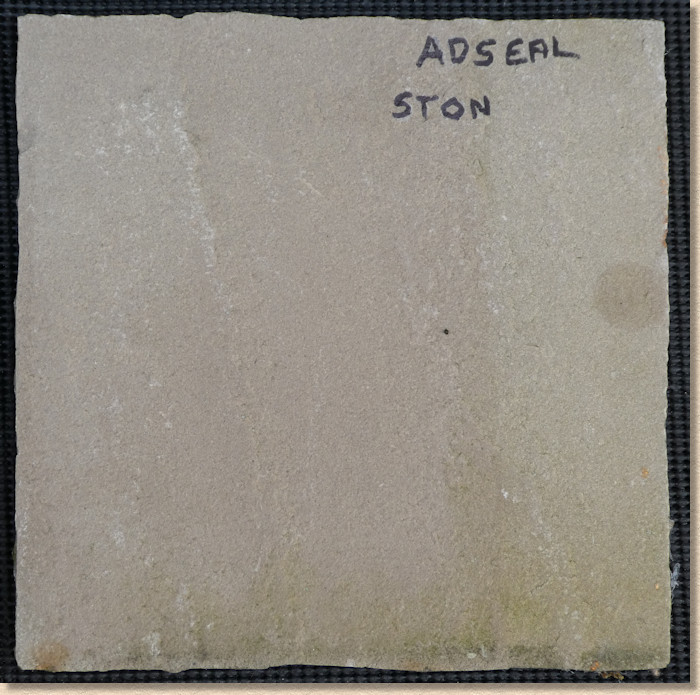 Summary:
1st coat: Not as gloopy as Advanced HD but still thick and strong smell
2nd coat: Very sticky with 2nd coat and a real sense of it being a surface sealant (topical) rather than an impregnator
Very noticeable for first few months but after one winter, it evens out to become barely visible.
By the end of the trial, it's only just possible to see the sealant and, while it has kept much of the algae (the greenery) at bay, some has managed to establish itself at the 'bottom' edge where it was adjacent to an open edge at the lower edge of the shed roof.
Looks to perform well but, given it's a specialist sealant for stone, maybe it should have fared better than its non-specialist sibling, Advanced HD Sealant .
Stain Trials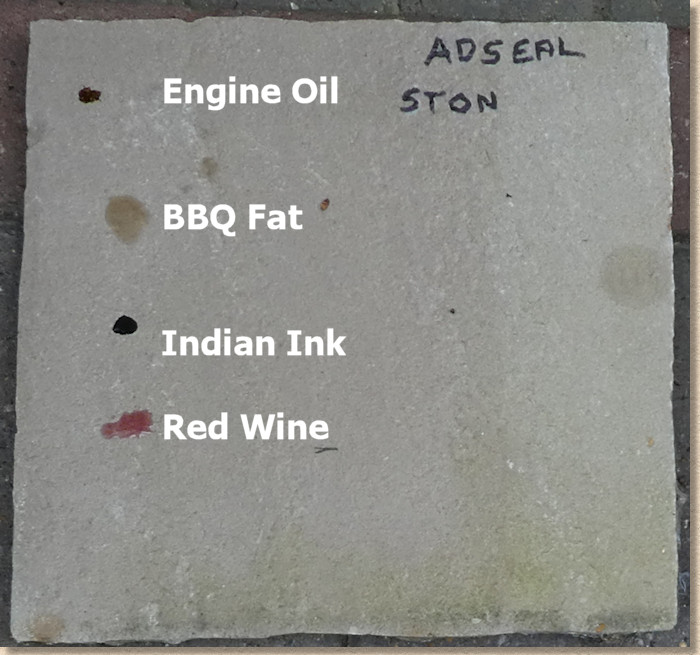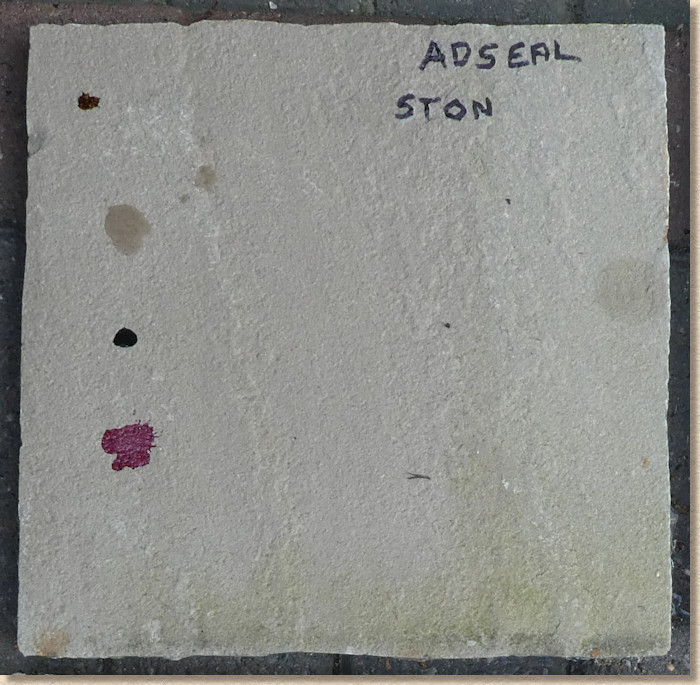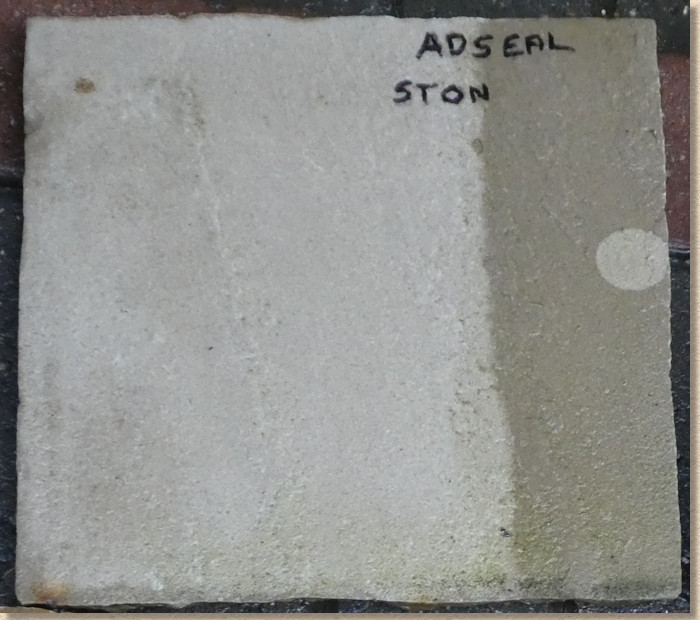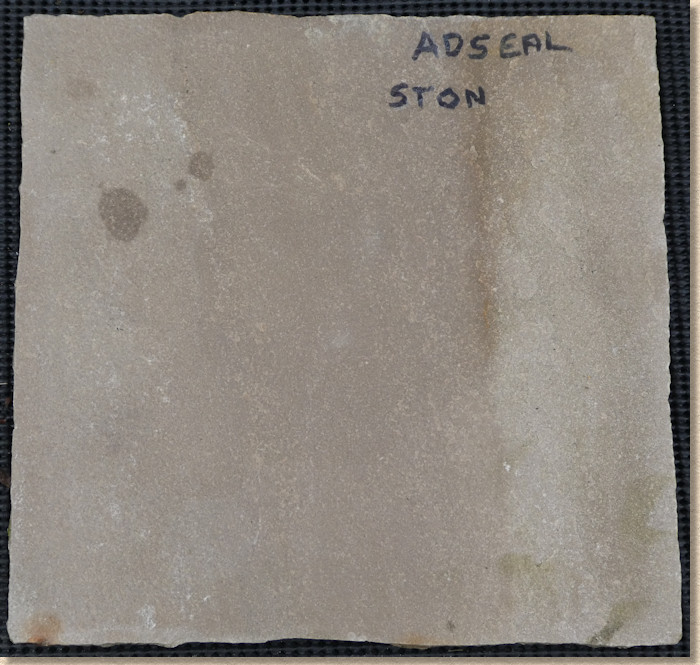 Comments:
A good performance, but seeminglly not as good at defeating these stains as the HD Sealant from Advanced. The engine oil has left a very meek trace but the BBQ fat has definitely left its mark, as evidenced by the detectable presence of the second, accidental splat! No trace of the ink or wine and the trteated area shown no sign of the mosskiller although it can be detected right at the edge of the tereted/untreated area, which indicates the sealant has been effectrive.
A pity about the BBQ fat but definitely still a good product.
Note: Any apparent variation in colour of the flagstone is due solely to changes in the condition of the natural daylight at the time the photograph was taken.
Other than cropping to exclude extraneous background and adding a drop shadow to the cropped image, there has been NO post-processing of the original photographs.
Supplier:
Advanced Stone Seal is available from:
Advanced HD | Advanced Stone Seal | Dry Treat Intensifia | Dry Treat Metacreme Dry Treat Stain Proof | Dry Treat Stain Proof v2 | Easy Seal Col Enh | Easy Seal Ultimate Funcosil OFS | Hanafin Finisha | K-Seal | Larsen | Lithofin Col Int | Lithofin Stain Stop Eco Lithofin Stain Stop Plus | LTP Col Enh | LTP Nat Fin | LTP Matt | Pavetuf | Resiblock Indian Romex Col Enh | Vulcaseal 277 | Vulcaseal 286 | Weiss FT Plus | Weiss Stain Protect