SED 2005 - Review Part I
Last week saw the annual big-digger extravaganza that is SED . Held on Tuesday, Wednesday and Thursday May 17-19th at Fen Farm on the outskirts of Milton Keynes, this event has become the nation's leading exhibition for both all types of plant and equipment, from massive face shovels and tower cranes down to hand-held power tools and safety wear.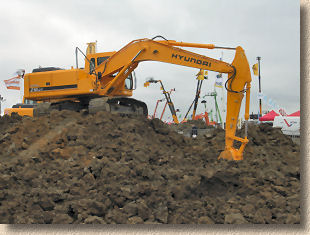 It would be easy to think that there's not likely to be much of interest to us in the paving and hard-landscaping trade. We all like a mini-digger on the job, and the skip-loaders are always useful, but do we really need to spend a day gawping at 360° 48 tonne excavators, cherry pickers and 8-wheel tippers? The wonderful thing about SED is that there really is summat for everyone, and it takes me the best part of a day just to make my way around those items that are of immediate interest: if I had the time, I'd love to dawdle around the big diggers, the 4x4s and all the other bits of kit on show, but given the 3 hour trek to Milton Keynes, and the prospect of at least another 3 hours getting back to civilisation at the end of the day, my time is severely limited.
Concreting Kit
So, what was there to see that ought to be flagged-up (no pun intended) to grab the attention of those in the trade too busy earning a crust to take the day off? One of the most relevant "zones" of the site is the Concrete Show. This is a dedicated marquee where concreting kit and concreting techniques are demonstrated at regular intervals. Last year, Stencil-Tech did a great job of laying bare the mysteries of concrete stencilling, and this year they expanded on that theme with demonstrations of other decorative techniques. One big difference this year was the manner in which the concrete was "delivered". In previous years, it's been brought to site in a standard 6m³ wagon, but this time it was batched, mixed and placed by a self-contained mixer wagon from Armcon Cementech .
We've all seen similar machines doing the rounds for a few years now, but this piece of kit is capable of delivering certified mix strength and slump rather than the twenty-to-plenty, no-two-batches-the-same mixes that have always plagued the mixed-on-site trade. These modern wagons are capable of varying the mix to the customer's requirements, delivering the exact quantity required, printing out a QA ticket and with a hydraulically-controlled 6m chute, they can even help cut the amount of work needed to place the concrete.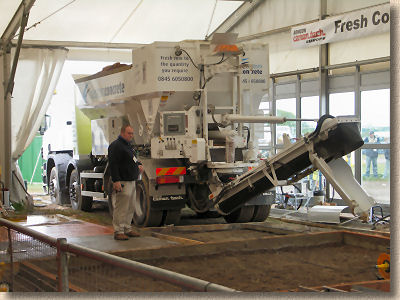 Placing concrete from the Armcon Cementech Volumetric Mixer
I'm not sure how well these Volumetric Mixers (to give them their proper name) will fare on larger sites and civils projects, but for your typical driveway or garage base, they should give the more traditional wagons a run for their money.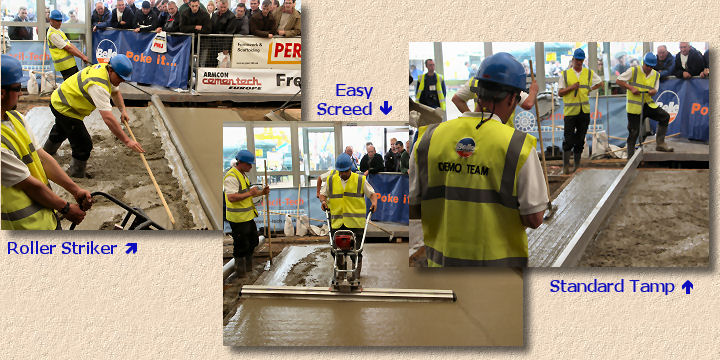 Helping to place the concrete, Wacker were demonstrating their formwork vibrators, and Belle Group showed off their range of vibrating beam screeds, roller strikers and aluminium tamps. Again, most of us are familiar with these, but the smaller one-man screeders are a damned useful tool if you do a lot of concrete work.
Away from the concrete, Wacker were demonstrating the compaction kit and along with the usual impressive range of vibrating plate compactors in every imaginable size, they had a remote-controlled roller-cum-trench-compactor and a version of the one-man screed that could prove to be very useful when it comes to levelling and screeding the laying course for flags or blocks.
This piece of kit, officially known as the P31a Wet Screed, was being demonstrated on an area of sand and, apparently, it levels off the sand and gives it a sort of medium compaction, so there would still be sufficient "give" for when the blocks or flags are given their final compaction. This unit comes in two parts: you can buy the power unit for around 1100 quid and then the screed blades themselves can be bought individually for roughly 100 quid per metre. Although Wacker offer a 20m screed blade, for most users the shorter blades (1200-1800-2400-3000 and 3700mm) will be plenty long enough. If anyone is interested in trying out one of these yokes on a paving project, the nice people at Wacker UK will be more than happy to arrange an on-site demo. Contact me via the usual channels and I'll put you in touch.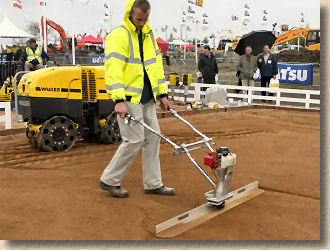 Block Paving Kit
One exhibitor with a very definite connection to the paving industry, and a regular contributor to this website, are Probst Handling . Probably best known for their block splitters and specialist paving tools, there's never a year goes past without Probst coming up with some new piece of kit to make life that bit easier for laying contractors. In amongst all the lifting gizmos and the machine-lay kit, I spotted three items that really ought to be brought to your attention.
First up is this nifty pavement cleaning machine. Cleaning of paving is a growing business and I get dozens of emails each month asking for recommendations as to which power washer or cleaning gadget should be considered. Lances are powerful and do a great job, but the small point-of-contact means that even cleaning a small patio can be half-a-day of a job. The so-called "patio cleaners" on sale at your local DIY shed, the sort that are simply attached to an existing power washer, are a slight improvement, but still leave a lot to be desired.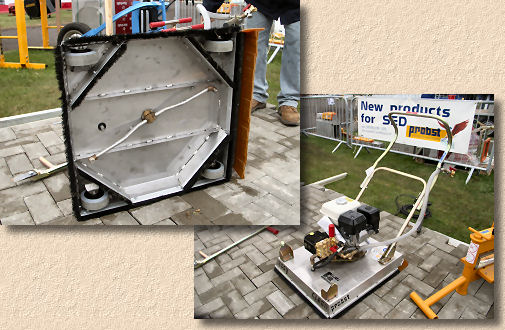 For around 1600 quid, you could have this professional piece of kit from Probst. It has its own Honda engine, so no need to have pesky cables tripping you up, and it connects direct to a standard hose for water supply. The underside features twin nozzles aligned at slightly different angles so the arms spins around at high speed, cleaning each square centimetre of paving as it's pushed along, while the brush-protected edges prevent water and dislodged crud being splattered everywhere. For those awkward corners and recesses, there's an optional lance than can be simply connected-up to this main unit and used in the traditional manner. I reckon it's a winner!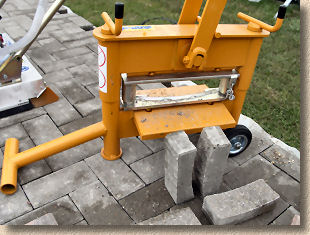 And how about this for cutting blocks to a curve? This special attachment can be fitted to any existing Probst block splitter and the unique shape of the cutting edges snaps the blocks to the desired shape with no need for multiple cutting or resorting to the cut-off saw.
Finally, a set of professional screed rails. They come as a set containing around 25 metres of rail in various lengths and are simply slotted together as required. As you'd expect from Probst, they're top-quality and at 165 quid (ish) for the set, they are well worth considering. They'll give your company a more professional appearance, they'll give a better finish to your laying courses, and they're a damned sight more accurate than those two bits of stick you bought from Travis Bloody Perkins last winter!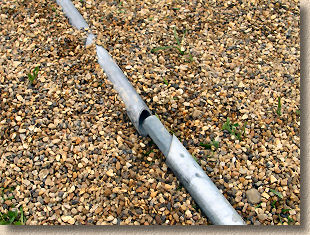 Probst also supplied the special lifting-heads used in the machine-lay demonstration once again put on by Terry Pointer and his lads at Tolly Paving . This was covered in some detail during last year's show, so there's nowt much to be gained in repeating it all here. If you want to see how it's done, see last year's show review .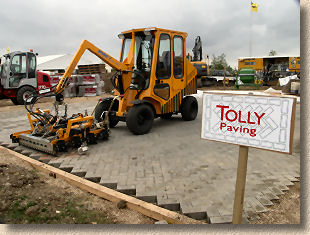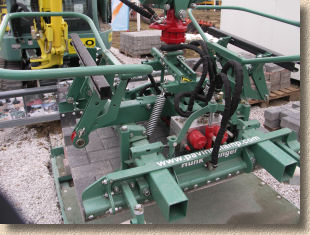 TCP (aka Taylor Construction Plant) were also showing off a selection of lifting clamps they've brought in from Germany. They're keen to get these pieces of kit out amongst the machine-lay contractors so they can get some feedback, so if you're interested, let me know. It's pretty obvious that machine-lay is going to be THE big growth area in the block paving sector in the coming years and all the more clued-up contractors are showing an enhanced level of interest. The fact that there are two clamp suppliers at this year's SED when only a couple of years ago there were none tells you which way the trade is moving.
Along with the lifting clamp, TCP were also showing the mini-crushers that first brought them to our attention in The Brew Cabin a few years back. Crushing and disposing old concrete, flags, kerbs, etc., is still a bit of a problem for many driveway contractors so any machine that can cut down on both disposal costs and the cost of buying-in sub-base material has to be worth considering. These machines can represent a significant investment for many smaller contractors, so it's worth hiring-in for a couple of jobs so their worth can be determined on site. However, many of the contractors that have hired-in have been so impressed, they've gone out and bought their own machine; using it on their own jobs whenever required and hiring it out to other contractors when they're not using it.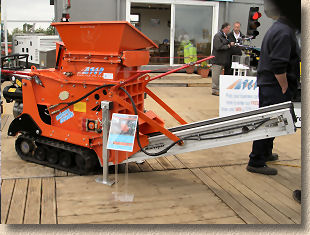 Drainage Kit
For the drainage contractors, Topcon had a simple but effective display of a pipe alignment laser. You set up the laser genny at one end of the run, then place the simple alignment guide into each pipe as it's laid, adjusting the pipe's position until the remarkably clear green laser line hits the target smack in the centre. Far more accurate than a taut string line, with no risk of sagging and no danger of tripping up over the damned thing!