Formpave launches new catalogue
Gloucestershire-based manufacturer, Formpave, have just released the eighth edition of their popular concrete paving products brochure.

As ever, the photography is superb, evidenced by the superb glossy cover featuring a stylish yet simple random broken bond layout of bush-hammered granite Royal Deeside long setts in the Lochnagar colour option. The cover shot is, perhaps, the most important image in any catalogue: it sets the tone for the rest of the publication and gives a taster of what to expect inside. This no-nonsense shot sums up Formpave perfectly – distinctive product; clever combination of subtle colouring with intriguing textures; dimensional quality. Although the company name is hardly prominent, one instinctively recognises this could only be a Formpave catalogue.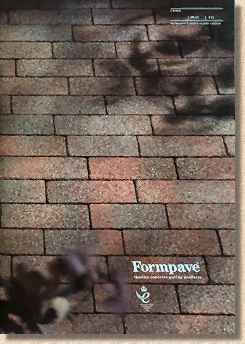 Inside the semi-rigid cover are 32 pages of attractive and well-considered photos, clear and concise text, and the unmistakeable Formpave isometric illustrations. This is not a patio brochure of the type handed out at every Builders' merchant and Garden Centre: it's very definitely aimed at the contractors and specifiers, yet despite the lack of the 'lifestyle models' and trendy (pronounced "expensive") furniture featured in those brochures, it would not intimidate a potential client or DIYer. Finding that balance is never easy, but this edition seems to have managed it perfectly.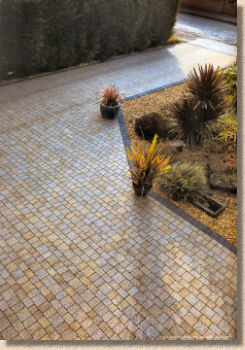 The range of products available has been extended, and while this isn't the place to document every new product (get your own copy of the brochure for that!), there are a couple that are definitely worth highlighting.
Firstly, the Granites range now has an expanded choice of units, notably the gorgeous long-setts shown on the front cover, and a granite kerb system incorporating transitions and centre stones.
Secondly, the new tactile paver, originally produced for Bristol City Council but now available countrywide is a product that is long overdue and bound to be popular with almost every local authority Highways' Department.
As already mentioned, the photographs are, without exception, well-considered and inspiring, but it's the 3D drawings that really illustrate the potential uses of various units, and for the less familiar items, such as the Post and Bollard blocks or the highly-versatile kerb systems, they really come into their own and are the most effective method of explaining more complex details – a genuine case of a picture being worth a thousand words.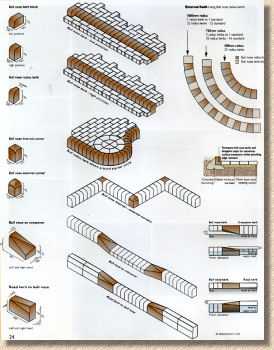 There's a short "info" section towards the rear of the catalogue that contains a useful full-page Q24 NBS spec, plus an informative section regarding High Skid Resistant paving that probably warranted more prominence, judging from the number of enquiries that come in to pavingexpert each week by phone and email.
Even more popular, in terms of number of enquiries, is the permeable paving, an area of expertise where Formpave truly excel and have a significant lead over every other British manufacturer. The new catalogue gives just two pages of very basic coverage to this subject, but that's because the various permeable systems manufactured by Formpave have their own, dedicated catalogue available separately.
Overall, this is a useful update that should be in the library of every designer and specifier. Get your copy now by ordering via the Formpave website or click here to download the PDF version.