Civils 07
A new venue this year: the spin being promulgated by the organisers is that the event has outgrown the over-sized ramshackle garden shed known as "Olympia", yet 2007's function barely fills Earls Court 2, and the venue managers have erected hoardings to keep those exhibitors brave enough to show their faces herded together at one end of the cavernous hall. It isn't fooling anyone, though. 11am when I arrive and there's a scuffle amongst the blazered badge-scanners for the right to process my entrance.
I poke around a couple of exhibits before deciding to grab a pew for one of the free seminars. There are two of the free seminar "theatres" this year, plus the paid-for big-wig conference arena, and it's gratifying to see that the red theatre is three-quarters full with disciples eager, like me, to learn what's new in the fascinating world of geogrids. Over the next 45 minutes, Tensar's Cliff Hall did a fairly good job of informing his audience (which grew as the event progressed) without once tempting them to just close their eyes for a few seconds, as is often the case with these events. I came away feeling I had been updated on the latest thinking and had a good understanding of why the tri-axial format was preferable to the more usual bi-axial offering. (If you desperately want to know, email Tensar and ask them to explain: alternatively, just take my word for it!)
Tensar and their highly desirable tri-axial geo-grids were one of the lamentably few products on show. As in previous years, the ratio of posing to practicality was worryingly high, but it seems that by moving the event back in the calendar by a couple of weeks may have done away with a sizable portion of the free-loading schmoozers who had previously used the event as a pretext to do their central London Christmas shopping on the company's time.
In view of the forthcoming changes to HSE advice on the cutting of concrete paving units, plastic kerbs will never have a better chance to grab market share, so the range offered by Envirokerb was attracting a fair bit of attention. I had a good discussion with director Clifford Maylor and shared my pretty valueless opinion that plastic alternatives for HB2s and other standard fare are never going to supplant the concrete beasts, but there is more potential for the combined kerb-drains and the shallow bridge drains. At only 14kg, I would have been delighted to lay these in preference to the 50kg heavier concrete kerbs that are at least partly responsible for my knackered spine, but while the cycle time for laying lightweight plastic or machine-assisted concrete units remains more or less the same, the significant price differential will ensure that concrete maintains its domination of the market. That's not to say there's no place for plastic kerbs in the market: they are a very useful alternative, particularly for small repairs, retro-fitting of dropped crossings, and environmental projects looking to use recycled materials, but, if I were a concrete kerb manufacturer, I wouldn't be losing any sleep just yet.
Hydraway are a company (or a product) that doesn't seem to have lived up to its potential, and I'm not sure why. It's a clever idea: a flexible, shallow fin drain cum drainage composite that can be used at carriageway edges or as a field drain, but it just hasn't really established itself in the highways sector to the degree I thought it would, and, looking at the promotional material and display pout on here, it looks as though they've decided that its market lies in the field drain sector rather than highway construction.
After the soggy summer we've had, I did think we'd have seen more of a mention for all things SUDS at this event, but the only company really pushing the message (other than Formpave's marvellous permeable pavement cross-section model) were Althon who had managed to put together a cogent and highly illustrative model using real components, and were brave enough to incorporate products from other manufacturers to ensure the whole story was told from surface to storm crate, via linear channels, flow attenuators, catch pits and oil traps.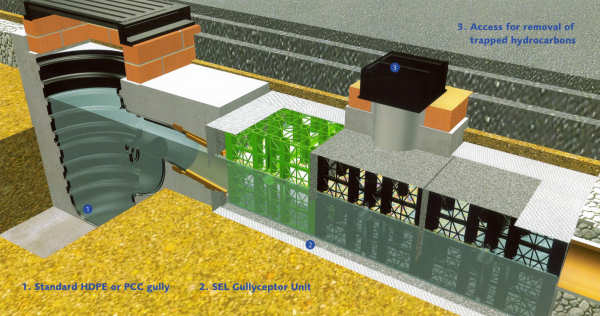 CPM is well known for manufacturing all sorts of concrete drainage products, notably pipes and chamber sections, and it'd be easy to think there couldn't possibly be owt new in concrete manhole sections, but you'd be wrong. Civils 07 saw the unveiling of a brand-spanking new bespoke pre-cast chamber base, with integral inlets positioned to the customer's requirements, an outlet, and impeccable benching that you could eat your dinner off. No more effing about with chamber rings balanced on bricks; no more struggling to get rocker pipes properly aligned; no more terrifying the apprentices with tales of throat-biting giant rats just before you send them into the chamber to complete the benching. They've taken all the fun out of manhole construction!
Civils is still some way short of the show it ought to be. There's not a wide enough range of products and there's too much of the same thing. The big corporate consultancies are still taking up valuable floor space and I don't know why, but there did seem to be less schmoozing than in previous years. If only they could attract more of the practical civil engineering contractors, there'd be hope for the future. To be fair, I have to admit, albeit in a grudging manner, that this year's effort was a significant improvement on last year, but then, that's not much of an achievement as watching concrete set would have been a more valuable use of my time when compared to the 2006 snorefest. I might even be back for Civils08!