Construction of a PIC pavement is dealt with on a separate page .
PIC typically involves a full-depth, freshly placed concrete slab which is coloured and textured in-situ. There are also decorative thin cementitious overlays which can be applied to existing concrete slabs. These are considered on yet another separate page.
---
Markets
The use of PIC can be divided into two main markets: the residential customers wanting their driveways, patios, paths, poolsides, etc., surfaced, and the commercial sector, where clients look for a low-maintenance, attractive and decorative or customisable surface. It is rarely, if ever, used on medium-to-high speed vehicular traffic applications, such as roadways, as the finished surface is too uneven, and the same criterion seems to rule out its use in shopping malls and town centres, where small-wheeled trolleys would struggle to cope with a highly textured surface.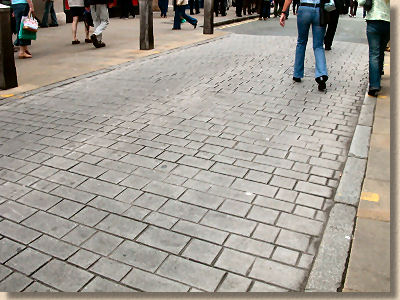 ---
Patterns and Colours
There is a large selection of patterns and colours available. The latest catalogues offer dozens of patterns although these can be grouped into several distinct types:-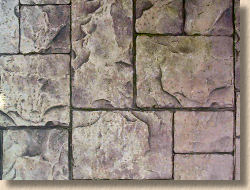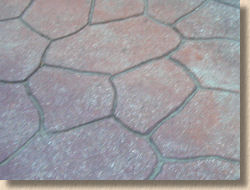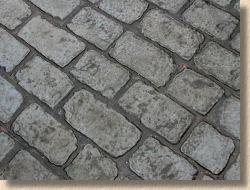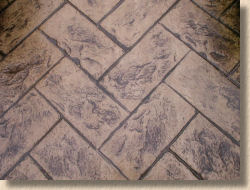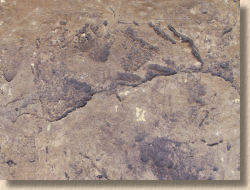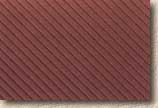 The Ashlar stone and Herringbone brick would seem to be the most popular patterns in the British and Irish market.
Colours tend to be somewhere in the black-brown-buff-red part of the spectrum, although there are greens and blues. Like the paint market, some of the colour names are not to be taken too literally. Often a lighter and darker shade are combined to give the impression of extra 'depth' to the surfacing. For example, an ashlar stone effect surface might feature a darker brown base colour with 'highlights' done in a buff.
---
Construction
This is not really a job suitable to DIY as it requires specialist tools, and the pattern mats are relatively expensive for they are intended to be re-used many, many times to cover their capital cost. However, some suppliers/franchisees are willing to 'hire' out their mats for one-off projects.
There are several contractors that specialise in this type of paving, and we would most strongly recommend that you use an experienced and reputable trader for this type of work rather than a general builder or so-called block paving "specialist". The skills required to make a good job of PIC are NOT the same as those used for block paving , flagging or tarmacadam . Horses for courses, as they say.
A full description of the construction techniques used for Pattern Imprinted Concrete are given on the PIC Construction page.
Pros and Cons
When done properly, and not aggravated by adverse weather conditions, PIC paving can look very attractive, and will require almost no maintenance other than sweeping and re-application of the sealant every 2-4 years. Unfortunately, good contractors in this particular discipline are few and far between, so it is essential that references are taken, previous jobs visited, and clients quizzed, to ensure you have chosen a reliable and competent firm.
When done badly, there is no way of correcting any problems, as the concrete is rigid and impossible to patch repair invisibly. If the contractor does not get the job right first time, there is no remedial action other than to rip it up and redo.
Also, there is concern regarding underground services and drainage that may be covered by the PIC. Should any remedial work ever be required on buried services, the PIC will need to be broken out and any patching will be impossible to hide. The only solution is to create band courses or similar to delineate the original surface from the patched area.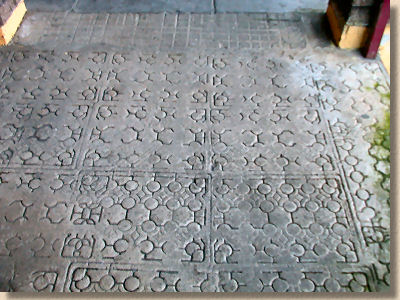 ---
---
Common problems reported with PIC include cracking of the surface at places other than control joints and 'flaking' of the surface. Both of these faults are directly attributable to bad workmanship. Correct preparation of the sub-base and sub-grade along with the inclusion of well-formed crack control joints should eliminate all unwanted cracking, while flaking is often a result of poor floating of the colour hardener and/or the release agent. This spalling of the surface can also be brought about by the addition of extra water to the mix, which adversely affects the design strength of the concrete.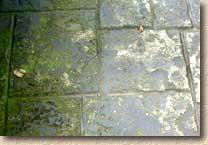 And despite the claims often made by the sales agents, algae and lichens do colonise PIC, so it is not completely maintenance free. The surface needs to be swept regularly to keep it free of detritus which can accumulate on the uneven surface and in the 'joints' of certain patterns. Also, the sealant will need to be re-applied every 2-4 years, especially on heavily trafficked areas, which can wear quite quickly, exposing the plain uncoloured concrete beneath, if the original sealant is allowed to deteriorate.
Overall, PIC can be a beautiful, cost-effective and low maintenance paving provided it is installed by competent professional contractors using the very best practices and top quality materials. It would not be fair to consider PIC to be a faithful reproduction of other paving surfaces, such as cobbles , setts or flagstone , but rather that it gives an general impression of that type of surface, often achieved at a lower price and in a shorter time. This, it seems from the feedback we receive on this site, is a major source of disappointment for some clients who expected authentic-looking setts or slate and are unimpressed with the finished results.
If you are considering this type of paving on a property, research the contractor thoroughly, make sure you have a clear image of what the results will be, and don't expect miracles. It's a disturbing fact that we receive more queries regarding 'sharp practices' and complaints about PIC jobs than any other form of paving, and we don't even install the stuff! There are good contractors out there, but they are, sadly, outnumbered by the sharks and the cowboys who regard PIC as an easy way to line their pockets. I make no apology for repeating the advice given above - if you choose this type of paving, research the contractor as thoroughly as possible. If in doubt, leave it out.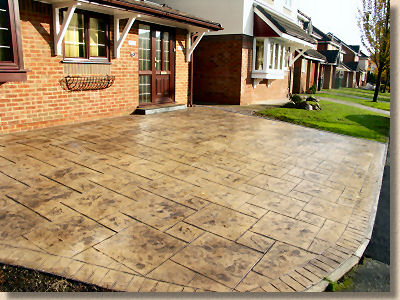 ---
Prices
Prices are highly variable, but most PIC contractors have a minimum charge of around £2,500.00. We've monitored prices supplied to clients ranging from £25 per square metre up to £130 per square metre, all plus VAT.
While there is some slight difference in the costs of buying/hiring mats to create the various patterns available, this should not make a major difference to overall pricing. However, some patterns require more 'touch-up' work than others and so contractors will factor this into their final price. Also, work requiring a different edging pattern and/or colour will be more costly than work in one pattern/colour.
A number of disturbing cases regarding high-pressure sales techniques for PIC, especially for residential driveways and patios, have been reported to us. It is not unheard of for the original price quoted to be progressively discounted by up to 50% or more as the sales agent becomes more and more desperate to achieve a sale. NEVER settle for just one quote. ALWAYS get at least 2 quotes, preferably 3, and ALWAYS get them in writing.
---
---