Introduction:
On a previous page , the range of options for sourcing paving and hard-landscaping products was considered and one of the recommendations was to look for a supplier with a good display area. On this page, one such supplier is visited to see what it is that a stockist with a display area can offer that isn't available from a more general Builder's Merchant or DIY Shed.
Cowley Stone are a specialist supplier of stone and sleepers to the paving and hard-landscaping trades. They are based more-or-less on the border between South Yorkshire and Nottinghamshire, just a few minutes from Worksop. Over many years they have built their business by providing what their customers require, along with a no-nonsense, honest approach which has earned them widespread respect and admiration, not just from customers and contractors, but from their competitors in the trade also.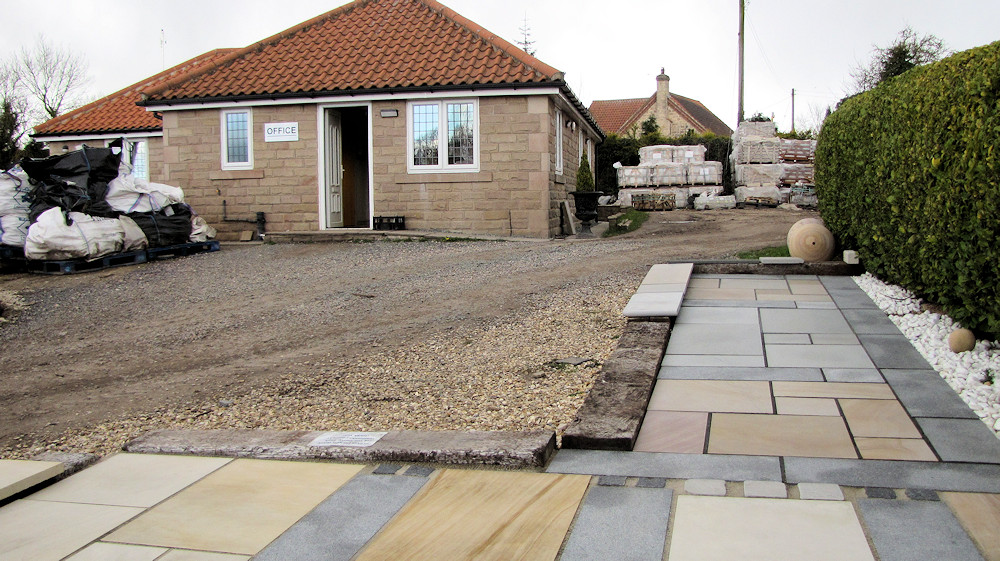 The office adjacent to the huge stock yard brings in quality paving and walling stone from all over the world, as well as new and reclaimed railways sleepers, and then distributes it throughout the country. It's a slick and efficient operation, but that's not what makes Cowley Stone such a gem for the discerning stone buyer. For that, you have to cross the yard, descend the steps and enter a garden that is dedicated to showing stone paving and walling at its very best, and all complemented by an impeccably well-designed and beautifully maintained working garden.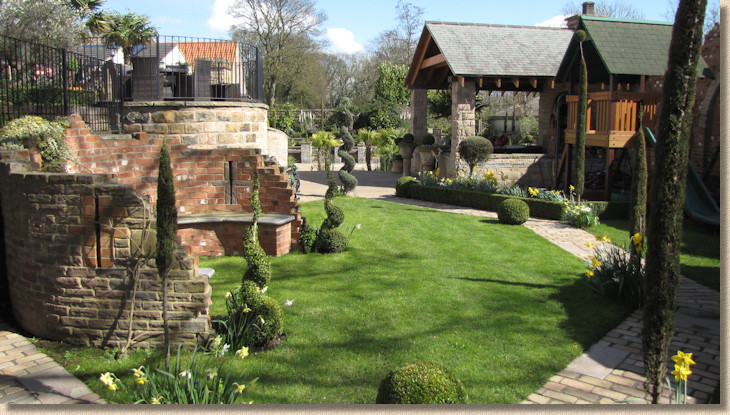 Nothing can really prepare you for what follows. Is this a Yellow Book Garden or is it really a display area for stone paving and walling? Most display areas will give a few square metres to this paving or that aggregate. Here, you get full sized patios; whole walls reaching for the sky; discrete dining areas; steps to various levels; ponds, pools and streams; paths and pergolas, and so much more.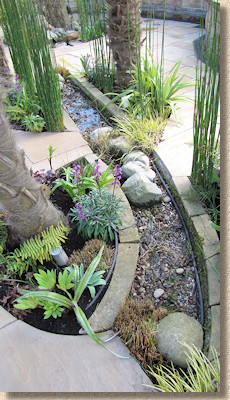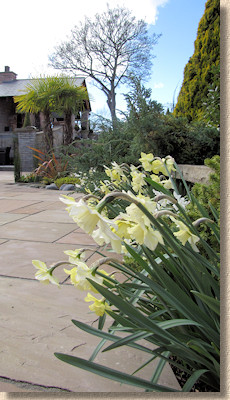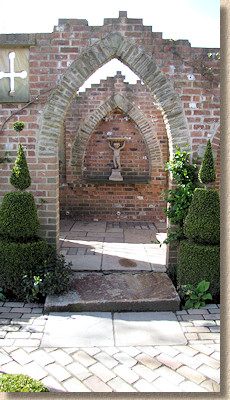 It's easy to forget that this is a display area, intended to convince you that Cowley Stone should be your stone supplier of choice. There's a new vista with every step, a new delight, a glorious celebration of just what is possible when hard and soft landscaping combine.
This is a working garden. The business owners use this garden for themselves. It's not simply a showground: it's a real, live, family garden, but one that's been crafted over the years using the stone the family has sourced from around the world.
And if they can achieve this, they can make your garden dreams a reality too.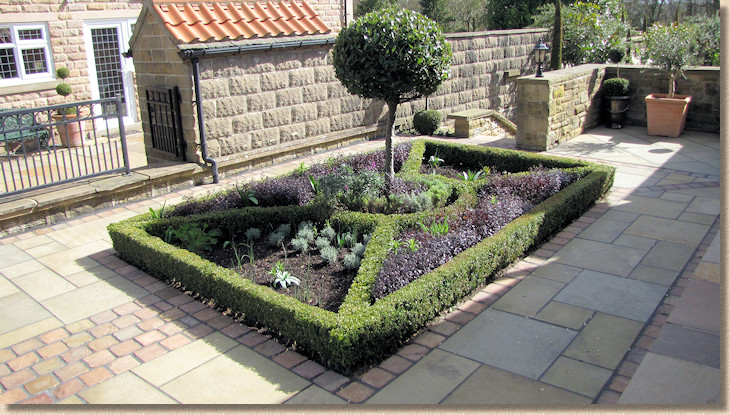 This isn't a pay-to-enter garden. It's open to anyone interested in buying stone for the garden or driveway, looking for inspiration, looking to learn how stone works in natural daylight, and how it survives everything the British climate can throw at it.
It's an opportunity to experience how the various stones will work as standalones or in combination. Which is the better format: setts or flagstones? What gravels work well with that flagstone? How does it work as steps?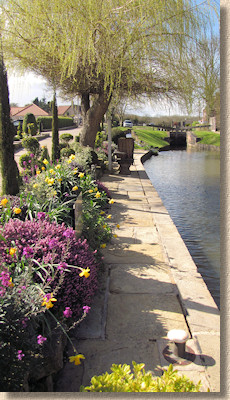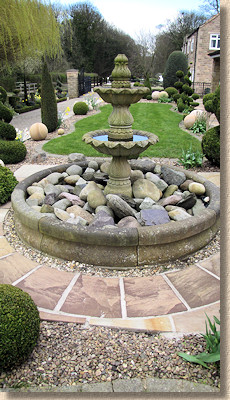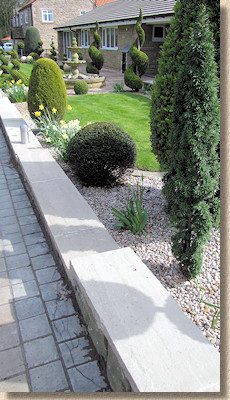 The canalside location merely adds to the charm, and it's so easy to forget that this is a stone yard, with everything you'd expect from a stone yard in terms of dust and noise and machinery, but none of that impacts on what has to be one of the prettiest, most overwhelming paving and walling display areas anywhere in the country.
Showreel:
Finding Cowley Stone:
The office, the stock yard and that delicious garden show area are tucked away in a rural setting between J31 on the M1 and Worksop, both less than 10 minutes away.....
Contact Info:


A.Cowley & Sons Ltd
Turnerwood
Nr Thorpe Salvin
Worksop
Nottinghamshire
S80 3LA

Summer Showreel: