Drainage
Clayware, plasticware and quite a few others, pipes, chambers, gullies, gratings and recess tray covers: all these and more are manufactured and distributed throughout Britain and Ireland by these companies.
Please read carefully: Inclusion in this list does not imply any warranty or recommendation and is supplied for your information only. All registered trademarks duly acknowledged.
Unless stated otherwise, all telephone and fax numbers are for Britain and NI - RoI numbers are shown with a +353 international dialling prefix.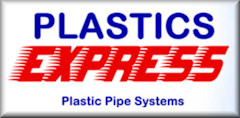 Online Drainage and Plumbing supply experts with highly competitive prices and prompt delivery nationwide. Any plastic pipe or fittings for any application, generic or specific brand, Plastics Express will do their utmost to source the product for you. Dedicated to providing excellent service to both the Trade and DIY customers.
Web Offer: Enter offer code PAVE1 (in UPPER case!) when ordering and receive an exclusive 5% discount
Plastics Express
Drainage
Unit 9 75 St James Mill Road Northampton NN5 5JP