Timber, Fencing, Sleepers & Decking
The timber products and accessories used within the hard-landscaping trade, along with their modern counterparts in concrete, plastics and composites are provided by these companies based in Britain and/or Ireland.
Please read carefully: Inclusion in this list does not imply any warranty or recommendation and is supplied for your information only. All registered trademarks duly acknowledged.
Unless stated otherwise, all telephone and fax numbers are for Britain and NI - RoI numbers are shown with a +353 international dialling prefix.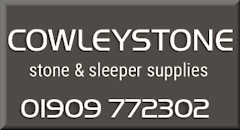 Cowley Stone and Sleepers are Britain's foremost provider of new and reclaimed rail sleepers and timber baulks.
New or reclaimed; Pine, Oak or Australian Jarrah; Engineering grade or softwood.
Cowley Stone and Sleepers have all grades ready for immediate despatch from our yard just 10 minutes from J31 on the M1.
Choose genuine quality from Britain's Best - Cowley Stone & Sleepers
Cowley Stone & Sleepers
Timber, Fencing, Sleepers & Decking
Turnerwood Nr Thorpe Salvin Worksop Nottinghamshire S80 3LA