Sunday, May 17, 2009
You can't beat a bit of guilloche
Latest update from the job in Knutsford (see post below):

Due to Cookie's forthcoming nuptials and the associated revelry that tradition dictates must take place beforehand, himself and Sean turned in this weekend to complete the laying of the intricate guilloche in the centre of the driveway, with me watching on and trying not to hinder them too much.

As mentioned previously, the centre of the feature is a 5m diameter silver-grey granite circle custom-cut and supplied by McMonagle Stone in Ireland (even when haulage is added on, they are considerably cheaper than any of the UK suppliers). The outer bands are dark basalt setts originally from North Wales but salvaged from a disused tram shed in a neighbouring town. The guilloche itself has been formed using the sandstone setts salvaged from the original driveway, and the whole is surrounded by a double course of silvery "Tan Tops", a Cornish granite sourced from a reclamation yard. The infill pieces are a silver Egyptian granite used to give us additional contrast.


The sandstone setts look slightly green because it rained while the paving was being laid and the moisture highlighted the residual algae, which will come off when the whole pavement is cleaned prior to jointing. The sandstone itself is definitely pennine and I was fairly certain it was the Kerridge stone from near Macclesfiled, which is just 10 or so miles down the road, but there are definite blue and grey tones evident when the stone is cut to form those double taper-cut wedge shapes and this makes me wonder whether they might actually hail from further north, possible the Rossendale Valley
.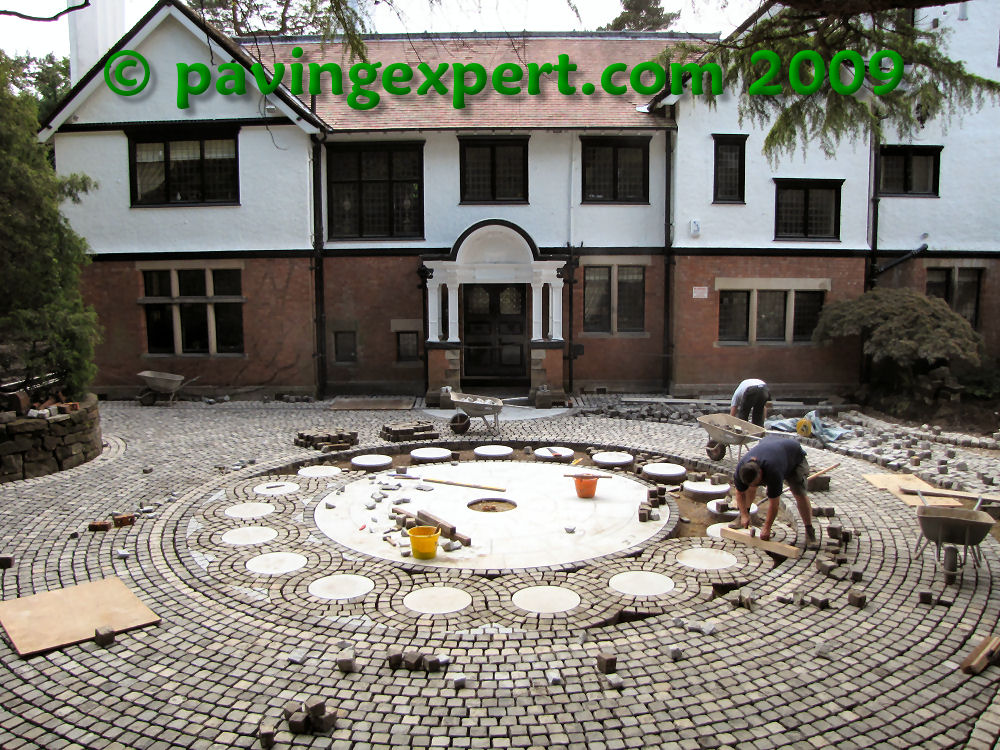 So: the photo above was the scene late on Saturday afternoon with Cookie in the foreground laying the sandstone setts and Sean just behind him fettling some of the Egyptian granite. In a frenetic nine-hour shift, with just an hour for a barbecue lunch kindly provided by the client, just over half of the guilloche was completed.
..and this is how it stood when I had to leave the site at 1:30pm on Sunday (today). All of the sandstone setts are laid and Sean is fitting the Egyptian granite infill pieces. There's perhaps another 90 minutes work to complete the feature but even at this stage, and with the surface still being slightly damp, it's possible to see just what a fabulous feature this has become, thanks to a meticulous design and some excellent laying from The Original Stone Paving Company.
Subscribe to Posts [Atom]