Tuesday, May 27, 2008
Marshalls' child labour shocka!
Startling photographic evidence of child labour taking place at one of Marshalls' British sites have been passed to pavingexpert.com.
In a rebuff to Chris Harrop's much-publicised photo of children using a jack-hammer at an Indian quarry, these images show a young boy and young girl completing the detailed comb work to a massive snake carved from Marshalls' stone....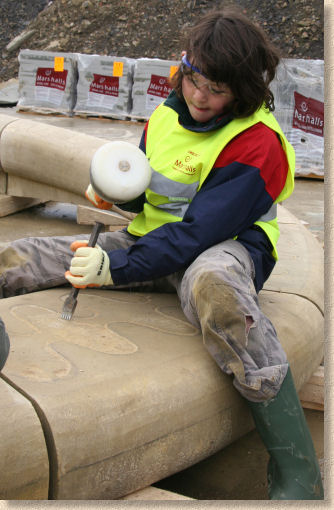 .... to be honest, the child "labour" is completely voluntary and the kids are actually helping to complete a snake of their own design which has been the star attraction at the Chelsea 2008 Flower Show sponsored by Marshalls.
Read the full story on the
news page
of the main website.
Thursday, May 15, 2008
Maybe I'm just SED
For the last god-knows how many years, I've written a show report on the annual big digger fest that is SED, from back when it was at Fen Farm in Milton Keynes, through the traffic chaos of the first year at Rockingham, and right up to last year's event. However, having attended this year's bash yesterday, I spent the best part of an hour wondering what to say. There's nowt strikingly new, or at least, nowt of immediate interest to the world of paving and hard-landscaping, so what can I say?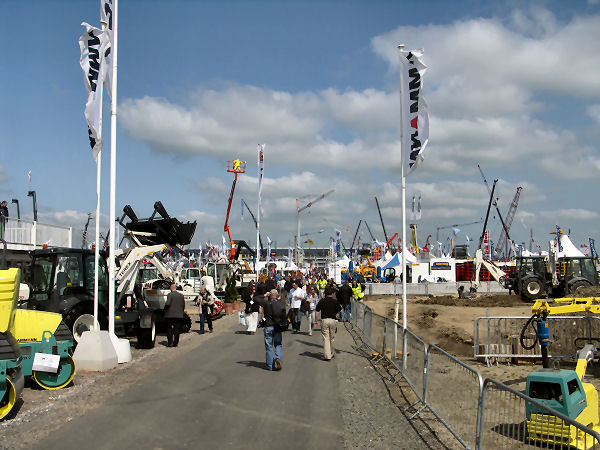 Plenty of familiar faces: Marshalls seem to have taken over the machine-lay CBP demo on a permanent basis, using their own crew to stage regular displays featuring the versatility of a Robotec laying machine. Next door, Probst UK show off the ever-expanding range of lifting heads for machine lay, along with all the other bits and bobs that can make a paver's life on site that bit easier. The funny-looking 'flat-tyre' manual flag-lifter is proving to be incredibly popular, and rightly so. No mechanism to bugger-up; no battery to run flat; nothing to confuse even the most gormless apprentice – the best ideas are always the simple ones.
Yes: there were new plate compactors from almost every new manufacturer, and new mixers, roller strikers, rammers, but nothing that would set the pace a-racing, even if I wasn't on beta blockers. I quite fancy one of the remote control plate compactors, even though they aren't actually targeted at paving contractors; it's just the thought of being able to sit in the van, feet up on the dashboard, watching the plate whiz around as if by magic. How long can it be before some boffin comes up with a version based on those robotic hoovers, were a 'perimeter boundary' is set up and the plate uses radio signal to self-navigate, covering the entire enclosed area with no need for supervision?
And yes: umptillions of big diggers which even now, after forty-odd years of watching them up close, still mesmerise me, even when they're performing the simplest of tasks. There is something entrancing about watching a hole being dug and then backfilled over and over and over again, something that appeals to our primal nature, and something which the male of the species never seems to out grow.


I could be wrong, but I don't think these rammers have much of a wallop to them!
This year, SED was very much a boy's day out in the sun rather than a quest for new kit, new ideas, new technology. And if measured on that criterion, it's hard to think of a better way of spending a free day: it certainly beats a day wasted chasing a small, white, dimpled ball around an artificial landscape while wearing a comedy outfit, or sitting on the canal bank trying to out-think a fish. But if I had to justify the travel and the hours on what value it added to my business, I'd really struggle. Still: all work and no play makes Tony a frustrated boy, and we all deserve to indulge our inner child at least once a year.<
Subscribe to Posts [Atom]