Tuesday, May 27, 2008
Marshalls' child labour shocka!
Startling photographic evidence of child labour taking place at one of Marshalls' British sites have been passed to pavingexpert.com.
In a rebuff to Chris Harrop's much-publicised photo of children using a jack-hammer at an Indian quarry, these images show a young boy and young girl completing the detailed comb work to a massive snake carved from Marshalls' stone....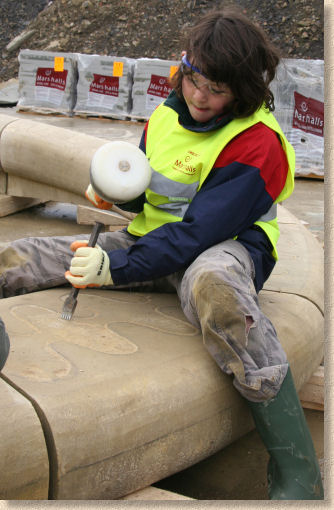 .... to be honest, the child "labour" is completely voluntary and the kids are actually helping to complete a snake of their own design which has been the star attraction at the Chelsea 2008 Flower Show sponsored by Marshalls.
Read the full story on the
news page
of the main website.
Comments:
Well, they sure do look happy! They seem to be doing a good job too, plus well protected, so as a mom, I couldn't ask for more. With summer vacation coming up, if you need any more child laborers, just give me a shout ;)
Post a Comment
Links to this post:
<< Home
Subscribe to Posts [Atom]